Here's What Happens When You Scan The QR Codes In Moon Knight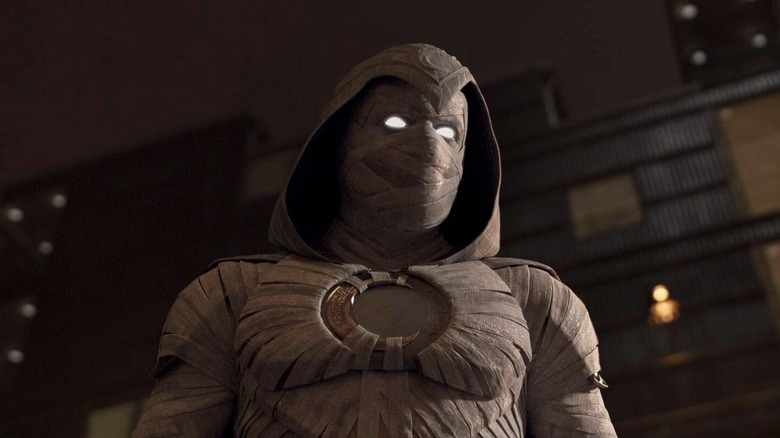 Disney+
"Moon Knight" is moving right along on Disney+, with the first two episodes of the six-episode miniseries now available for Marvel fans to stream at their heart's content. While much remains to be seen in the ever-evolving tale of Marc Spector and Steven Grant, we've seen enough to know this is a pretty unique entity within the larger Marvel Cinematic Universe. There is an awful lot going on here — including the celebration of some classic Marvel Comics content that viewers can discover and enjoy in the real world. This begs the question: did you happen to notice those QR codes in the first two episodes? If not, we're going to explain where to find them and what happens when you scan them.
Warning: spoilers ahead for "Moon Knight." Proceed with caution.
The Moon Knight QR codes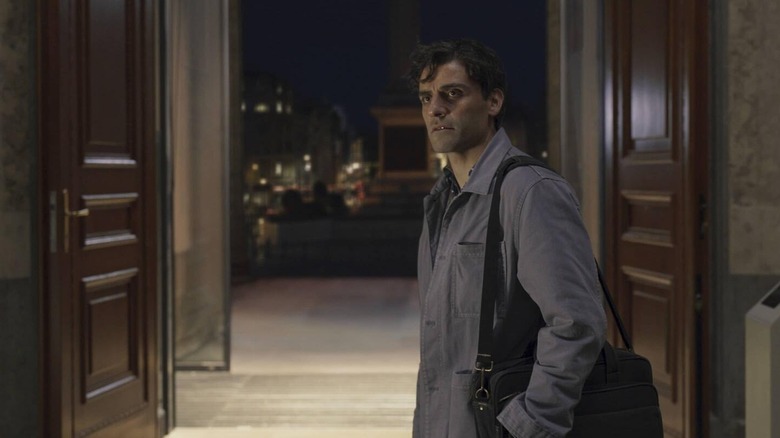 Disney+
The first QR code in "Moon Knight" shows up at around the five-minute mark of the first episode when Steven Grant is showing the little girl around the museum. As has been pointed out by quite a few people on Twitter, there are QR codes on the wall next to the sarcophagus that Steven is showing this unsuspecting girl.
if you scan the QR code on the wall it takes you to a free digital comic of moon knight's first appearance in werewolf by night! #moonknight pic.twitter.com/gbuGFwrmRp

— regan ☥ (@FlSTOFKHONSHU) March 30, 2022
When that QR code is scanned, it takes viewers to a website that allows them to read a free comic book, specifically "Werewolf by Night" #32. The message on the website greets readers by saying that they can read a comic "that inspired the series" (more on that in a moment), while also promising that similar freebies will be included in future episodes. To that point, another, similar QR code is hidden within "Moon Knight" episode 2, this time around the 8:26 mark of the episode when Steven is exploring the secret storage unit that Marc has been using to keep his supplies.
#MOONKNIGHT SPOILERS
~
~
~
~
~
~
The QR code on the locker leads to Werewolf by Night #33 pic.twitter.com/yyBK96azlo

— Len ☾ MK SPOILERS (@LENNIEC0N) April 6, 2022
On storage locker 43 is another QR code and, when scanned, it takes readers to the very next issue in the series, "Werewolf by Night" #33. What's cool about this is that not only are they offering sequential stories, but the cover art for this book directly inspired the big action sequence that takes place later on in the episode when Marc fights the werewolf summoned by Ethan Hawke's Arthur Harrow. Parts of the sequence looked to be ripped right from the page, which is pretty neat. And it's also nice that Marvel is encouraging people to seek out the source material (in my humble opinion as a man who really loves comics).
A hint at what's to come?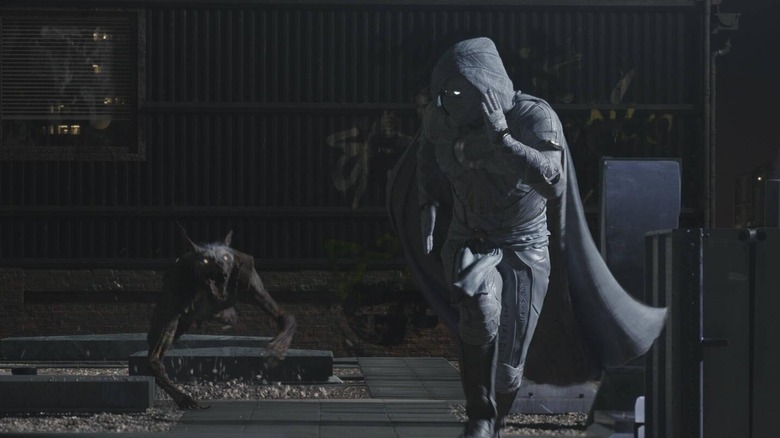 Disney+
Obviously, our hero appears directly on the covers of these books and is a big part of the stories contained within, so it's not at all surprising to discover that they helped to inspire the show. But what's interesting is that these comics may well be a hint at what's to come in the future of the MCU, in addition to serving as a bit of an education as to what helped bring "Moon Knight" from the page to the screen. 
Specifically, "Werewolf by Night" is poised for a Disney+ adaptation sooner rather than later. While Marvel Studios has yet to officially confirm it, an untitled Halloween special is currently in the works for Disney+, with Oscar-winning composer Michael Giacchino set to direct. It will indeed center on the character of Werewolf by Night and — wouldn't you know it — the seeds for the story have been planted within these first two episodes of "Moon Knight." Not only do we get to see werewolves on screen, a first for the MCU, but those scenes were directly inspired by "Werewolf by Night" comics. Coincidence? We think not!
Details for the special are a bit thin at the moment, but Gael García Bernal ("Old") is set to star in the lead role, with Laura Donnelly ("The Nevers") also set to star in an undisclosed role. In any case, it seems like we may get some more little Easter eggs pointing in the direction of this Halloween special as things roll on, so be on the lookout for those QR codes in future episodes.
"Moon Knight" is now streaming on Disney+ with new episodes arriving every Wednesday.