Gentleman Jack Season 2 Trailer: The Series Returns This Month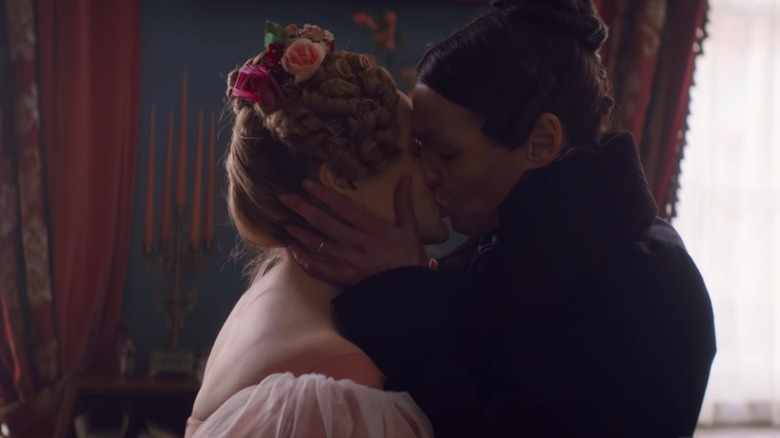 HBO
Great news for fans of queer true stories from history: revisionist gay pirate rom-com "Our Flag Means Death" may have sailed away for now, but lesbian landowner drama "Gentleman Jack" is back. The HBO series about Anne Lister (Suranne Jones), who lived somewhat openly with her female lover in 1800s England, is returning after three years away for a second season this spring. Now, a new trailer fills viewers in on everything they've missed since we last saw Anne.
Although the show's first season was billed as a drama, the second does seem to have some rom-com flavor to it if this trailer is any indication. It's even got a jaunty little instrumental soundtrack to accompany Anne's adventures. The new season finds Anne and her lover (Sophie Rundle, playing a character who's also named Ann) under more scrutiny than ever, with gossipy townsfolk worried the latter will start dressing like her suit-wearing paramour.
Anne Lister's back for more romance
Anne assures her aunt that she's not concerned about the rumors. "We have a thousand better things to expend our energies in," she says, to which her auntie retorts knowingly, "Oh, I've heard." The pair still seems to be quite in love after last season's finale saw them decide to marry and move in together. But the honeymoon phase may not last, as one of Anne's colleagues pointedly notes that her beloved "hasn't got a clue about the vast tapestry of your fruity past." Exes and prejudiced family members seem determined to stand in the couple's way, but Anne isn't willing to let what she calls "tiresome, inarticulate men" tell her what to do.
It's great to see Sally Wainwright's series back on the air after pandemic-era delays slowed down its production. It joins a small army of long-awaited HBO shows making their way back to the airwaves this year, including "Euphoria," "Barry," "Westworld," and more. While "Gentleman Jack" didn't make as massive a splash as any of those shows in its first season, the BBC One co-production was well-received in its first season, earning the Certified Fresh label on Rotten Tomatoes indicating critical acclaim.
If it finds a big enough audience, the series also seems built to last beyond its second season. According to historical documents, Anne Lister led a full if short life, and judging by the show's first season finale, it still has about six more years of ground left to cover. 
"Gentleman Jack" season two will debut on HBO Max on April 25, 2022.