That Time The Village People Made A Movie And Inspired The Very First Razzie Awards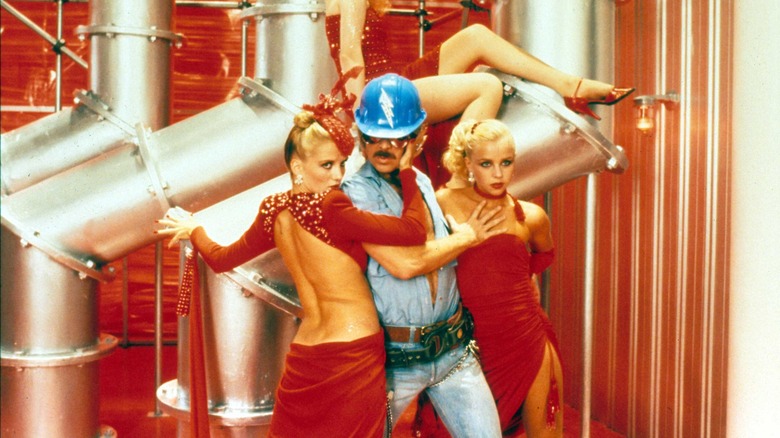 EMI Films/Associated Film Distribution
It was the summer of '79, and two very different movies were filming on location within a few blocks of each other in Greenwich Village, New York. William Friedkin and Al Pacino were in town for "Cruising," their lurid serial killer thriller set in the hardcore S&M clubs and sex dungeons of the heavy leather scene. The production was troubled before it even began; a copy of the screenplay found its way to influential Village Voice columnist Arthur Bell, who felt it gave an ugly and negative portrayal of homosexuality and rallied the city's gay community to picket the location shoot.
While Friedkin and Pacino were having eggs thrown at them during daily protests, disco icons Village People were also making a movie, out in full costume just a few blocks away. "Cruising" was a giallo-inflected journey into the darkness of a disturbed mind, but "Can't Stop the Music" was an exuberant candy-colored musical extravaganza. Despite the stark differences in tone and subject matter, two films shooting in close proximity caused confusion for Bell's protesters. "Can't Stop" was disrupted on debut director Nancy Walker's first day on the job by angry hecklers finding their way to the wrong movie set. "No, no, my dear," she corrected them (via NY Times), "you're looking for 'Cruising,' two blocks west — we're the good guys." 
Neither film fared well on their release in 1980. "Cruising" was almost universally reviled for its grubby and cynical representation of a gay subculture, which many felt reflected badly on the wider community; "Can't Stop" was also hammered by critics and made back just $2 million against its $20 million budget. To put that in perspective, producer Allan Carr's previous hit "Grease" only cost $6 million yet grossed $366 million worldwide. 
If the two films were linked by their roots in the Village's gay community and coinciding shooting schedules, their fates would become entwined again the following year. Come the awards season, both films ended up competing for prizes, although not in the way their producers would have hoped.
Origins of the Village People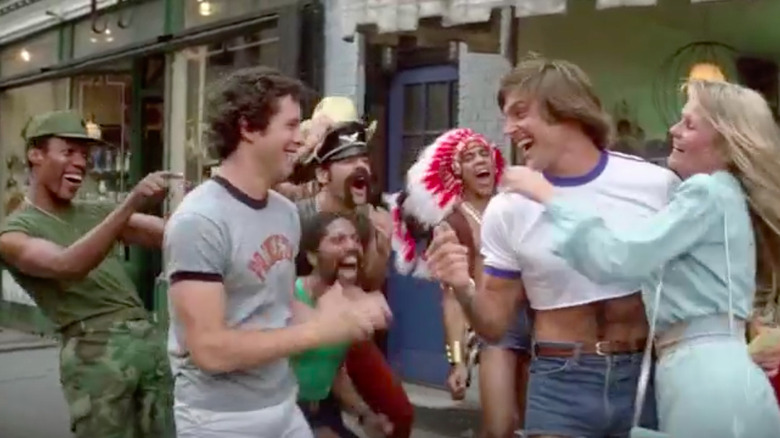 EMI Films/Associated Film Distribution
If you've ever been to a family disco or a retro club night, you will have no doubt found yourself romping around the dance floor to "Y.M.C.A." The Village People's biggest hit shifted over 10 million singles worldwide, a cheesy yet celebratory tune so catchy that the subtext of the lyrics are still lost on some. 
The music video gave us six guys out on the streets of New York suggestively singing the virtues of hanging out at the titular youth organization, and crystalized the group's iconic image. Each classic outfit represented a different gay fantasy figure; Lead singer Victor Willis as a cop, Felipe Rose as a Native American, Alex Briley as a G.I., Glenn Hughes as a leather clad biker, David Hodo as a construction worker, and Randy Jones as a cowboy. They sometimes wore other stuff, but those were their clearly defined personae that everyone remembers.
The group were the brainchild of Jacques Morali and Henri Belolo, two French music producers trying to crack the American market. They first met Willis and heard his demo tape, which prompted Morali to have a dream about the singer leading him to success. He reportedly told Willis: "I had a dream that you sang lead on my album and it went very, very big."
That dream was a premonition. Willis sang lead vocals on the self-title album "Village People," which only had four tracks but included "San Francisco (You've Got me)" with was a debut hit single. Invites to perform on TV followed this instant success, so they needed some performers to dance while Willis did his vocal duties.
Felipe Rose was the first permanent member onboard. He was spotted dancing in the Anvil club, a flurry of feathers in a sea of leather; with Lakota Sioux heritage on his father's side, he had taken to wearing his signature warbonnet to pay homage to his ancestors (via Living Media). Glenn Hughes, aka Leather Man, also brought his own look inspired by the dress code at Mineshaft, the BDSM club he frequented.
The group were originally aimed at disco's large gay audience, but crossed over into the mainstream with hits like "Macho Man," "Y.M.C.A." and "In the Navy." They quickly became one of the biggest names in disco, and the next step was the silver screen.
So what happens in Can't Stop the Music again?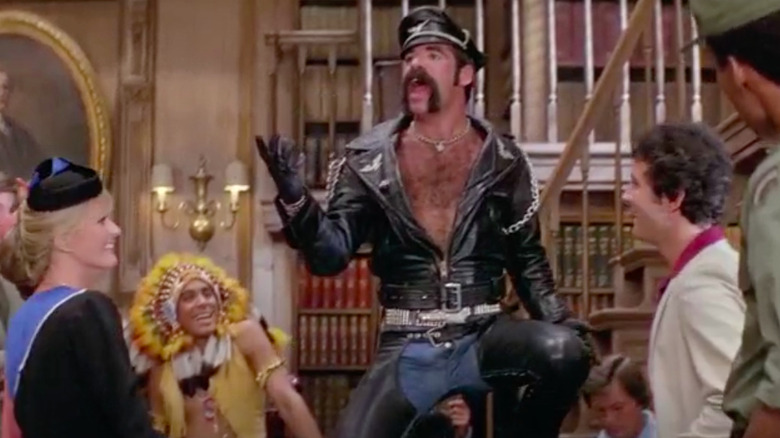 EMI Films/Associated Film Distribution
Jack Morell (Steve Guttenberg) is an aspiring songwriter working as a rollerskating record store clerk in New York. He gets the opportunity to DJ at a club where he can test out some of his songs; one tune goes down well with the crowd and his former supermodel flatmate Samantha (Valerie Perrine) uses her connections to help him get a record deal. The only problem is that Morell's vocals are weak, to they draft in some singers to beef up the sound a little.
Set up as the Village People's origin story, the film doesn't worry too much about the chronology of real events. Rose is first onboard, as a young friend of Jack and Samantha's who matter-of-factly wears a Native American headdress, tight jean shorts, and little else during his day-to-day routine. Samantha then picks up the Construction guy, a fellow model who dreams of stardom, and Cowboy Guy on the streets of the Village. Founding member Willis, such a major presence in the videos, left the group and missed out on the movie, replaced by Ray Simpson in the Cop role.
Alex Briley, the G.I., and Hughes, the Leather Man, don't show up until halfway through the movie. Hughes is a bit like the Harry Lime of "Can't Stop the Music;" you're waiting for him to show up and when he does he blows the doors off. He makes a grand entrance, swaggering into a stuffy office during auditions for the remaining group members and knocking 'em dead with a rendition of "Danny Boy." It's a great moment, and strangely poignant, especially in hindsight with the looming AIDS epidemic (via Xtra).
Once the gang are all on board, they're ready for their shot at stardom. The plot is padded out by some romantic subplots, and the stakes are low even by the standards of a biopic. It's all just a flimsy excuse to put the Village People in a movie and stage some extravagant musical numbers, which is where the film fails on both counts.
Is it as bad as its reputation suggests?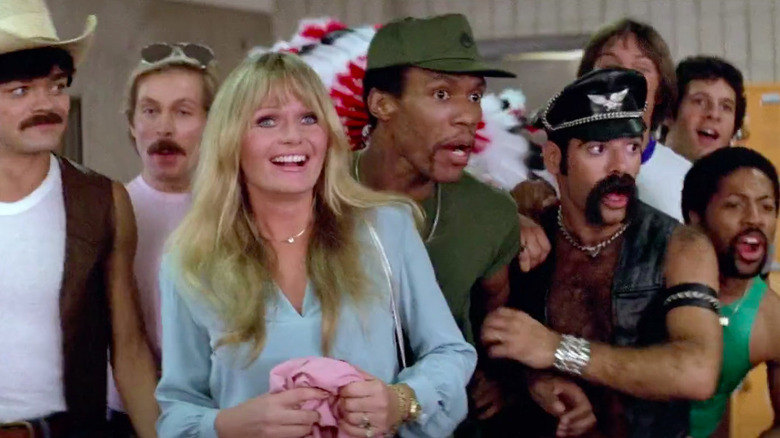 EMI Films/Associated Film Distribution
Is "Can't Stop the Music" all that bad? Well, fans of terrible movies will find things to love, but must prepare to hunker down for long spells without even a single Village Person in sight. For a two hour movie, it simply isn't awful or weird enough to qualify as a true "So bad it's good" classic, often veering into sheer boredom.
We spend way too long focusing on Guttenberg, Perrine, and Caitlyn Jenner, who plays Samantha's uptight lawyer friend. They're all terrible, especially Guttenberg in a frantic performance. Thankfully the movie is a kitschy visual treat, with plenty to occupy our eyes with until the Village People show up.
The star attractions are reduced to cameo appearances in their own movie, which stinks because the fun factor increases by about 600% when even one Village Person is onscreen. Their acting isn't great, but still miles better than the professional actors on show here. They are so laidback and likeable, clearly enjoying the hell out of being in a movie.
It's just a shame that Carr, also co-writing the screenplay, gave them nothing to do. They shine in the dance numbers but spend far too long standing around waiting for the next song to start. To make matters worse, the songs are spread pretty thin. It's a Village People musical without much Village People or music.
It's also a movie about gay icons without much gayness. In an early club scene, there are many scantily clad, oiled-up guys in short shorts and torn shirts, but they're all paired off with a female dancer without a single bit of guy-on-guy bumping and grinding in sight. Later, during the "Y.M.C.A." scene, there is an abundance of beefcake pumping iron and playing sports, but the homoeroticism is offset by a fleeting but gratuitous shot of Perrine's breasts. In both cases, it feels like compromises were made to prevent square audience members keeling over in the aisles. It's all so disappointingly watered down. But then again, I did watch this back-to-back with "Cruising."
It probably seemed like a good idea at the time...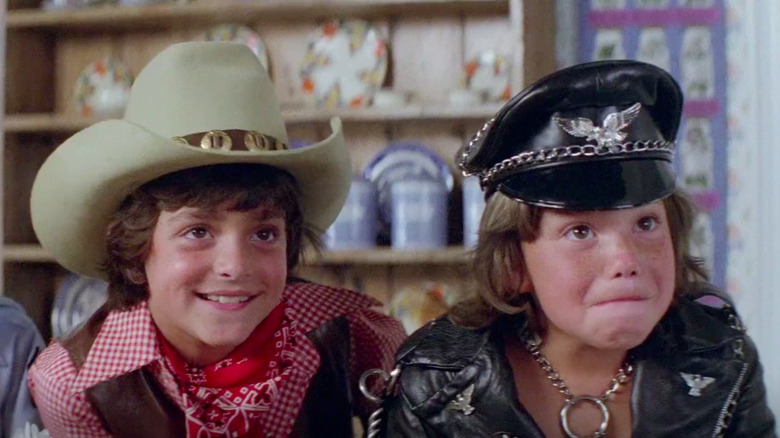 EMI Films/Associated Film Distribution
Carr really s*** the bed when it came to the timing of "Can't Stop the Music." Disco hit its mainstream peak in 1977 with "Saturday Night Fever" and the Bee Gee's hugely successful soundtrack. That's when everyone wanted to do disco; Donna Summer and Chic were at their pomp and even singers like Rod Stewart got in on the act with "Do Ya Think I'm Sexy?"
Perhaps due to oversaturation, people got over disco very quickly. Slogans like "disco sucks" and "death to disco" became commonplace. Then came the night of July 12, 1979, known as the day disco died. 
It was the "Disco Demolition Night" at Comiskey Park, Chicago. Attendees were charged just 99 cents for entry if they also brought along a disco album to get blown up in the outfield. It was a stunt dreamed up by radio DJ Steve Dahl to improve the White Sox's dismal home crowds, and he had a personal beef with the genre. He was fired from his previous station on Christmas Eve as they transitioned from rock music to disco.
The club's owners expected around 20,000 people, less than half the stadium's capacity. Instead, they got well over with an official attendance of 47,795. The real attendance was likely over 50,000 with thousands more people still outside.
The atmosphere was raucous as Dahl did his bit, blowing up a container full of vinyl. The explosion was so big that it damaged the turf and showered the surrounding area with debris. Victory claimed, he left the field, but then thousands stormed the field, lighting fires, dancing, drinking, smoking weed, and vandalizing the baseball diamond. By the time the rioters were dispersed, the field was in such poor condition the Sox had to forfeit the second game of the evening's double header.
Some scholars speculate the event was an expression of pent up racism and homophobia, since disco had its roots in African-American and Latin-American music and gay culture before going mainstream. Whatever the reason, Dahl's rallying call really touched a nerve, and the event is believed to have hastened the demise of disco. As Dahl said (via ESPN):
"The Bee Gees actually blamed me for killing disco, which I thought was a victory for me... I take that as a win."
People were still processing what the "Disco Demolition Night" meant when "Can't Stop the Music" started shooting on August 20, 1979. The film wouldn't hit theaters until almost a year later, meaning Allan Carr and the Village People only missed the boat by 12 months or so.
Would "Can't Stop the Music" have fared better if it struck at the height of disco? It's a bad movie, but quality isn't always an indicator of success if the mood and the moment is right. Just take Rudy Ray Moore's "Dolemite" which landed while Blaxploitation was still hot, raking in $12 million against its minuscule budget of around $100,000.
Aftermath, and the very first Razzie Awards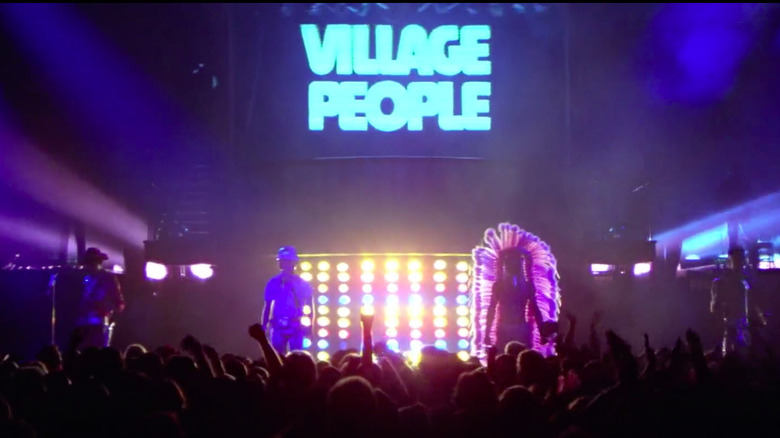 EMI Films/Associated Film Distribution
The Golden Raspberry Awards have offered a low-budget alternative to the Oscars for over 40 years now, and their humble beginnings began with a cheap afternoon watching bad movies. The founder, John Wilson, attended a 99-cent double-bill of "Xanadu" and "Can't Stop the Music" and felt like he'd been robbed (via Awards Watch):
"Even together that's not 99 cents. I insisted a refund and, when the manager said no, very rudely I thought, I do recall rather clearly driving home with my windows down in my little compact car and thinking "Man, those two movies ought to get awards for being that lousy."
Wilson decided to honor the worst of the worst at his regular Oscars afterparty the following year, inviting his friends to cast ballots in several categories. "Can't Stop" was duking it out with nine other films for the dubious honor of Worst Picture including "Xanadu," "Raise the Titanic" and William Friedkin's "Cruising."
The night belonged to the Village People, Allan Carr, and the rest of his hapless cast and crew. The film took the big prize and also won Worst Screenplay, on top of nominations in five other categories: Worst Director, Actor, Actress, Supporting Actress, and Original Song. The rest is history, and the Razzies still exist, and still honor the worst movies of the year, to this day. 
Carr bounced back a few years later with a big Broadway hit, "La Cage aux Folles," before his hideous production of the 61st Academy Awards tanked his career as a producer (via The Guardian). It's staggeringly bad, with Rob Lowe singing a duet with Snow White a jaw-dropping lowlight.
As for the Village People, the all-round disaster of "Can't Stop the Music" couldn't stop them from becoming cultural icons. They were kitsch from the get-go, so a kitschy box office bomb was never going to harm their place in the world. 
The Village People are still going today, with a much-changed line-up. The only original member is Victor Willis, back with the group for a third spell and still rocking the cop outfit at the age of 70.