How Did This Get Made: Can't Stop The Music (A Tribute To Allan Carr)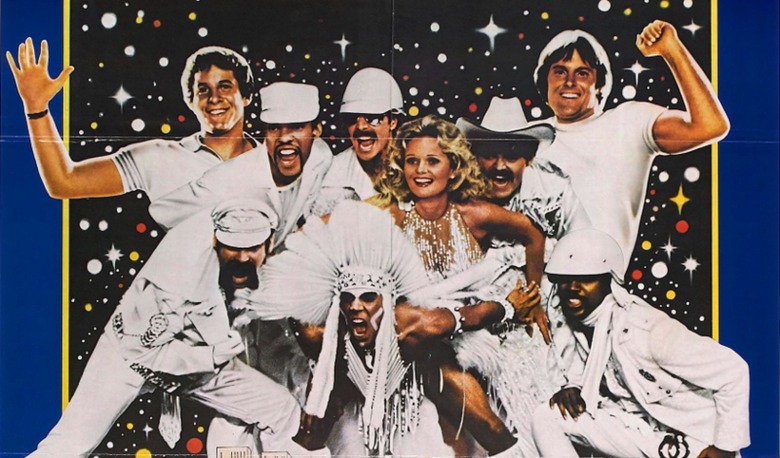 There's something odd about the trailer for Can't Stop The Music. Actually, scratch that, there's a lot that's odd. But, as a writer, I noticed something odd about how the narrator introduced the film. After proclaiming this to be "the musical extravaganza that launches the 80s," he then introduces the movie by saying, "It's Allan Carr's Can't Stop The Music." Typically, that apostrophe-S, possessive descriptor is reserved for the film's director (especially so when the director also writes the script). But in this case, Carr was neither the director nor the writer, which got me wondering: what made this his film? What did the producer of Can't Stop The Music get billing like that? Like I said: something odd. But after a little investigation into the making of one of Hollywood's biggest flops, it makes complete sense. Here's why...
Synopsis: A pseudo autobiographical account of how the disco group "Village People" was formed. The excitement begins when Samantha Simpson (Valerie Perrine) sets out to find a group of singers to perform songs written by her roommate, Jack Morrell (Steve Guttenberg). The resulting group—a biker, a cowboy, a construction worker, a police officer and an Indian—seems poised for success until complications arise.Tagline: The Musical Comedy Smash of the 80's!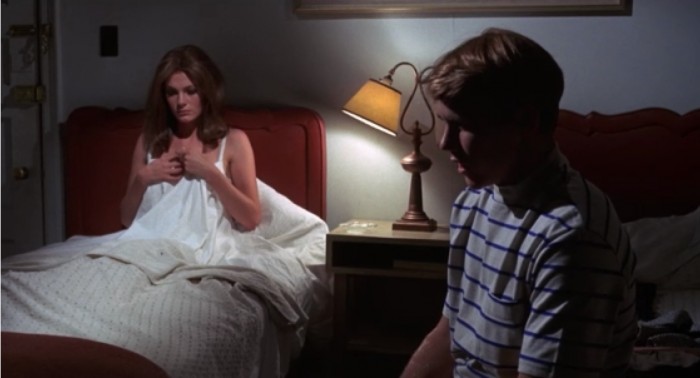 Part 1: Discoland
Like most stories involving Allan Carr, this one begins at a party. But surprisingly enough, this was not one thrown by Carr himself. Instead, this was a dinner party hosted by actress Jacqueline Bisset who ten years earlier had starred in The First Time (1969), a coming of age film that marked Carr's debut as a film producer.
After a couple of intoxicating hours at this party, Allan Carr decided that it was time for him and several other partygoers to head on over to the Palladium and watch the taping of a weekly syndicated TV show called Don Kirshner's Rock Concert. Hopping from one hot spot to another was de rigueur for Carr, but this evening's lillypad leap was about more than just diversion. There was a business component and his objectives were twofold:
To see a performance by this hot new disco band called the Village People.
To meet with Henri Belolo and Jacques Morali, the French music producers who had conceived and "cast" the Village People.
At some point that evening, while dancing to hits like "Y.M.C.A." and "In the Navy," Carr was struck by a cinematic epiphany. "Instantly, I see a film," he told his friends. "I want to do a movie musical with the Village People!" he told his friends.
While this may seem like an odd (and ill-fated) epiphany to have had, it was certainly one that wouldn't have seemed that way to anyone who knew Carr. As a movie producer, he had taken Hollywood by storm just one year earlier a musical hit called Grease. As a publicist and manager, he was renowned for working with great talents (such as Tony Curtis, Peter Sellers and Ann-Margaret) and for discovering young stars (like Mark Hamill, Lisa Hartman and Olivia Newtown-John). So professionally, it wasn't a stretch to think that a Village People movie could leverage disco fever and succeed at the box office. But there was a personal component as well. As an openly and enthusiastically gay man himself, Allan Carr loved what the Village People meant to the homosexual community; they were gay icons who subverted macho fantasy and celebrated a culture that too rarely was acknowledged (let alone celebrated).
Carr's epiphany accelerated following his meeting with Belolo and Morali. After learning about how they had invented the Village People and recruited its members, Carr believe this origin story would be the perfect narrative engine for a film. And that film, this masterpiece-to-be, would be called Discoland. 
To write the script, Carr hired Bronte Woodard (who had written the screenplay for Grease) and Bruce Villanch (a versatile writer whose diverse skill set included writing jokes, newspaper articles, screenplays and musicals). After coming on board, Woodard and Villanch went to North Carolina where they wrote the first draft of Discoland, while enrolled at a weight loss center.
Meanwhile, Carr set out to find a leading lady for his film. Someone to play the role of Samantha Simpson, an endearing supermodel who helps her friend Jack Morell form the Village People. Carr's first choice for the part was Jacqueline Bisset. After she turned down the role, it was then offered to Olivia Newton-John, who was lukewarm on the prospect. In addition to concerns about the script, she was also worried about the music. If she was going to play this part, she wanted her composer John Farrar to be brought on so that he could re-work the music. Belolo and Morali, however, shut down that idea; they had no interest in sharing any piece of the recording profits. As a result, Newton-John turned down the part. Given how hard Carr had fought to cast her in Grease, this greatly disappointed the producer. He would become even more disappointed (and angry) as Newton-John soon signed on to star in a different disco musical: Xanadu, which would come out the same summer as Carr's Village People project.
Without Newton-John, Carr turned his attention to Cher. When that didn't work out, he set his sights on Raquel Welch. This option seemed promising until David Hodo who played the Village People's construction worker and had a background in musical theater, shared horror stories about Welch that led the group to nix this idea. With Welch out of the picture, Carr ended up casting Valerie Perrine, a beautiful blonde who had started the '70s as a Vegas showgirl and, by the end of the decade, had become an Academy Award-nominated actress.
Although the search for Discoland's male lead involved much less back and forth, the casting process was no less interesting. As Steve Guttenberg recalls in his memoir, The Guttenberg Bible, his agent gave him some advice before the audition. "Whatever you do," the agent cautioned, "Don't be alone with Allan. He's a grabber." Below is a short excerpt from the book in which Guttenberg details the audition:
I tried not to notice that he wasn't wearing underwear."Turn around. Let me see your tush." I did. Is this what I have to do to get a job?"Do you have any aversion to wearing a sock in your pants? Enough." He clapped his hands like a sultan and his yes-men ushered me out.
With Perrine and Guttenberg on board, there was still one key part to cast: a stuffy lawyer named Ron White. The part ended up going to an incredibly well known "unknown": Olympic hero Bruce Jenner. Later on, a journalist famously asked, "Bruce, why are you making this movie?" Jenner replied, "You can't live on Wheaties alone."
And in Allan Carr's mind, Discoland was going to be way bigger than Wheaties, the Olympics and any musical that had ever been made. Discoland was going to be huge! So gigantic that before production even began Carr was compelled to throw "pre-first-anniversary" festivities, which consisted of several party's to celebrate the film's original tagline: Where The Music Never Ends.
Needless to say, everyone involved was feeling upbeat and enthusiastic when production on Discoland began in New York City on August 20, 1979. "But as soon as we started filming," explains Neil Machalis, the executive producer, we ran into a problem..."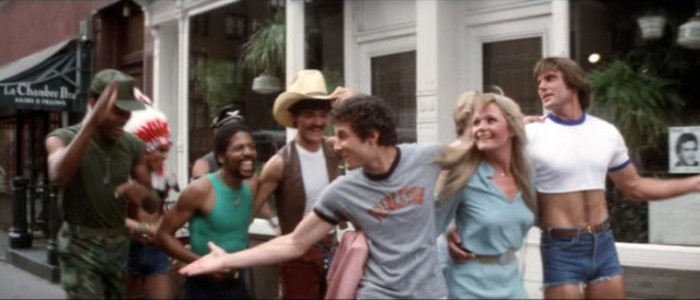 Part 2: The Ultimate ShowmanThe following is a conversation with Neil Machalis, the Associate Producer of Can't Stop the Music. Blake Harris: What kind of problem?Neil Machalis: Well, at the same time when we were filming in New York, Pacino was starring in the movie Cruising and they were filming at the exact same time. And there was some bad publicity around that movie.What had happened was that Arthur Bell, a writer for the Village Voice, had obtained a copy of the script for Cruising—which tells the story of a police detective who goes undercover in the underground S&M gay subculture of New York City—and Bell believed it to be wildly homophobic. He used his column, "Bells Tells," to rally the homosexual community against the production. Which resulted in dozens of activists routinely coming by the set to interrupt production by doing things like throwing eggs. The problem, though, that Machalis is referring to here is that—given their parallel filming—protestors commonly mistook Discoland for Cruising. In fact, on more than one occasion, Carr used a bullhorn to try and remedy this by explaining, "We're the good guys. We're the good gay movie. Cruising is filming three blocks that way!"Neil Machalis: But other than that, it was a great experience. There were so many great things going on in, it was really a fun time. It was an adventure of a lifetime.Blake Harris: And how did you get involved with the adventure?Neil Machalis: So I ended up being hired to do a board and a budget for Grease. That was my first really big, big job in LA. And that's where I met Allan Carr. He was a terrific guy, he was a real showman, you know? And he was great to my wife, my family and me. And then, from there, I did other movies with him.Blake Harris: So for Discoland—or, of course, as it was later retitled Can't Stop The Music—he called you up and got the band back together?Neil Machalis: Yeah, exactly. And actually the screenwriter for Grease was a guy by the name of Bronte Woodard—he and Allan were great friends—and he was brought on to write the script for this one. But unfortunately, on Can't Stop The Music, he got very sick and I think Bronte was one of the first people who died of AIDS.Blake Harris: Wow, that's terrible.Neil Machalis: Yeah, this was 1979. It was an experience for me because, in my own life, I never knew there was a gay community. I knew nothing about it. And Allan was gay and all his friends were gay and it was just...my eyes were wide-opened. It was a great time. And I loved Allan, he treated me great. During Can't Stop The Music I had a little boy who was two-and-a-half and he was diagnosed with cancer.Blake Harris: I'm sorry to hear that. Neil Machalis: So that movie for me was really very difficult. But Allan couldn't have been any better to me.Blake Harris: As someone who was gay, Allan I mean, and this being one of the first movies to really address that culture, what do you think he wanted to accomplish with this movie?Neil Machalis: I think he just wanted to make a commercial camp movie. That's what Allan wanted to do. He wanted to make it funny and camp. And, you know, just show the world that a film like this could be made. Plus, he wanted to make a lot of money. Because he figured the disco would slay it!Blake Harris: Which is, I'm sure, why Henri Belolo and Jacques Morali were so open to the idea of making this film. What was the relationship like between Henri and Jacques?Neil Machalis: They were both on set a lot, but I would say that Henri was more the business guy and Jacques was more the creative side of the two of them. And Jacques was the one who was really close with Bronte and Allan. Everyone on the show...it was just a fun gig.Blake Harris: Is there any moment from the production that particularly stands out?Neil Machalis: Hmmm...I remember a few of us were going out to scout Fire Island. Everyone was using stretch limos in those days, so we had something like two or three stretch limos leaving the city and driving out to Long Island. To get the boat, to get a ferry, to go out to Fire Island.Fun, semi-related fact: the limo bill for all U.S. premieres of Can't Stop the Music was $118,000.)  Neil Machalis: So instead of doing all that, on the way back we ended up getting two seaplanes. Little piper tugs. And what happened was, in order to get on the plane, you had to walk through the water. Well, I was the shortest guy on the crew at the time. Everyone else was rolling their pants up, but I'm walking into the water and the water's up to my waist. So I'm sitting on this plane ride, from Long Island into the city, sitting the entire flight soaking wet. The water was too deep for me. That's just a silly story, I know, but I'll always remember that.Blake Harris: Definitely sounds like a fun time.Neil Machalis: It was. But unfortunately it was also one of the all-time great bombs.On opening weekend, playing at 423 theaters, Can't Stop the Music made only $1.6 million. Blake Harris: Yeah, it didn't do great. Why do you think it performed so badly?Neil Machalis: I think disco died. I think the Village People shipped a whole slew of albums and all of the sudden they started coming back because there was this change in the music business. At some point tastes changed. Studio 54 changed. Everything changed. But I would say that if the movie had come out the summer we'd filmed it, Allan would have made some money. So I think that's kind of what happened. But I can't say for sure. That was a hard time for me.Blake Harris: If you don't mind my asking, how did everything work out with your son?Neil Machalis: Oh, he passed away a year and a half later.Blake Harris: I'm really sorry to hear that.Neil Machalis: Well, it's a whole lifetime ago, you know? Like I said, it was a tough time. So I was definitely pre-occupied. I'd be at the hospital, then at work, then the hospital then work. But that was a long time ago. And I like to remember the good times, so to speak.Blake Harris: So let's end with a "good time," then. For those of us who never got a chance to know Allan, can you tell me a story that might help describe what kind of a guy he was?Neil Machalis: Sure. [thinks for a moment] So Allan was the ultimate showman. At some point, when I first started working on Grease, he had a "Rolodex Party" at his house in Malibu. Friday night was A – L and Saturday night was M – Z.Blake Harris: No way. That's amazing!Neil Machalis: I swear to God. He had the klieg lights and the whole thing. Now Allan, he used to wear caftans. As a matter of fact, he had this 1976 El Dorado convertible and the license plate said CAFTAN. So anyway, he invited me to come on both nights and, of course, I went. All I know is my jaw was dropped open because I'm looking at all these celebrities. This was A-List. It was like: oh my god. Allan just knew everybody! And here's what Allan would do during those parties. Since he loved to make an entrance, he would go upstairs—maybe two or three times during the party—he would change into a different caftan and then he'd make another big entrance down the stairs. That was Allan. Like I said: he was the ultimate showman.