Why Angelina Jolie Almost Turned Down Clint Eastwood's Changeling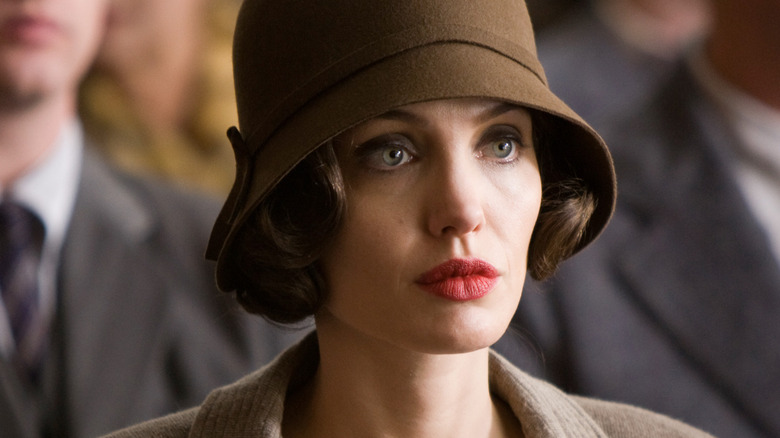 Universal Pictures
In 2008, "Babylon 5" creator and "Sense8" co-creator J. Michael Straczynski teamed up with director Clint Eastwood — Hollywood icon and chair-whisperer — and his fellow Oscar-winner Angelina Jolie to make "Changeling," a notable change of pace from the writer's sci-fi and superhero projects. Despite the heavy-hitters on both sides of the camera, however, the true story-inspired period drama was only a modest critical and box office success. Yet, if anything, its fact-based story of police corruption, systemic misogyny, and the failings of the U.S. mental healthcare system has only grown more relevant since it came out.
Taking place in Los Angeles in 1928, "Changeling" centers on Christine Collins (Jolie), a single mother whose nine-year-old son Walter (Gattlin Griffith) mysteriously vanishes from their home. A few months later, the Los Angeles Police Department informs Christine it has found the boy ... except, upon meeting him, Christine realizes right away that "Walter" is not her son. When she takes steps to prove as much and pleads with the police to carry on their search for the real Walter, the LAPD swiftly moves against her, planting false stories in the newspapers about her being a mentally-unfit mother and forcing her to undergo "treatment" at the Los Angeles County Hospital.
A disturbing yet all-too-real tale whichever way you cut it, "Changeling" was all the more terrifying for Jolie, who already had several children when she boarded the film. She talked about her hesitancy to sign on during the "Changeling" press tour, explaining:
"[The idea of] anything happening to your kids... [That was] the reason I didn't want to do the film for a long time. I read [the script] and wanted to keep it as far away from me as possible. But it's also a great story of justice, and I love the film. But, no, every day on set, I came home, and I was so clingy to my kids I think I bugged them. I was grabbing them, and I was checking them in the middle of the night. It scared me; it still scares me."
Jolie's mother was 'a lion' when it came to her kids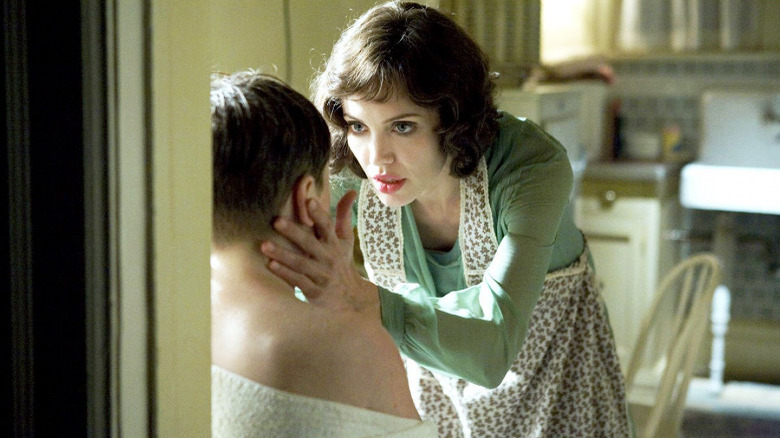 Universal Pictures
Jolie has continued to explore themes about being a parent in her work since "Changeling." Noteworthy examples include her role as the titular horned fairy in Disney's live-action "Maleficent" movies, which re-imagine "Sleeping Beauty" by basically having Maleficent adopt Aurora as her child. Then there's her turn as a grieving mother in director Brenda Chapman's "Come Away," a film that similarly draws inspiration from the classic fairy tales "Peter Pan" and "Alice's Adventures in Wonderland." 
"Changeling" is perhaps the most personal entry in Jolie's body of movies about parenthood, as she explained in the lead-up to its theatrical release:
"Certainly, so much of it is being a mother and imagining, if this was happening to me, my pain and my frustration. But I did have to find something else because... I couldn't respond the way, of course, I would respond today. This is personal, but it's true, I lost my mother a few months before the film, and to me [Christine is] very much like my mother. My mother was very passive, in many ways, and very, very sweet, but when it came to her children she was a lion. But, as a woman, very shy almost with her own voice."
Is "Changeling" due for a re-evaluation? It speaks to so many hot-button issues in the present, from police departments manipulating the press and public opinion to avoid being held accountable for their misconduct, to women's mental health being weaponized against them when they speak out against men in positions of authority. On the other hand, Eastwood's personal politics muddy the waters when it comes to the message viewers are even meant to take away from the movie, and it's been a long enough time since I saw the film that I can't vouch for how it handles the subject of actual mental illness (setting Jolie's earlier work in that area aside).
Still, if you get a hankering to check out or even revisit a film that's clearly close to Jolie's heart, perhaps give "Changeling" a look.