The First Lady Review: An Uneven But Effective Historical Triptych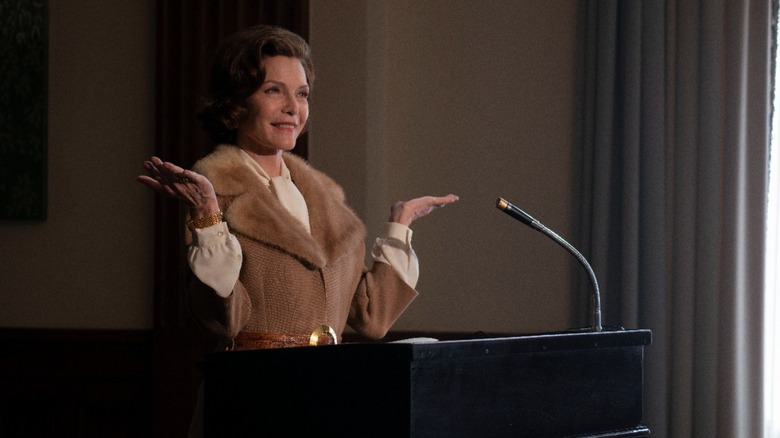 Murray Close/Showtime
Showtime's new limited series "The First Lady" begins with a historic portrait session. Michelle Obama (Viola Davis) sits with artist Amy Sherald (Tiffany Hobbs), striking the pose that will eventually be immortalized in the National Portrait Gallery. Michelle asks the artist why she didn't also offer to paint the president. "I don't wanna just paint the official," she answers between camera snapshots. "I am interested in the real."
"The First Lady" delivers its thesis statement to viewers on a platter in this opening scene. The series hopes to unveil some deeper, less polished truths about American history by going behind the scenes of three of the marriages on which the country was built. As Michelle sits for her portrait, so too do Eleanor Roosevelt (Gillian Anderson) and Betty Ford (Michelle Pfeiffer). Although its undisguised statement of intention foreshadows the show's occasional lack of artistry and subtlety, like its central figures, "The First Lady" mostly succeeds.
A woman's-eye survey of history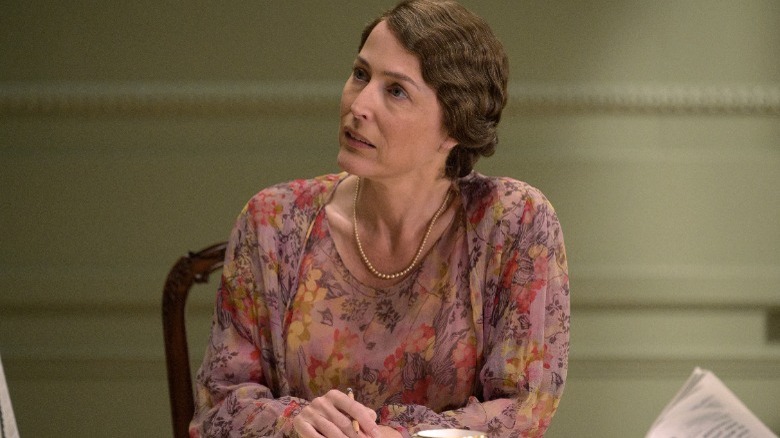 Boris Martin/Showtime
The limited series, which is directed by "Bird Box" filmmaker Susanne Bier, cuts a wide swath through history. Across its ten hours, its subjects witness World War II, Watergate, the Black Lives Matter movement, and many, many other moments in history from their singular vantage point in the White House. The show also addresses the specific difficulties of each respective First Lady: Eleanor's womanhood and sexuality, Betty's health problems and addiction, and the racism, both coded and obvious, that followed Michelle through her White House tenure.
At first glance, the three periods of history that "The First Lady" examines don't seem to share a thematic throughline, and it's true that the show isn't all that concerned with connecting its triptych. Sometimes, plot points line up, as in the portrait scene and a sequence that sees all three First Ladies get married. But overall, "The First Lady" lets each of its heroines break ground in different ways. Each First Lady has to deal with stonewalling by their husbands and state officials, as well as personal issues that are forced to become public. Each also inspires the nation to see women in a different light than ever before, pushing to be heard and seen as more than just a lady on the arm of a man with power.
It doesn't pull off it's The Crown-style ambitions
Jackson Lee Davis/Showtime
"The First Lady" oftentimes feels like America's attempted answer to "The Crown" — heavy is the head that wears it, etc. — yet its run-of-the-mill cinematography and direction don't come close to touching that series' craft. It also never lets many of its most important moments breathe as much as it should. In the end, the series manages to pull off its central conceit, but it almost certainly would have worked better if each of the three leads had a full season to themselves to develop their own story. As is, it's an entertaining and enlightening enough show, but some plot points outshine others.
The series seems to struggle most with its portrayal of the Obamas as a couple, casting the 44th president as an ambivalent moderate who's regularly much more annoyed by his wife's convictions than respectful of them. It lets their love shine through, but not as often or as convincingly as one might expect. The Obama-era arc improves whenever the spotlight turns to Michelle herself, and when her daughter Malia ("Little Fires Everywhere" breakout Lexi Underwood) grows into her own strong set of convictions. Still, the plots feel uneven, like a chair with one wobbly leg. For example, both Betty and Eleanor change the world alongside a vital group of female friends. As "The First Lady" would tell it, Michelle doesn't seem to have any.
A great cast elevates the series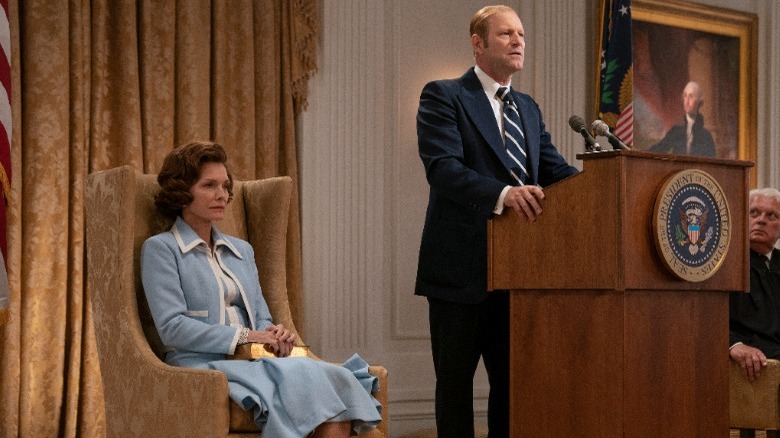 Murray Close/Showtime
That the series succeeds despite its faults is thanks almost entirely to its ensemble and core casts. As Michelle Obama, Davis initially appears miscast. She plays opposite O-T Fagbenle, an actor fifteen years her junior, as Barack Obama. But as the show's Obama-era plotline evolves, Davis eventually forces the role to fit, and her ever-powerful ability to give a great performance ultimately wins out over any initial disbelief. 
As Eleanor, Anderson gives a sensitive, vanity-free performance, transforming into a woman whose intellectual self-assuredness is at times tempered by her personal insecurities. By virtue of its historical era, her story is quieter than her counterparts', more shot through with unspoken feeling. Still, the actress plays the unorthodox first lady well.
Pfeiffer may be the series' surprise standout, playing Betty Ford with a beautiful complexity that's visible in every dazed smile, withering look, and moment of wry confidence. In what may simply be a sign of good chemistry, the show gives viewers the impression that Betty's marriage to President Gerald Ford (Aaron Eckhart) is the most genuinely loving of the bunch. The Ford family conveys a peculiar but engrossing mix of unrelatable glamor — at one point Betty has to tell her kids to put away their pet alligator — and grounded, if rocky, family dynamics. Even as she falls deeper into addiction, Betty manages to set a precedent for political activism among first families, fighting to ratify the ERA and unexpectedly becoming the face of breast cancer awareness.
"The First Lady" ultimately works because it understands that the political is personal. The show isn't consistent in everything, but it's consistent in its proclamation that the walls of the White House don't entirely divide these women from the people they serve. While their husbands hem and haw about what public issues to get involved with, the wives are able to use their resources to sidestep the ties that bind official leaders. People, even very powerful ones, get sick, so why shouldn't we have a better healthcare system? If even the most powerful woman in the country has to worry about hate crimes, shouldn't the country do something more proactive to combat hate crimes? "The First Lady" presents its protagonists as the arbiters of this type of clear-eyed logic, able to easily see what their husbands, stuck in the thick of bureaucracy, cannot.
Though it doesn't particularly stand above other historical dramas on television, "The First Lady" works as an empathetic yet formally straightforward biopic. The show manages to effectively convey the fullness and historical importance of its central figures' lives, thanks in large part to its three powerful lead actors.
"The First Lady" premieres Sunday, April 17, 2022, on Showtime.