The Quest Trailer: Disney+ Launches An Ambitious Fantasy Reality TV Series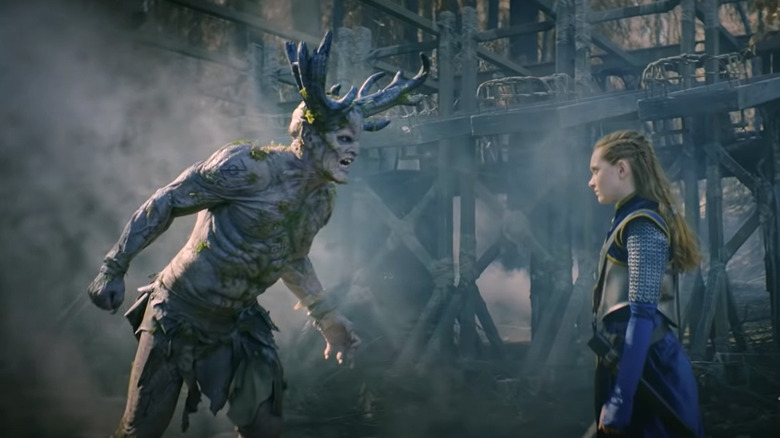 Disney+
Sometimes the most entertaining game shows are the ones we would want to compete in the most, and the upcoming Disney+ fantasy hybrid-reality series, "The Quest," looks like an absolutely incredible experience for each of its eight teenage contestants. 
The series is a reboot of an ABC series from 2014, modified for a Disney+ audience by lowering the ages of the contestants a bit. The first trailer for "The Quest" dropped today, and the sheer spectacle of it all is impressive. Whether or not the series will be able to balance its scripted fantasy elements and its reality competition elements is yet to be seen, but the trailer gives me high hopes. 
Most of the original shows we've seen on Disney+ have been scripted, like "The Mandalorian" and "Moon Knight," though the streamer has also released a few documentaries, including the incredible "Get Back." Now Disney+ is getting into reality television, and it actually looks like it might be fun?
The coolest game show ever?
So what exactly is "The Quest"? Here's the official synopsis:
Filmed at a castle outside Vienna, Austria, "The Quest" is an innovative reality competition that takes place in the fantasy world of Everealm. Teen contestants will compete in an unfolding drama where they encounter mystical beings and magical encounters that rival their favorite books, games and movies. They will be embedded in a fully immersive, 360-degree world complete with seamless technology, creature design, practical effects and scripted characters who interact dynamically with them. The series is executive produced by Court Five's Mark Ordesky ("The Lord of the Rings") and Jane Fleming; Scout Productions' David Collins, Michael Williams, Rob Eric ("Queer Eye"); and New Media Collective's Bertram van Munster, Elise Doganieri and Mark Dziak ("The Amazing Race").
Essentially, "The Quest" is a series that features big fantasy set pieces, characters portrayed by actors who will interact with the contestants, and more in order to blur the lines between a reality competition series and scripted television. It's a unique approach, and one that will benefit from having a bit of that Disney+ budget. The trailer is pretty impressive, with some of the costumed characters appearing in complex and convincing creature makeup. 
Fans of Live-Action Roleplay (LARP) are sure to enjoy the way the creative team have made the series an immersive experience for its contestants, who are fully surrounded by a fantasy world, save for the cameras of course. Hopefully the series does well enough to expand back to an adult version, because I, for one, would like to compete.  
"The Quest" begins streaming May 11, 2022, exclusively on Disney+.