Mad Men Could Have Easily Ended After Just One Season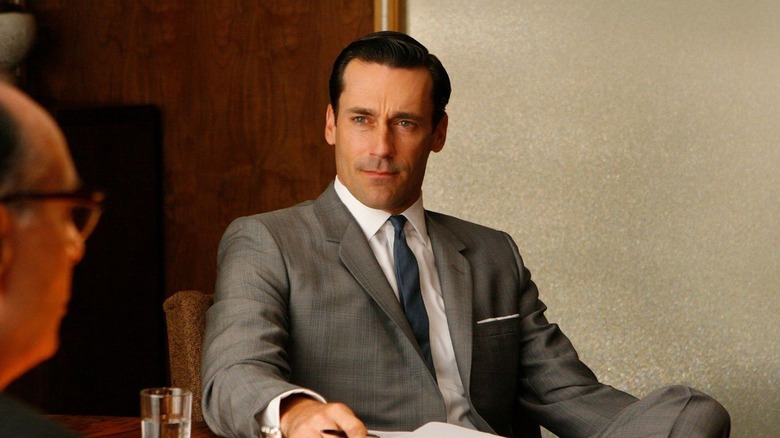 AMC
Known for its richly-detailed style and slow, deliberate storytelling, "Mad Men" is one of the greatest television shows to hit the airwaves, with a staggering 116 Emmy Award nominations and 16 wins. For seven magnificent seasons, Matthew Weiner's historical drama explores the cultural upheavals of the 1960s through the specific story of advertising executive Don Draper (the perfectly cast Jon Hamm), a handsome and innovative creative director at Sterling Cooper with a mysterious past. But "Mad Men" almost never lived past its first season. 
The never-told story behind "Mad Men" reveals the road to its production and release was rocky. Creator Matthew Weiner, known for his work on another prestige drama "The Sopranos," had been sitting on a script for "Mad Men" since 2001 and an 85-page screenplay, "The Horseshoe," detailing Don Draper's backstory. It took months for Weiner's agents to even read his pilot before he met with the networks HBO, FX, and finally, AMC. At the time, AMC was looking to replicate the success of "The Sopranos" with their own unique, high-quality character drama. 
Casting for the pilot, which was self-financed for $3.3 million and shot at Silvercup Studios in New York, began in 2006. The rest of the season was funded by Lionsgate whose executives were impressed with the pilot footage. "Mad Men" premiered on July 19, 2007 to critical acclaim and a slow-generating audience that left its future hanging in the balance. Despite the show's initial success, AMC stalled on renewing "Mad Men" for a second season. 
Weiner told The Hollywood Reporter that "AMC had waited a very, very long time [to renew the show for a second season]. I remember seeing them at the [2007] Emmys and, with an Emmy in my hand from 'The Sopranos,' yelling at everybody from AMC, "You don't want 'Mad Men?' Let it go." I knew there was a really good chance the show could end up on HBO." It's difficult to understand why AMC dragged their feet to confirm a renewal, especially when "The Wheel" — one of the most moving episodes in the entire series — left the season on such a high note and set the stage for what would become a fascinating seven-year television epic. 
How does season 1 end?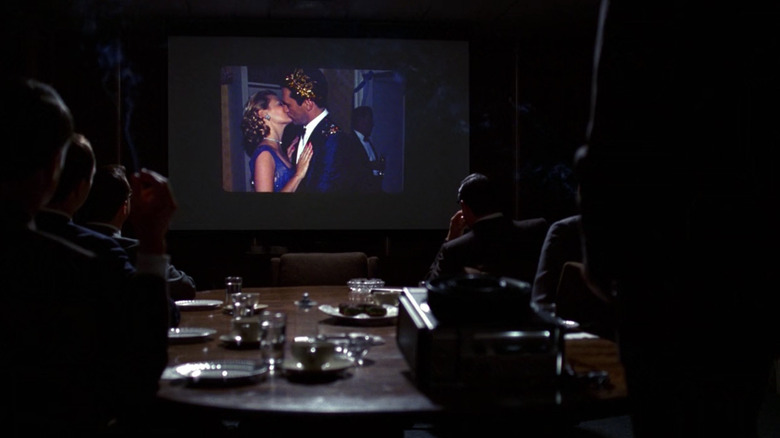 AMC
"The Wheel" is a superb episode that encapsulates Don's existential crisis. Don spends most of the episode consumed with creating a campaign for Kodak's slide projector. He tells his wife Betty that he will not be able to join her in Philadelphia for Thanksgiving, despite her need to celebrate as a family. During his transcendent pitch for "The Carousel," Don lovingly gazes at nostalgic pictures of his family on the projector screen: Sally and Bobby as babies, kissing Betty on New Year's Eve, and their wedding. These are the perfect, wholesome images of the suburban nuclear family he never had growing up but always dreamed of.
"This device isn't a spaceship. It's a time machine ... it takes us to a place where we ache to go again ... It lets us travel the way a child travels. Around and around and back home again to a place where we know we are loved," Don poignantly monologues to tearful executives. Don frequently uses his advertising campaigns to work out his inner feelings, and his speech makes him realize that the place where he is loved is his home in Ossining. He returns and announces to his beautiful wife that he will be joining them for Thanksgiving, scooping up Bobby and Sally in celebration. 
But then Weiner pulls the rug out from under us, revealing that Don is really alone in the big, empty house. He sits on the stairs in the darkness to Bob Dylan's somber tune "Don't Think Twice, It's Alright," isolated before the quintessential holiday about family and togetherness. Don consistently self-sabotages his familial relationships because of his childhood traumas; he cannot allow himself to truly love and be loved because he never experienced it growing up. 
Former AMC Senior VP Christina Wayne reveals to The Hollywood Reporter that the melancholy scene did not always end this way: 
"[Weiner had] written it that Don comes home, hugs Betty, and they drive off into the sunset. But that ties the show up with a bow, and we had to do season two. He got so mad he hung up, but he called back and said: 'You're right. I just love my characters so much, I wanted them to be happy.'"
For the rest of the series, Matthew Weiner was notorious for ending episodes ambiguously with many loose ends. 
Contract disputes threaten the show's continuation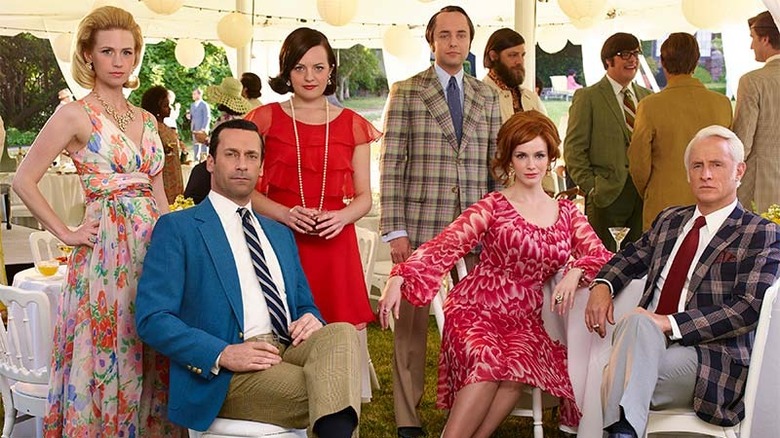 AMC
The gap between season 1 and season 2 was not the only time "Mad Men" dealt with a hiatus. Despite all of its success, "Mad Men" faced the very real possibility of not continuing after season 4. Weiner tells The Hollywood Reporter: 
After Season Four — and our fourth Emmy in a row — my contract expired again [in late 2010]. Nobody from AMC or Lionsgate would talk to me. Bryan Lourd [at CAA] got involved. He said, 'Don't worry about it.' Cut to six months later, and it's, 'I've never seen anything like this in my life.' They came in with a very low offer and stipulations about cutting time and adding commercials, getting rid of 30 percent of the cast. I was like, 'No to all that.' They kept offering me more money to take those things, and I kept saying, 'No, this is not about money.'
The lengthy contract negotiations made cast members nervous; Elisabeth Moss recalls, "I remember thinking there was a legitimate chance that we weren't going to go back. I think I can speak for all of us when I say we didn't want to go back without Matt. We privately made that known to him." Weiner feared seeing his beloved creation being handed to someone else. He spoke with other showrunners such as Aaron Sorkin and David Chase "about what it was going to be like if they took [the show] away and how I was going to live. They'd all been in this situation, and Aaron really talked about what it's going to be like for someone else to run your show: 'Don't ever watch it.'  
Finally, Weiner secured $30 million for a three-season contract and "Mad Men" would return in 2012, two years after season 4. "Being off the air that long was bad for us. I felt that the show was damaged — its prestige was damaged," Weiner admits. It was certainly a large gap, especially for a season that ended in such a surprising way with Don's proposal to Megan. 
The final season was split into two parts with a one-year gap. This way, the final season of "Mad Men" would not have to compete against the final season of AMC's other prestige hit drama "Breaking Bad." It also gave Jon Hamm a chance to finally win Best Actor after Bryan Cranston swept the category for so many years. It's hard to imagine how such a phenomenal show nearly ended forever (twice!) or that it could be taken away from Matthew Weiner — the main reason for its existence as a compelling piece of thoughtful television.