Rush Hour 2 Fulfilled A Lifelong Dream For Don Cheadle
New Line Cinema
The name "Kung Fu Kenny" is probably most recognizable to fans of the rapper Kendrick Lamar, but believe it or not, he wasn't the first to coin the moniker. Lamar's alter ego owes a lot — everything, really — to actor Don Cheadle. In "Rush Hour 2," the actor plays Kenny, the Cantonese-speaking, karate-fighting restaurant owner that inspired Lamar's persona of the same name.
The Jackie Chan/Chris Tucker buddy action comedies are still fan favorites, even 20-plus years since the first premiered. They're a perfect (if not slightly outdated) example of the symbiotic love affair between hip-hop and kung fu culture, something that appealed to Cheadle himself growing up. In a conversation with MIC, the actor looked back fondly on the martial arts movies of yore "We all grew up [watching] that. I did, anyway. Kung fu theater."
Cheadle, like Lamar, has always been a massive fan of those films, and of action superstar Jackie Chan. Which is why, when "Rush Hour" director Brett Ratner invited Cheadle to cameo in the sequel, the actor didn't hesitate to say yes — but not before making a few specific requests that would help him fulfill a long-standing goal.
Don Cheadle's conditions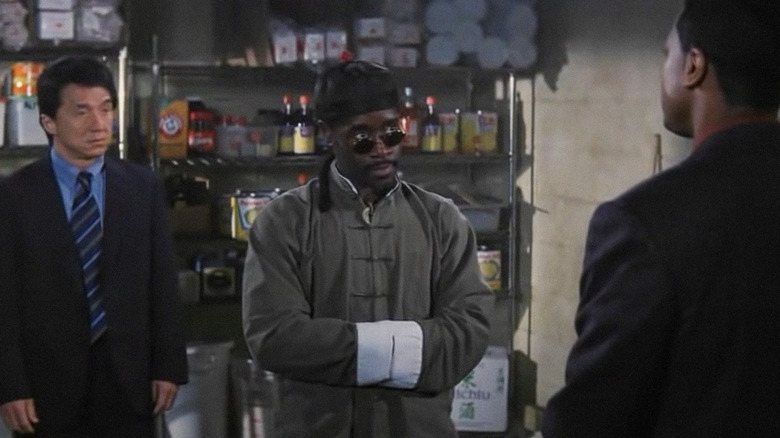 New Line Cinema
"Rush Hour 2" was not the first film that Cheadle and Ratner collaborated on. After working on "The Family Man" with Nicolas Cage, their friendly working relationship resulted in the director offering Cheadle a cameo, and it made it easy for Cheadle to have a few requests of his own.
"I told [Ratner], 'I'll be in the movie if I can speak Chinese and fight Jackie Chan,'" Cheadle recalled. "And he said, "You want to get your ass kicked by Jackie Chan?'"
Cheadle wasn't interested in beating the Hong Kong legend in their on-screen fight, but he certainly didn't want to lose, either. "I'll fight him to a stalemate," he told Ratner. "If I can do those two things, I'll be in the movie."
Sure enough, Cheadle's wishes were granted. In the film, Chief Inspector Lee (Chan) and LAPD Detective James Carter (Tucker) visit Kenny, one of Carter's informants who runs an underground gambling den out of his restaurant. What starts as a routine visit turns into a scuffle real fast, but Lee quickly discovers that Kenny actually knows kung fu — he's even mastered "Twisting Tiger."
Connecting the dots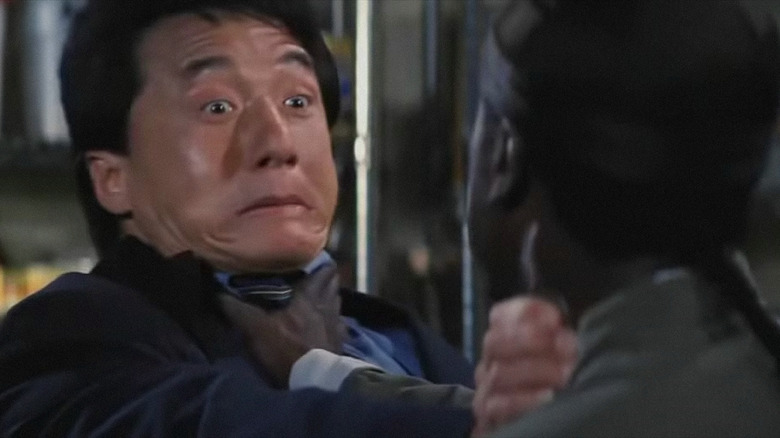 New Line Cinema
It should come as no surprise that, despite the levity of the scene, both Cheadle and Chan took their preparation seriously. Cheadle said that he "got a translator and got a Chinese-language instructor" to hold up his Cantonese dialogue with Chan. And then there was the matter of the choreography.
Cheadle learned and rehearsed his brief fight sequence with Chan and his stunt team. "Jackie speaks very little English," the actor told Entertainment Weekly, "and he's like, 'Okay, let's go. We fight fast.' And he started going so hard. I was like, 'Yo, this is a movie, bro.' I'm glad I didn't get my jaw broken."
By the time filming began, Cheadle had prepared enough to improvise a bit. He, Chan, and Tucker "messed around and then we did the fight scene. And I was like, 'Wow, I got to fight Jackie Chan in a movie.' That was the whole draw of the job for me."
Cheadle's cameo is a high point for an already-fun movie, though the actor had no idea how much it'd influenced Kendrick Lamar until he appeared in the rapper's music video for "DNA." In fact, Cheadle had nearly forgotten about his "Rush Hour 2" cameo. It wasn't until Lamar debuted his Kung Fu Kenny persona at Coachella in 2017 that the actor began connecting the dots.
"Somebody on Twitter said, 'Don Cheadle, the original Kung Fu Kenny,'" Cheadle told MIC. "They put a picture of 'Rush Hour 2' up, and I was like, 'Oh, wait a minute, that's true.'" It makes his cameo in "DNA" a cheeky wink to a character you might have forgotten about, and a full-circle homage to Black characters in martial arts films.