Youn Yuh-Jung Sees Pachinko As A Story About Looking To The Future [Interview]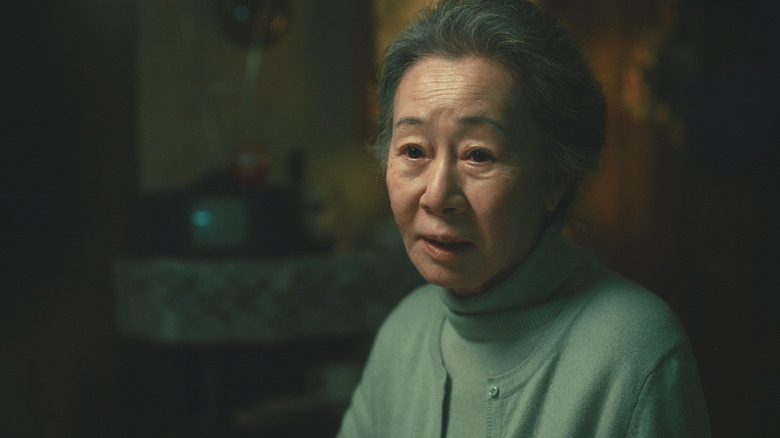 AppleTV+
Based on the bestselling novel from Min Jin Lee, "Pachinko" traces a family history through three generations, largely revolving around the life of Sunja, the prized daughter of a proud family who believes she will carry on their legacy. Set against the backdrop of war, with Sunja growing up in Japanese-occupied Korea, "Pachinko" is the story of her perseverance as she fights to build a home for generations of her family to come. The role of our resilient protagonist is shared by three actresses: Newcomers Yu-na and Minha Kim are stunning, laying the foundations for the woman Sunja will grow into decades later. When we check in with Sunja in the flash-forwards, she's portrayed by Youn Yuh-Jung, known for her work in Korean titles like "Woman of Fire" and "Dear My Friends." Just last year, Yun-Jung stole the show at the 93rd Academy Awards, accepting her Oscar for Best Supporting Actress for her work on "Minari."
Her follow-up role in "Pachinko" shares some similarities with that film — once again, she's a grandmother who makes a lifelong impression on her grandson, but this time the young man in question is a 20-something businessman, fighting his way to the top by any means necessary. With the help of his grandmother, Solomon (Jin Ha) comes to understand the history of his family, while meanwhile, this older version of Sunja is continuing her own journey of tapping into her past. In the conversation below, Youn Yuh-Jung discusses what drew her to the role of Sunja, and the effect she hopes "Pachinko" will have on its audience.

This interview has been edited for clarity and brevity.
'This character has strength and determination to survive, and that drew me in.'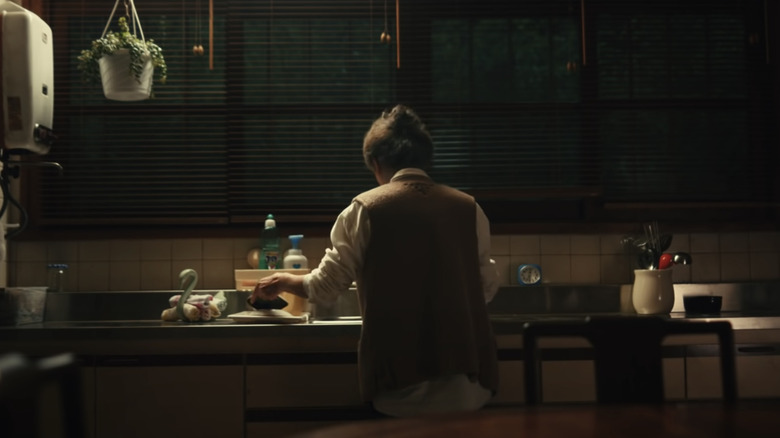 Apple TV+
What drew you to the role of Sunja?
Her character. This character has strength and determination to survive, and that drew me in. I wanted to play this role.
Had you read the book before taking the role?
No, unfortunately. I read the script first, and then, the next day, I bought the book and read it.
Did that change at all your interpretation of Sunja?
It just helped me because there's the flashbacks in the screenplay. The script is different than the novel. The novel, you can just read it in order, so it gave me more desire to play this role. And it probably described more details about her character, and that helped.
Were you able to craft and collaborate on the role with the two younger actresses portraying her?
We didn't see other at all. Actually, I met Minha, the one who played my younger version, and I saw her last night. We were shooting at different times, so we weren't able to see each other. I saw all the episodes, and I was very amazed and she did a wonderful job. She was lot better than me. [Laughs]
One of the show's biggest themes is this generational divide, especially when it comes to Sunja's relationship with her grandson, Solomon, and the conflict that he's having as he tries to get this deal done and brings her into it.
It happens all the time, but she became very wise. She already knew — at age 74, you will know everything. So she was just watching him and giving him very short words of wisdom and then, well, eventually he listened to me.
'I'm very fortunate to still be alive and sharing such a story between Korea and the Western world'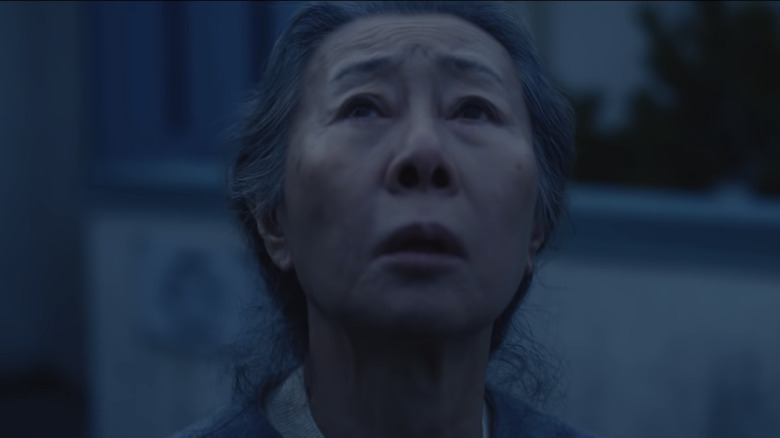 Apple TV+
In a lot of ways, "Pachinko" is telling a story that feels very specific to a culture but also has bigger, universal themes. How were you thinking about what this story brings to people who have different experiences?
I'm so happy to have this story being told. We knew some of it, and then we learned from parents, but I'm so glad we could have this story being told, and I hope we can honor their story with this show. Well, I'm very fortunate to still be alive and sharing such a story between Korea and the Western world. It's always nice to share the story together. Always.
What role do you think the language plays in that — sharing this story with the western world, when it's told in Korean and Japanese, instead of all in English?
Yes. Still, that's my concern. I don't know. But because me, I'm an old lady, so it is very hard to keep up with the time difference and everything. But I asked younger generations, and they said they are used to these kinds of things. So I don't have to worry about it. And I'm not the owner of Apple, so I don't have to worry about that. We'll see how it goes.
It certainly feels like we're seeing changes in the past couple of years, and progress is being made in telling stories without language as a barrier. Is that a change you've noticed over your career?
Not only my career. I think it's about sharing together. It's a very nice thing, and the world gets smaller and smaller. Back in my time, America was a faraway land. If you come here, then you are not supposed to go back again because of the travel and expense and everything. Nowadays, you go back and forth like this and then you wish you had all the history. So back in my time, in the States, all they remembered was the Korean War. They kept asking me, "How was the Korean War?" And "My husband went to the army and then went to Korea." And then, "Korea was like this or like this." I'm sure there were better times, but [it was a] very not good experience for me. But nowadays, all is different.
So we have to look forward to the future, not the past. We don't have to be embarrassed about our past. That's what I like to share about this story. Some Koreans are very ashamed about how we got occupied by Japan and have bitter feelings about Japan. But [for me], not anymore. It happened already. That's [the] past. We have to look forward for the future. But it's nice to know the young kids know about our part of history.  And then they can find hope from this show, I think. [Laughs] I'm just like a witness to all the world.
The first four episodes of Pachinko are now available to stream on Apple TV+, with new episodes dropping weekly on Fridays.