Why Anthony Hopkins Tried To Get David Lynch Fired From Elephant Man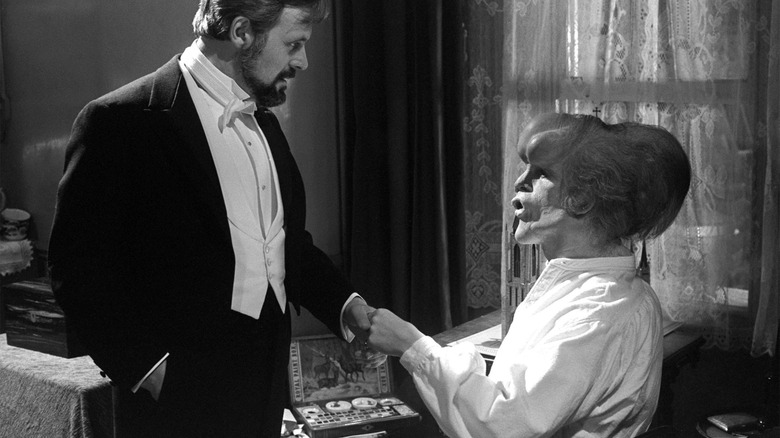 Paramount
David Lynch's first feature film "Eraserhead" took five years to make. Inspired by stories by Franz Kafka and Nikolai Gogol, "Eraserhead" was a dark and surreal odyssey that was certainly not destined for mainstream success. It wasn't until the film started playing as a regular Friday midnight show at the Nuart Theater in Los Angeles that interest began to grow. Eventually, after driving past the theater for years, viewers would finally let curiosity get the better of them and they would buy a ticket. David Lynch even once filmed a thank you letter to the Nuart. 
One "Eraserhead" enthusiast was comedy legend Mel Brooks, who was blown away by Lynch's style and surreality. In the late '70s, while "Eraserhead" was still gaining momentum, Brooks offered "The Elephant Man" to Lynch, and Lynch accepted. Brooks slyly took his own name off "The Elephant Man," as he knew the phrase "Mel Brooks presents" might lead people to believe they were seeing a comedy. It was released as a Brooksfilms Release. Although Lynch had only made one feature film before, and it was made at his own pace with complete creative control, Brooks had total faith in him to make a biography of Joseph Merrick, a famed circus sideshow performer who had been underestimated his whole life, and who — once given an opportunity to talk to a British doctor — revealed himself to be quiet, thoughtful, well-read, and a lover of the theater. 
One person who did not have faith in Lynch was Anthony Hopkins, who played the role of Dr. Frederick Treves, the man who discovered Joseph Merrick (changed to John for the movie) and who would eventually bond with him. Hopkins once gave Mel Brooks a call to have a few words. 
Hopkins' call to Brooks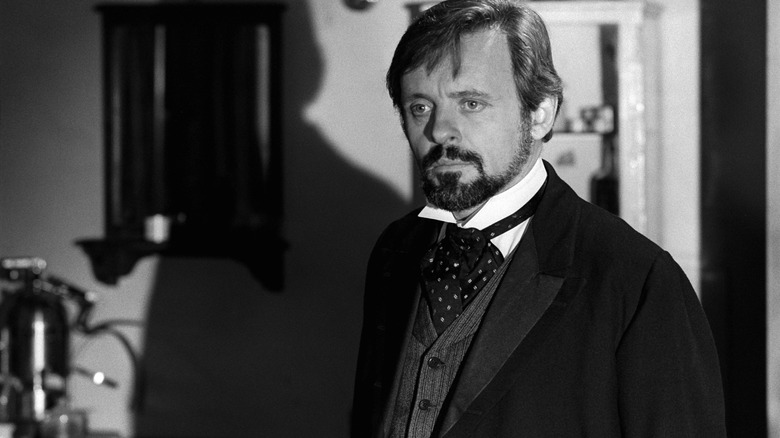 Paramount
Lynch had completed one feature before, but the circumstances of its production were unique. Lynch was allowed to work at his own pace, often leaving the project and returning a span of time later to continue. He also retained complete creative control, growing used to doing a lot of the work himself. This became a problem for Lynch when it came to the makeup for John Merrick. Joseph Merrick's medical condition left him with an enlarged head, a mouth that was largely frozen in place, and tumors covering most of his body. Lynch tried to design the makeup himself, using casts of Merrick's actual body as a model. But, as the trivia goes, he had a lot of trouble. According to an article in The Irish Times, Lynch was despondent in having to hire a makeup specialist to come up with the extensive makeup that actor John Hurt would have to wear (Incidentally, the makeup took five hours to apply, and Hurt reportedly hated wearing it, saying "I think they finally managed to make me hate acting"). 
Lynch fell into despair over the makeup. "I thought it would be better to kill myself because I could hardly stand to be in my body." 
When he finally managed to pull himself out of his funk, he found himself clashing with Hopkins, who felt that Lynch wasn't professional enough. Mel Brooks, as illustrated in the Irish Times, once recalled getting an angry phone call from Hopkins about how Lynch was ill-suited to directing such a large production. Hopkins didn't expressly request that Lynch be fired, but Brooks does recall the outrage. Brooks stood up for Lynch, retaining his complete faith in the product. 
Brooks would eventually have a conversation with another one of "The Elephant Man's" screenwriters saying, "He's all screwed up, too, of course, and he projects his own emotional and sexual turmoil into his work and assaults us with the feelings he's being assaulted by." 
The Elephant Man's accolades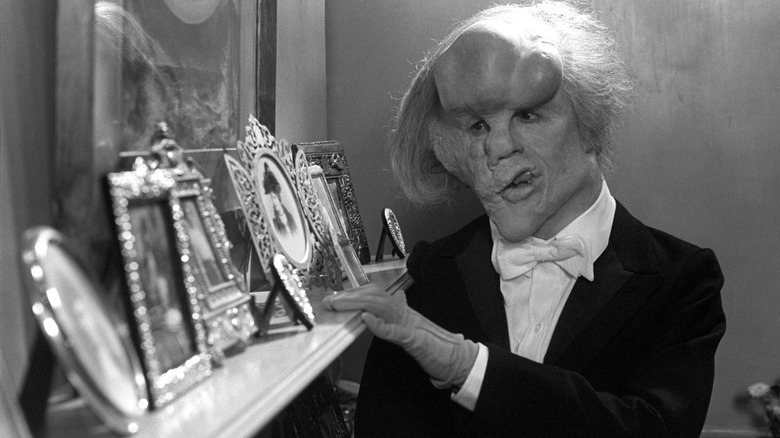 Paramount
Brooks' faith in Lynch, and Lynch's gorgeous work, led "The Elephant Man" to eight Oscar nominations, including Best Picture, Best Director, and Best Actor for Hurt. The Best Makeup category would not be introduced until the following year, having only been a special award prior. Had the category been implemented—- if I may editorialize — "The Elephant Man" would have been a shoo-in. 
"The Elephant Man" won no Oscars, losing to films like "Ordinary People," "Tess," and "Raging Bull." Only one of the Best Picture nominees of 1980 has a Criterion Collection Blu-ray, however: "The Elephant Man."
Lynch's career would take a few dramatic swings for the remainder of the 1980s. His next film was an even larger production: An adaptation of Frank Herbert's "Dune." Lynch so hated working on a film of that scale, however, that he shifted back to small, dark, intimate, surreal drama with "Blue Velvet" in 1986, cementing his modern sensibilities. The critical success of "Blue Velvet" gave Lynch enough clout in Hollywood to make a TV soap opera "Twin Peaks" and the Cannes darling "Wild at Heart," both in 1990. 
Lynch has been a staple ever since. Hopkins has not appeared in any other David Lynch films.