Petite Maman Trailer: A Fairy Tale Of Loss And Love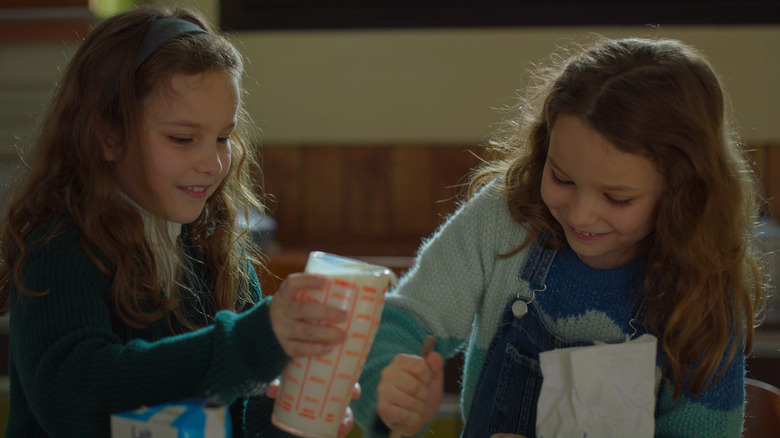 Neon
Neon has released a new trailer for the upcoming, critically-lauded French film "Petite Maman." Our own Hoai-Tran Bui gave the movie a spectacular review, calling it "a lovely slice-of-life tale that knows that loss is so enormous and monumental that we can only linger with it for brief moments." The film, which was shot entirely during Covid with a small cast, comes to us from the writer and director of 2019's "Portrait of a Lady on Fire," Céline Sciamma. It's a magical tale of a young girl named Nelly (Joséphine Sanz) visiting the childhood home of her mother (Nina Meurisse) after the death of her grandmother (Margot Abascal). She meets a young girl her age in the woods named Marion (Gabrielle Sanz) who surprisingly looks just like her. (The actors who play the girls are twins.) 
The solution to the mystery of this child in the woods is clear from the trailer, and though woods in films generally signal horror to me, that is not what this is. The trailer calls it a fairy tale, and it definitely has that feel to it. I'm a sucker for a happy story, or at least one of understanding. We don't have enough of those. Watch the trailer below. 
'A fairy tale of love an innocence'
"Petite Maman" (which means "little mother" in French) currently has a 97% rating on Rotten Tomatoes from critics, though the audience score isn't available yet. The film is an official selection for festivals around the world including AFI, Stockholm, New York, San Diego, Telluride, Sydney, Austin, Philadelphia, Toronto, Mar Del Plata, London, Berlin, Chicago, and Mill Valley. Whatever you think of critics and reviews, that's a lot of lauding. 
The trailer hooked me, and even though I know the entire plot, I cannot wait to see this. We could all use a lovely fairy tale right now, even if there is some sadness in it. 
Here is the synopsis for "Petite Maman:"
Céline Sciamma continues to prove herself as one of the most accomplished and unpredictable contemporary French filmmakers with her follow up to PORTRAIT OF A LADY ON FIRE, the uniquely emotional, PETITE MAMAN. Following the death of her beloved grandmother, 8-year-old Nelly accompanies her parents to her mother's childhood home to begin the difficult process of cleaning out its contents. As Nelly explores the house and nearby woods, she is immediately drawn to a neighbor her own age building a treehouse. What follows is a tender tale of childhood grief, memory and connection.
"Petite Maman" stars Joséphine Sanz, Gabrielle Sanz, Nina Meurisse, Stéphane Varupenne, and Margot Abascal. It is produced by Bénédicte Couvreur. The film will be released in select theaters on April 22, 2022, and everywhere on Mother's Day weekend (May 7, 2022).