11 Ways To Make A 'One Wild Night Out On The Town' Movie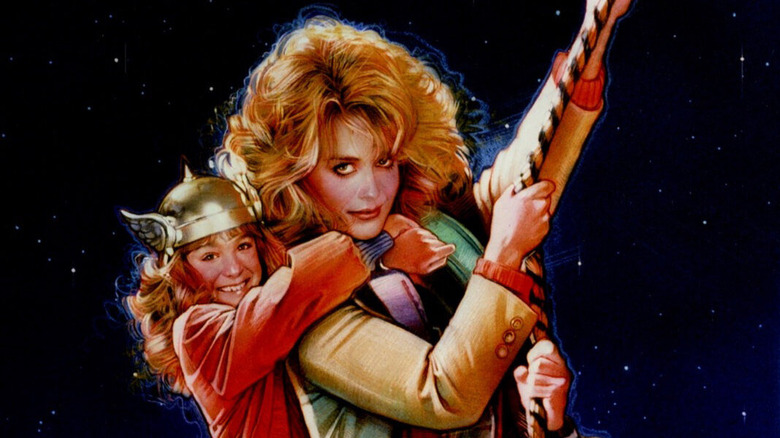 Buena Vista Pictures Distribution
It was supposed to be a simple trip, until things stopped going according to plan. Now, you're stranded after dark in hostile territory, with those who mean you harm hot on your heels. But if you manage to make it home safe, you can say you had "One Wild Night Out on the Town." This subgenre combines "One Crazy Night" and "Caught in the Bad Part of Town" through a specific monomyth-style sequence.
Our travelers leave home (and their comfort zones) behind to venture into questionable realms, to complete tasks they either expect to be harmless and uncomplicated, or regard as obligatory. But unexpected elements and occurrences subject our travelers to successions of chaotic travails, just as random circumstances and fears of punishment likewise separate them from outside assistance. The intrusion of our travelers into domains where they do not belong provokes the ire of those environments' native inhabitants, but it's also possible for our travelers to acquire temporary allies along the way. Even if our travelers are able to return home, they might be required to complete one or more sidequests, often involving MacGuffins, to ensure they're not bringing trouble back with them, or leaving any fellow travelers behind.
Although such adventures may feature epilogue errands, their primary missions (and returns home) must be completed before or during the morning hours of the following day. "One Wild Night Out on the Town" delivers enticingly perilous and transgressive escapades, often candy-coated with dark comedy, through whirlwind tours of the extraordinary.
The Warriors (1979)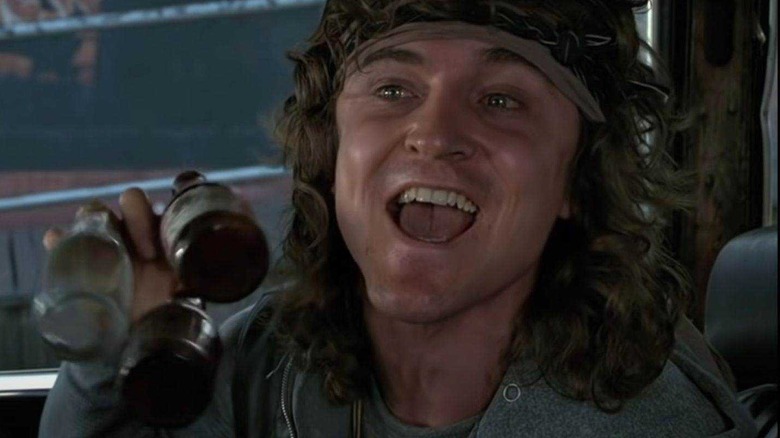 Paramount Pictures
There's always a danger war will break out when New York City street gangs come together outside their home turf, but when Cyrus (Roger Hill) — leader of the Gramercy Riffs, the most powerful gang in NYC — calls delegates of all the cities' gangs to Van Cortlandt Park for a midnight summit, the Warriors of Coney Island know they risk losing more by not showing up. Cyrus' popularity makes his speeches advocating pan-gang unity seem feasible, until Luther (David Patrick Kelly), leader of the Rogues, shoots Cyrus dead and blames the Warriors, making the Coney Island gang pariahs among all their fellow gangs as they traverse the 30 miles of urban jungle between them and home.
The obstacles the Warriors face include not only brawls with other colorfully costumed gangs — including a siren seduction play by the all-girl Lizzies — looking to collect the bounty offered by the Gramercy Riffs, but also pursuit by police and fires shutting down the elevated train. One Warrior is thrown onto the tracks and killed by a subway car, while another is arrested for attempting to sexually assault an undercover cop. Along the way, the Warriors' leader, Swan (Michael Beck), winds up with Mercy (Deborah Van Valkenburgh), the girlfriend of another gang's leader, in spite of Swan wanting to shake her off.
When the remaining Warriors finally return to Coney Island at dawn, they find Luther and the Rogues waiting for them. Ironically, the Gramercy Riffs intervene on the Warriors' behalf, after learning Luther killed Cyrus, and the former rivals express their mutual respect.
Tron (1982)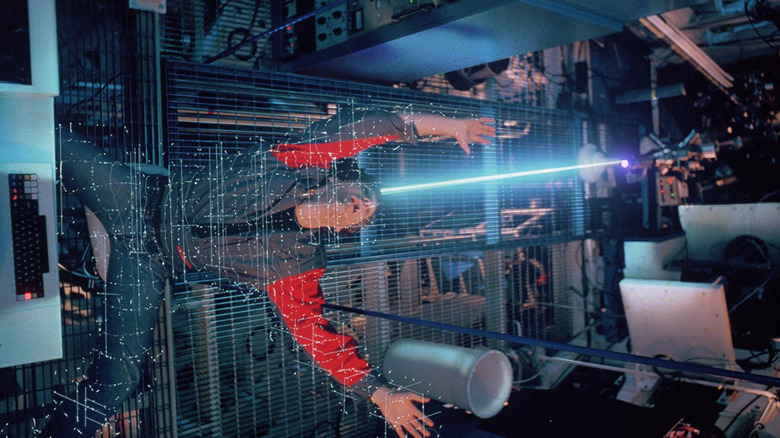 Buena Vista Distribution
Kevin Flynn's (Jeff Bridges) video games were stolen by his former boss, ENCOM executive Ed Dillinger (David Warner), but the data proving this is secured by ENCOM's Master Control Program. ENCOM programmer Alan Bradley (Bruce Boxleitner), Flynn's former coworker, has developed a security program, "Tron," to regulate the activities of the MCP, which would grant Flynn access to the data proving Dillinger's plagiarism, but the MCP has locked Alan's access to his projects. For Alan to provide the information his Tron program needs to counter the MCP, he needs Flynn to hack ENCOM's system at the source, to unlock Alan's access to Tron.
When Flynn, Alan, and engineer Lora Baines (Cindy Morgan) break into ENCOM after dark, the MCP detects Flynn's presence, and uses Lora's experimental matter-digitizing laser to blast Flynn into cyberspace. Flynn is forced to play gladiatorial video games "on the other side of the screen" by Sark, an evil program that serves as the MCP's second-in-command.
To return to "the real world," Flynn teams with Tron, first to aid him in reaching the I/O tower, to receive instructions from Alan on how to defeat the MCP, then to cross the cyberspace plains with Tron, to fight the MCP directly. Before Flynn sacrifices his digital self to help Tron deactivate the MCP and return to non-virtual reality, he encounters a number of other good programs that, like Tron, share the likenesses and personalities of their "users." When Dillinger returns to ENCOM in the morning, he finds a neutered MCP has publicized proof of his theft.
Streets of Fire (1984)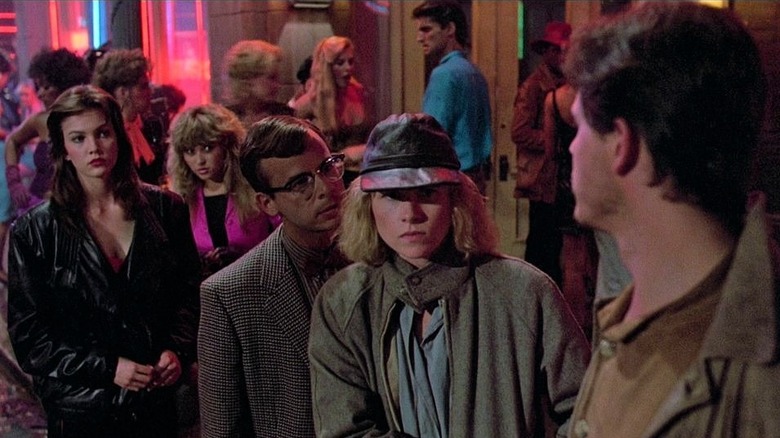 Universal Pictures
When Ellen Aim (Diane Lane), lead singer of the Attackers, is kidnapped from her own concert, in her home borough of Richmond, by the Bombers — a biker gang led by Raven Shaddock (Willem Dafoe) — there's no way Ellen's ex-boyfriend, and ex-soldier, Tom Cody (Michael Paré) isn't coming to rescue her, despite his initial protestations.
Tom insists Ellen's current boyfriend and manager, Billy Fish (Rick Moranis), pay him $10,000 to rescue Ellen, but Tom then pays 10% of his cut to tomboyish fellow ex-soldier McCoy (Amy Madigan), to join his mission as a shooter and driver. Raven is holding Ellen captive in "The Battery," the bad (or rather worse) part of town where the Bombers are based, so Billy, who used to live in the Battery, serves as a Virgil-esque guide for Tom and McCoy's trip into urban Hell.
Rescuing Ellen from "Torchie's" biker bar proves less challenging than making it back to Richmond, as our party ditches their now-hot car to cross the "Streets of Fire" on foot. "Baby Doll" (E.G. Daily), a fan of Ellen's, tags along to warn that police are looking for whoever started the fight at Torchie's, and our party briefly hitches a ride on "The Sorels" band's tour bus, until it's pulled over by racist cops. The Sorels persuade Ellen to make them the Attackers' opening act, and a third-day coda showcases the showdown between Raven and his Bombers versus Tom and the decent people of Richmond (two words: sledgehammer duel), but Tom still gets Ellen home the morning after rescuing her from Raven.
After Hours (1985)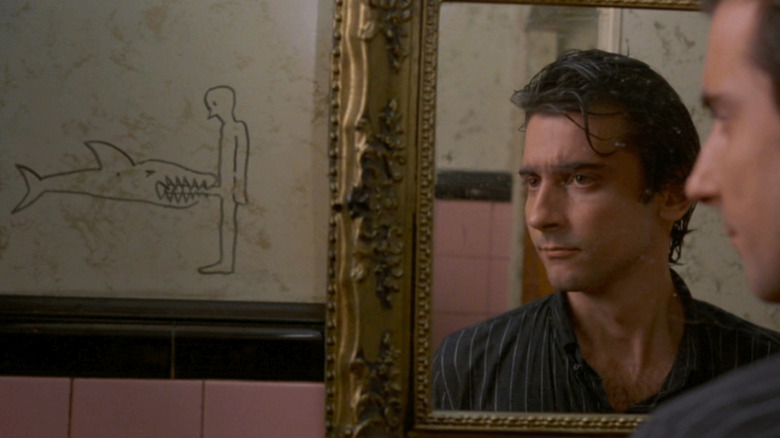 Warner Bros.
Paul Hackett (Griffin Dunne) is less than stimulated by his computer data entry job, so when he goes home to his drab apartment, it makes sense he'd want to call Marcy Franklin (Rosanna Arquette), the lively, pretty, well-read girl he'd met at a café earlier that evening, who'd given him her number. A phone conversation yields an invite to Marcy's SoHo apartment, but a high-speed ride in an open-windowed cab sucks Paul's $20 — his only cash on hand, aside from some coins — out the window.
Paul nonetheless arrives at Marcy's apartment, meeting Kiki (Linda Fiorentino), her artistically and libidinously experimental roommate, and receiving mixed romantic signals from Marcy herself, who spurns his advances while disclosing sexual traumas she's suffered with an unsettlingly disaffected air. Between Marcy's behavior and signs she might be disfigured from burns, Paul discreetly leaves, only to find his pocket change can't cover the subway fare. A bartender's attempt to lend him money puts Paul under suspicion for a string of neighborhood burglaries. Paul then learns his wordless rejection of Marcy (who was covering a tattoo, not burns) caused her to commit suicide, breaking the heart of the bartender, who was Marcy's boyfriend.
Paul's no-less-fraught, misfiring interactions with a Mister Softee truck driver and a beehived waitress contribute to a literal mob chasing him down the streets, until he hides in a nightclub by posing as a sculpture. The neighborhood's actual burglars steal the plaster-coated Paul, but accidentally drop him off outside his office that morning, in time for another workday.
Vamp (1986)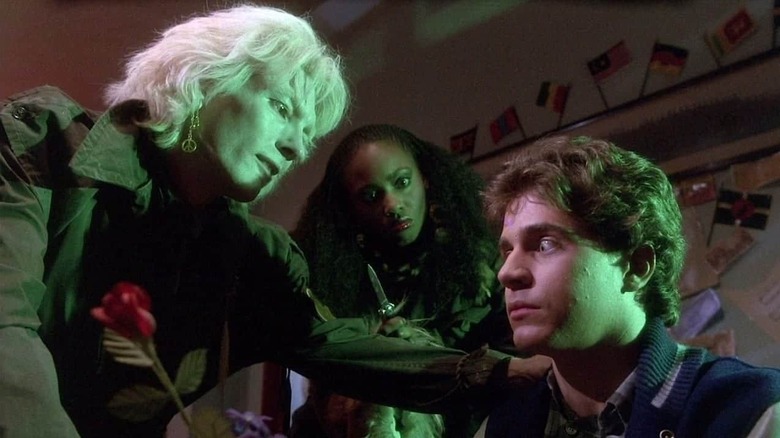 New World Pictures
Roommates Keith (Chris Makepeace) and AJ (Robert Rusler) are tired of living in the dorms, but to be accepted into their fraternity of choice, they need to hire a stripper. Since their college is an extended drive from the nearest strip clubs in the city, they ask the richest student on campus, Duncan (Gedde Watanabe), to lend them one of his nine Cadillacs, but he insists they bring him along.
A literal whirlwind of a near-miss traffic accident drops our boys into the bad part of town after dark, where they tussle with a switchblade-wielding albino street gang in a café, before reaching the strip club they're searching for. The club's exotic lead act, Katrina (Grace Jones), is more than they could have imagined, but she's also a vampire who kills AJ. When Keith grows concerned over AJ's absence, club waitress Amaretto (Dedee Pfeiffer), who insists she knows Keith, helps him search the neighborhood for AJ. Except Keith also loses track of Amaretto, then flees through streets and sewers from the albino gang and various area vampires, until he discovers AJ's body in a dumpster.
When cops respond to Keith's call, AJ appears alive and well again, but reveals to Keith he's now a vampire. AJ stakes himself to avoid feeding on Keith, who fights his way through the vampire strip club with Amaretto (his fifth-grade classmate Allison), as Duncan also turns into a vampire and is killed. After car chases and multiple explosions, the vampires' nest burns, and Keith saves Allison from Katrina with the morning's sunlight.
Adventures in Babysitting (1987)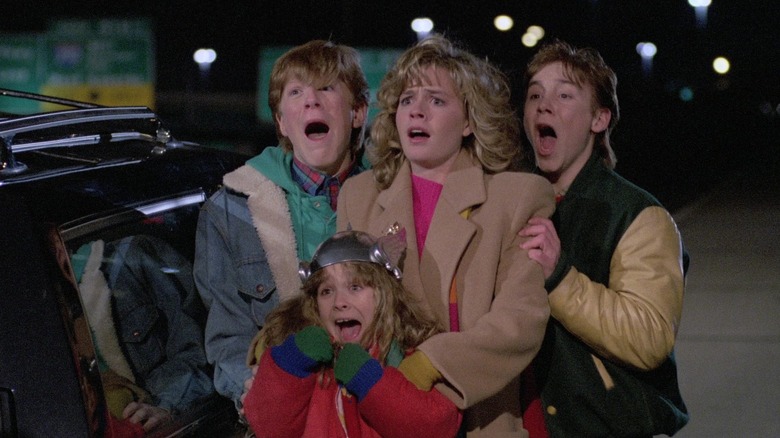 Buena Vista Pictures Distribution
Suburban high schooler Chris Parker (Elisabeth Shue) is babysitting Brad (Keith Coogan) and Sarah Anderson (Maia Brewton) when her friend Brenda (Penelope Ann Miller) calls from a downtown Chicago bus station, begging Chris for a ride home ... because Brenda ran out of money while running away from home. To avoid leaving the Andersons unsupervised, Chris takes them and Brad's friend, Daryl Coopersmith (Anthony Rapp), along for the ride in her mother's station wagon, but she forgets to bring her purse, and the car blows a flat on the freeway.
An initially helpful tow truck driver abandons the kids to confront his cheating wife and her lover, and the kids hide from the confrontation's stray gunfire in a Cadillac that gets stolen, taking them to a mob-run chop shop. The kids sneak out of the chop shop, but because Daryl swipes a Playboy the criminals used to take important notes, the mobsters pursue the kids through a blues club, where the kids sing the blues, to Chicago's "L" train, where Chris breaks up a gang war after one gang leader stabs Brad's foot with a switchblade. A misdiagnosis at the hospital leaves everyone relieved to see Brad still alive, and when they stumble across a fraternity party, a sympathetic college student donates almost enough money to recover their car from the tow truck garage.
Before all the kids (including Brenda) make it home without getting caught by their parents, Chris confronts her own cheating boyfriend, and Sarah meets her hero, Thor, before scaling the side of Chicago's "Diamond Building."
License to Drive (1988)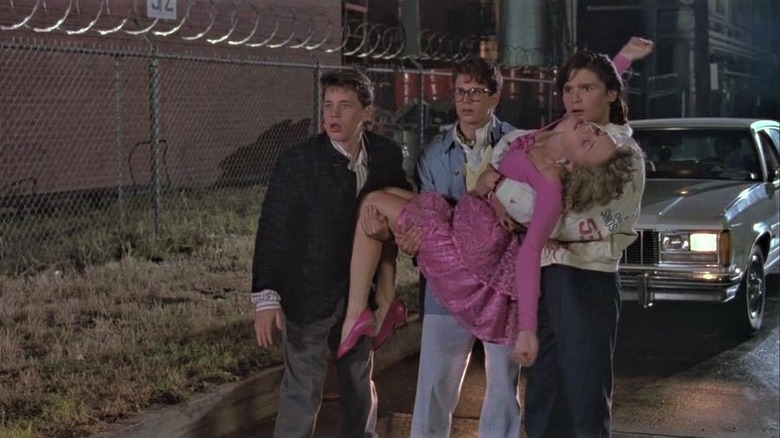 20th Century Fox
Les Anderson (Corey Haim) gets grounded for failing his driver's license exam, but he'd already promised his crush, Mercedes Lane (Heather Graham), that he'd pick her up for a date, in "his" car, that Saturday. "His" car is his grandfather's 1972 Cadillac Sedan de Ville, which Les' dad drives while Grandpa Anderson borrows his son's BMW (the old man dislikes driving his not-quite-classic car long distances).
Les waits until his parents fall asleep to take the car for a joyride with Mercedes, except she gets so drunk, she dents the hood of the car by dancing on it, then passes out. Because Les' friend Dean (Corey Feldman) is able to repair the damage, Dean persuades Les to load a sleeping Mercedes into the trunk, so the boys can make a pilgrimage to "Archie's Atomic Drive-In," and hook up with other hot girls. After a run-in with hot-rodding punks curtails those plans, the Caddy accidentally enters a political protest attended by Les' sister and her boyfriend, and the cops catch Les without a license. Les gets released as the protest turns into a riot, but he barely retrieves Mercedes from the Caddy's trunk before it's stolen and virtually totaled by a drunk driver.
Les gets the car home by morning, but his dad freaks out over its damage, until Les' pregnant mom goes into labor, and his unorthodox driving gets her to the hospital in time. Grandpa Anderson laughs upon seeing his wrecked Caddy, as he reveals he'd totaled his son's BMW in turn.
Miracle Mile (1988)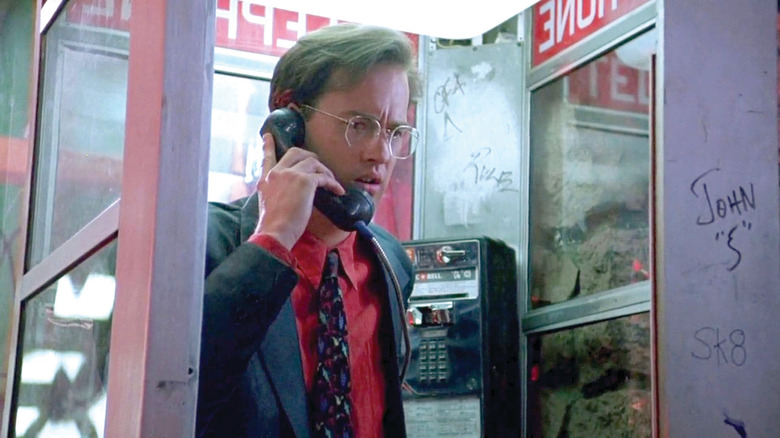 Hemdale Film Corporation
Jazz musician Harry Washello (Anthony Edwards) and diner waitress Julie Peters' (Mare Winningham) meet-cute at the La Brea Tar Pits, on LA's "Miracle Mile," leads into a whirlwind courtship that afternoon, with a promise to meet again at midnight, when Julie's shift ends, but Harry oversleeps until 4 a.m. after his power (and alarm clock) fails.
Harry calls Julie from a payphone at her diner, but the payphone receives a misdialed call from a military base, warning that nuclear missiles will arrive from Russia within 70 minutes. When Harry tells those at the diner what he's heard, a well-connected businesswoman named Landa (Denise Crosby) confirms his fears, and plans to schedule a heliport shuttle from the roof of the Mutual Benefit Life Building to LAX, from which she and others can fly to a compound in Antarctica. Landa's group won't take a detour to collect Julie, so Harry arranges to reunite with them at the airport, then heads to Julie's apartment.
Without a car, Harry hitches a ride with a stereo thief, whose own desperation starts a fire that kills two cops and blows up a gas station. After retrieving a Valium-drowsy Julie, Harry resorts to threatening a 24-hour gym with a gun to find a helicopter pilot, to fly him and Julie to LAX. Meanwhile, spreading rumors of nuclear war cause citywide chaos by daybreak. A bodybuilder pilot picks up the couple, but the incoming missiles' EMP crashes their helicopter into the tar pits, where a final explosion turns the soulmates into diamonds.
Mystery Date (1991)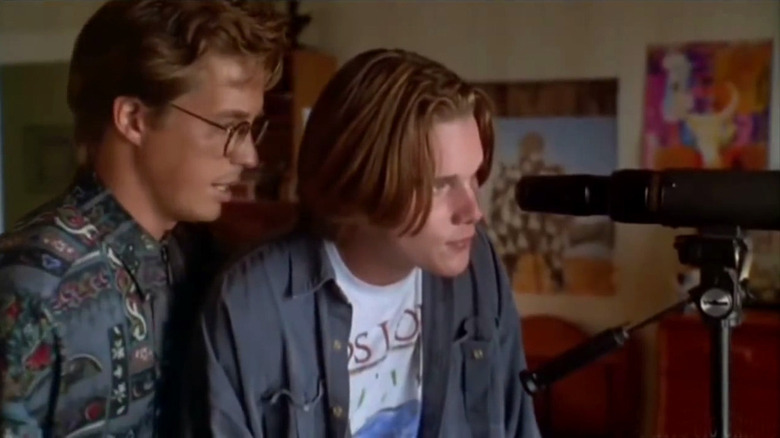 Orion Pictures
Shy teen Tom McHugh (Ethan Hawke) admires his gorgeous next-door neighbor, Geena Matthews (Teri Polo), from afar, until his visiting older brother, stylish and confident Craig (Brian McNamara), cajoles Tom into taking action. Craig calls Geena, posing as Tom, to set up a date between "himself" (Tom) and Geena. Craig then lends Tom his clothes and wallet — complete with his ID, credit card, and cash — while also furnishing Tom with glasses and a hairstyle both intended to resemble Craig's. And when the limo Craig rented suffers a fender-bender, Tom's only remaining transportation option is Craig's classic 1959 DeSoto convertible, even though he forbade Tom from driving it.
These identifiers are enough for cops, criminals, and random women to mistake a cosplaying Tom for Craig, as Tom visits Craig's favorite fine dining and entertainment haunts in the city. Meanwhile, Geena goes from feeling charmed by Tom's seeming spontaneity to resenting his distracted lack of regard for her, as Tom dodges slaps, assaults, attempted arrests, and even assassinations that Craig's criminal misdeeds and casual cruelty appear to have earned, from fired floral delivery drivers and Chinatown crime lords alike. Tom can't go to the police after discovering a dead body in Craig's trunk, especially when a corrupt cop gets shot and has to be loaded in alongside him.
Gangster James Lew (BD Wong) hammers Tom with his grudge against Craig, and even holds Geena hostage until Tom retrieves a tape proving Lew's collusion with corrupt cops. Tom wins Geena's heart, but his once-beloved older brother breaks his heart.
Judgment Night (1993)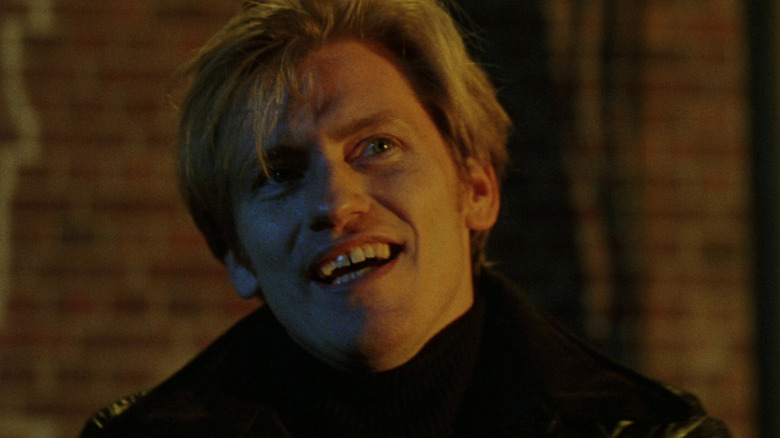 Universal Pictures
New father Frank Wyatt (Emilio Estevez), his hotheaded kid brother John (Stephen Dorff) and their friends, conflict instigator Mike Peterson (Cuba Gooding Jr.) and con artist Ray Cochran (Jeremy Piven), depart the suburbs in Ray's luxurious loaner RV to catch a professional boxing match in Chicago that evening, when a shortcut off the gridlocked freeway makes them witnesses to a murder.
The RV accidentally hits a man holding a bag full of money, who's already been shot. Gangsters drag the man from the RV, after immobilizing it, to face local crime lord Fallon (Denis Leary), who executes the man for theft, before ordering his gang to eliminate the witnesses. Frank and his friends run into the railyards, hiding in a boxcar until an altercation with a homeless camp gives them away. The friends then gain access to an apartment in the projects, where they call the cops, who predictably don't come, but Fallon's gang tracks them down again. After Ray falls behind his friends, he offers to pay Fallon $200,000 to spare their lives, but Fallon kills Ray for offending him, by comparing them as "businessmen."
When the friends make a stand in the sewers, Mike manages to kill one of Fallon's gang, but the fight exposes their raw emotions, especially as they fail to flag down a passing bus. The friends finally draw law enforcement by triggering a grocery store's alarms, but when Fallon's diminished forces kill the security guards, Frank must defend his wounded friends by ending Fallon, before he can fulfill his threats to visit Frank's suburban family.
Date Night (2010)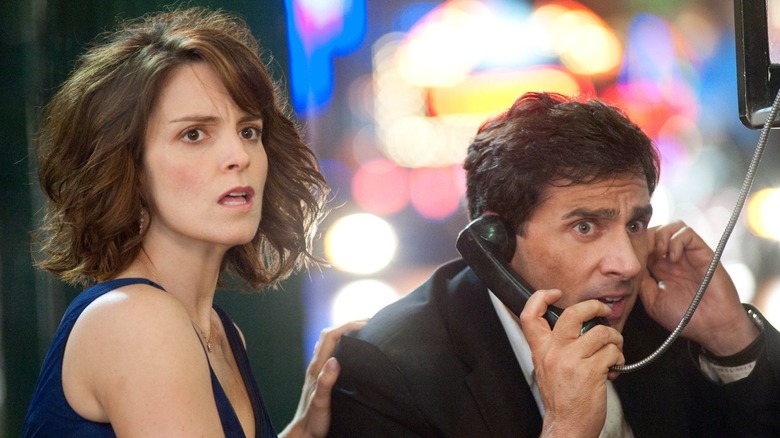 20th Century Fox
Phil (Steve Carell) and Claire Foster (Tina Fey) are married with two careers and two children, but when the New Jersey couple learns their best friends are getting divorced, the Fosters spice up their "Date Night" by stealing a no-show couple's reservation at a trendy Manhattan restaurant. Posing as "the Tripplehorns" prompts a pair of crooked cops to demand the Fosters turn over a flash drive stolen from mob boss Joe Miletto (Ray Liotta).
When the couple realizes they can neither turn to the police for aid, nor return home, they call the babysitter to take the kids out of the house, then resolve to locate the actual Tripplehorns. Security expert Holbrooke Grant (Mark Wahlberg), a former client of Claire's, helps the Fosters trace the Tripplehorns' cell phone number from their restaurant reservation to the apartment of a pair of married hustlers, nicknamed "Taste" (James Franco) and "Whippit" (Mila Kunis), who used the flash drive to blackmail district attorney Frank Crenshaw (William Fichtner), rather than Miletto.
Phil loses the flash drive in the East River, after a shootout and conjoined-car chase with the crooked cops, but since its photos showed Crenshaw with prostitutes at the "Peppermint Hippo" club, the Fosters gain admittance by posing as a prostitute and her pimp. After the Fosters' awkward dancing arouses Crenshaw, they introduce themselves as "the Tripplehorns." The crooked cops march the Fosters to the club's roof at gunpoint, where both Crenshaw and Miletto demand the flash drive. Phil then tricks Crenshaw and Miletto into declaring their misdeeds, while wearing a wire for a sting operation.