The Original Boyz N The Hood Concept That Never Happened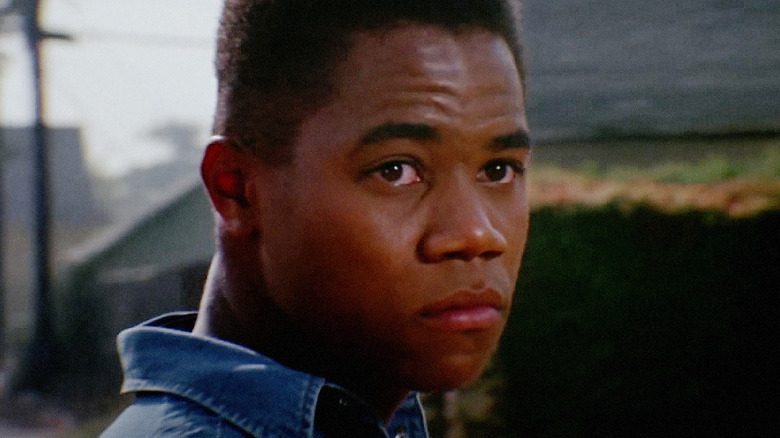 Columbia Pictures
The late John Singleton was a director with a singular vision, not just for his films — which range from "Fast & the Furious" installments to gritty westerns — but for his life as well. Even before he would make his debut with the seminal "Boyz n the Hood," and became the youngest filmmaker ever nominated for Best Director at the Academy Awards, Singleton knew he was destined for greatness. In the words of Malcolm Norrington, a friend who knew Singleton as far back as his days at USC, there was "no doubt" that the director would find success. "He wouldn't have it any other way," Norrington told The Ringer.
Singleton would spend his years at USC learning everything he could about the nature of film, and toying with an early concept of "Boyz n the Hood" — then called "Summer of '84." The director told Vice that, as a future in film became a real option, "it was just natural that ['Boyz n the Hood'] was probably gonna be my first film." By 1990, a 22-year-old Singleton had graduated and finished his script for the project. He pitched — and eventually sold — his story to Columbia Pictures that same year.
"He was scarily, crazily, absolutely, and completely confident," recalled Stephanie Allain, then a script reader for the studio. Singleton was firm on directing the film himself, despite never directing a feature before. "I wasn't going to have somebody from Idaho or Encino [Los Angeles] direct this movie," he later said of his position. "Boyz n the Hood" was his story; he'd drawn direct inspiration from his formative years in South Central LA. He'd written his script while listening to N.W.A. and Eazy-E albums. Singleton was committed to depicting that perspective as authentically as possible — and for the filmmaker, it all began with his cast. A cast that would radically change.
The core four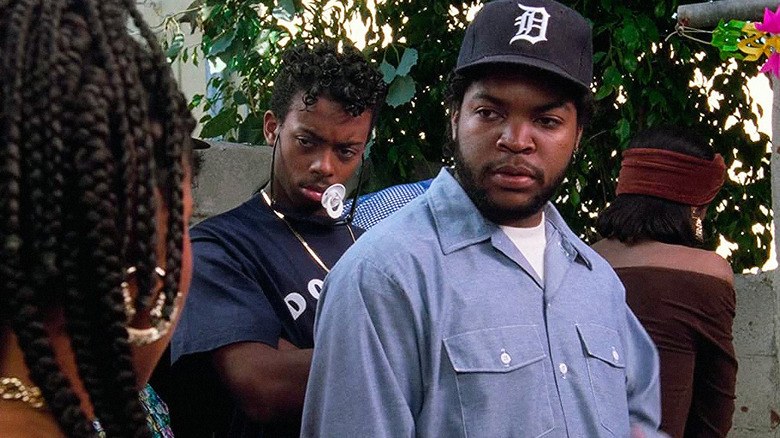 Columbia Pictures
Singleton was partially inspired by the work of LA rappers throughout the process of writing "Boyz n the Hood," but the influence didn't stop there. The director hoped to cast the members of N.W.A. in the film, and even wrote the role of Doughboy specifically for Ice Cube. Dr. Dre, Eazy-E, and MC Ren would have rounded out the cast as Monster, Chris, and Dooky, respectively.
Singleton eventually met Cube while working on "The Arsenio Hall Show" in 1989. "I told him I had a script I'd been writing for him," he remembered, and from there a friendship eventually formed. By the time his script was completed, Cube had parted ways with N.W.A. due to issues with royalties — but Singleton was determined to cast the rapper as intended:
"He gave me a ride home one night when I was stranded in Hollywood. It was January of 1990. He plays the beats to this record, and he says it's his new solo record, going to be called 'AmeriKKKa's Most Wanted.' And then I said: 'Remember that script I told you about? I wrote it.' Seven months after that we were working on the movie. And we always tell that story, because we were just two dudes with dreams and a small jeep riding on the freeway in South Central, talking about what we wanted to do."
An appearance from the remaining members of N.W.A. was out of the question — they were, of course, entrenched in a years-long feud with Cube. The contention went on to inspire a hidden diss within the film, where a man wearing a "We Want Eazy" shirt tries to steal Dooky's gold chain and gets a vicious beating as a result. 
"That was Ice Cube's first day of production," Singleton told Vice. "I called him up and told him to bring all his N.W.A. paraphernalia to the set. And then all of a sudden the crackhead walks out and his shirt says, 'We Want Eazy.' Cube laughs, and I say, 'Y'all gonna whoop his ass!' I did that — that was me!"