8 Moon Knight Comics You Should Read If You Like The Show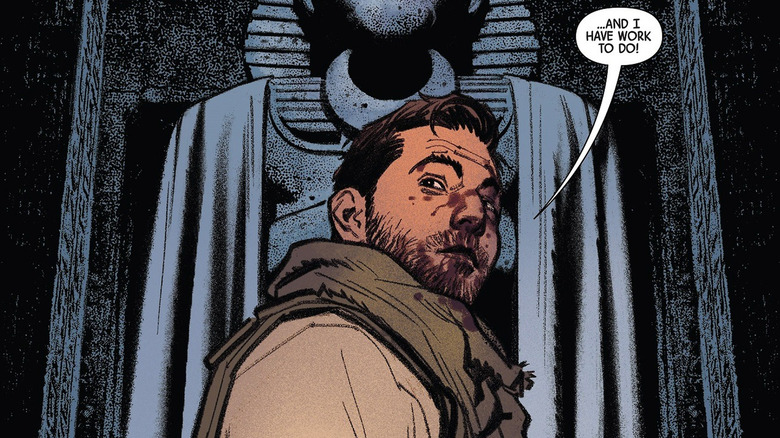 Marvel Comics
We've heard it a million times when it comes to a new Marvel project: it seems like, no matter the title, it will be "unlike anything the Universe has ever seen." Sometimes it's true, like when James Gunn opened the door to the cosmic — and paved the way for some equally-weird projects — with the first "Guardians of the Galaxy" installment. More recently, there was "Shang-Chi and the Legend of the Ten Rings" and "Eternals," both firmly their own stories. And now, there is "Moon Knight," the latest limited series to premiere on Disney+ — and it's definitely unlike anything we've seen from the MCU before. It's downright weird, and of course, the source material is even weirder.
Moon Knight first debuted in "Werewolf by Night #32," and made guest appearances here and there before his first solo run in 1980. The man behind the mask, Marc Spector, had alternate identities from the start, but given the limited understanding surrounding mental health in the 80s, his DID (or dissociative identity disorder) wasn't properly portrayed until much later. Fortunately that's changed, both on the pages of the "Moon Knight" comics and in Oscar Isaac's portrayal of the character on screen.
Still, the new series can only explore so much of such a varied and unique character. For "Moon Knight" fans who are curious about the anti-hero's evolution, here are eight comic runs that perfectly capture the series' disparate influences.
Moon Knight's 1980s origins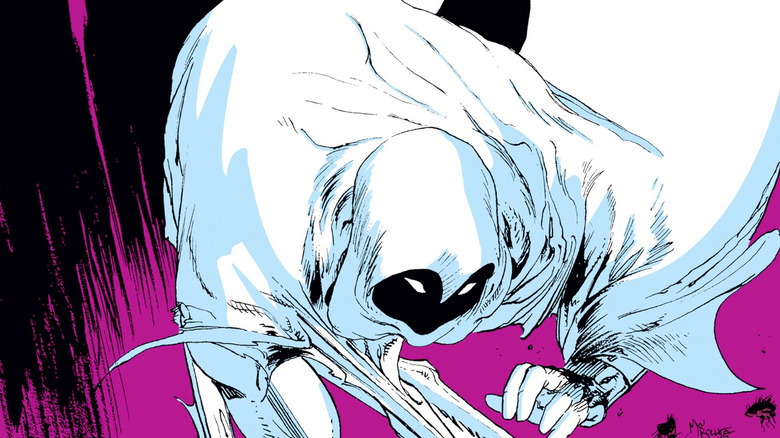 Marvel Comics
The beginning is often the best place to start for any comic book character. Writer Doug Moench doesn't get everything right when it comes to Marc Spector's mental disorder — in fact, DID is never mentioned — but Moon Knight's first solo adventure in "Moon Knight Vol. 1" is still a pretty foundational read. The run introduces Marc and his most well-known identities: the street-smart cabbie Jake Lockley and the millionaire playboy Steven Grant. Allies like Frenchie, Gena Landers, and Marc's long-time love interest Marlene also feature here, though not all will necessarily appear in the Disney+ series.
"Moon Knight" also sees the origin of the hero's oldest adversary, Bushman. The villain is one of Moon Knight's most prominent; in Marc's definitive origins, it is Bushman that indirectly sets him on the path to become the Fist of Khonshu by leaving him for dead at the site of an archaeological dig. There, Marc encounters the Egyptian god Khonshu for the first time, and the rest is history.
Fist of Khonshu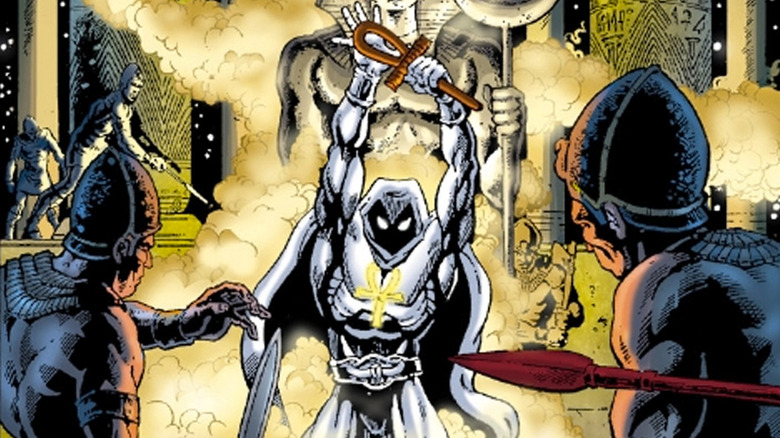 Marvel Comics
Moon Knight's adventures continue in his second solo collection, "Fist of Khonshu," in 1985. In this six-part story, Marc is torn between a future with Marlene and the life he tries to leave behind as Khonshu's avatar. The series introduces the Priests of Khonshu, three blind mystics who serve the moon god in a different capacity. The Moon Priests are able to communicate with Marc via prophetic visions and dreams — and that's but a taste of all the otherworldly hijinks Marc finds himself entangled in.
"Fist of Khonshu" also introduces Arthur Harrow, the antagonist played by Ethan Hawke in the "Moon Knight" series. Harrow has made but one appearance in the comics, and it wasn't entirely memorable, so it's interesting to see him playing such a big role in the MCU.
Marc Spector: Moon Knight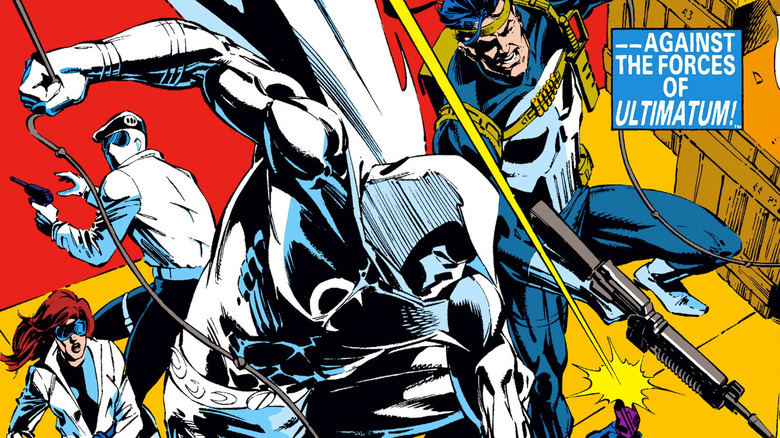 Marvel Comics
Moon Knight is well-known as a gritty anti-hero, his methods on par with Daredevil or even, at times, the Punisher. But in contrast to Moench's stories — or, say, Charlie Huston's, where the crusader actually cuts a man's face off Joker-style — "Marc Spector: Moon Knight" is a bit of a departure. Chuck Dixon's early-'90s series feels forgettable to many for this reason. Aside from a few stand-out arcs here and there, this 60-issue run doesn't necessarily need to be explored in its entirety (unless you're a completionist, that is). The breadth of the series allows Moon Knight to cross paths with many fan favorites, friendly or otherwise. His longterm vendetta against Bushman manifests in the early issues of "Marc Spector," forcing the hero to team up with heroes like Spider-Man to protect the people he loves.
Ol' Moonie doesn't always play well with others (more on that in a minute), but "Marc Spector" sees the hero team up with a bunch of characters that match his street level snark. His banter with the Punisher (in #8-9, #19-21 and #35) is a particular treat, one that other series, like "Moon Knight: Down South," are able to expand on later. Marc also comes head to head with Stained Glass Scarlet, a villain who has since become something of a cult favorite. Scarlet is, for lack of a better term, the Catwoman to Moon Knight's Batman — and this series' "Scarlet Redemption" arc makes excellent use of that dynamic.
Divided We Fall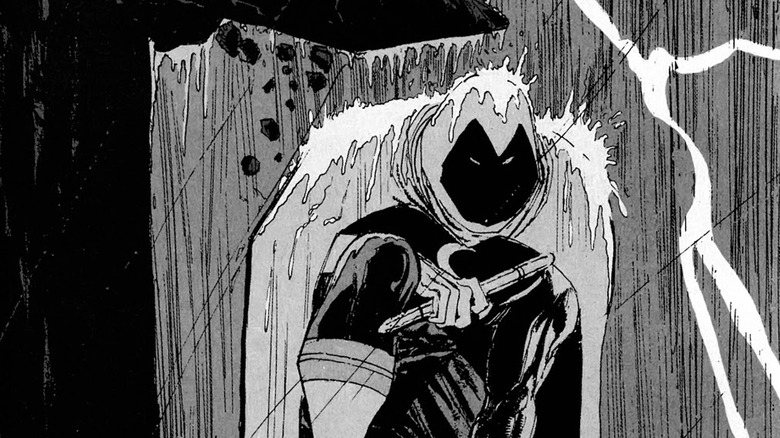 Marvel Comics
Every hero needs allies, and "Moon Knight: Divided We Fall" was instrumental in proving them to Marc Spector. Bushman returns to wreak a bit more havoc on the white knight in this two-part series. His plans for world domination grow all the more ambitious this time around, and they involve hypnosis, the CIA, and the former leader of the Soviet Union, Mikhail Gorbachev. Moon Knight finds himself swimming against the tide when Bushman kidnaps Marlene and Frenchie, and effectively turns them against their former ally. "Divided We Fall" is a bit hard to find nowadays, but its importance to Marc's development can't be overstated.
The Bottom (Moon Knight Vol. 5)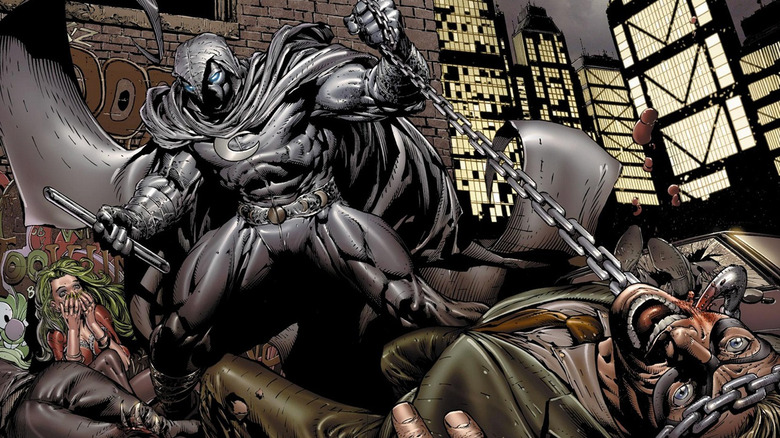 Marvel Comics
Then, of course, there's Marc's regression. "Moon Knight, Vol. 5" is Moon Knight at his lowest. The vigilante's rivalry with Bushman finally comes to a shocking head when, very early in this 2006 run, Marc actually cuts the villain's face clean off. "The Bottom" focuses more on the aftermath of Moon Knight's battle with Bushman than its jaw-dropping climax. As the name suggests, Marc finds himself completely lost, guilt-ridden, and even out of contact with Khonshu. Whenever the deity does visit him, it's in the guise of a faceless Bushman, which contributes to some of the most gruesome and terrifying images in the hero's history.
"The Bottom" is not everyone's cup of tea. Some of its most violent acts seem designed to shock rather than move the story along, but the series' portrayal of Khonshu is an important departure from other Moon Knight stories. In Charlie Huston's hands, the Egyptian god is downright manipulative. He's got zero qualms with exploiting Marc at his most broken. It's a characterization that has bled into the series that followed, and ultimately informed Moon Knight's sometimes-toxic relationship with the deity.
Avengers: The Age of Khonshu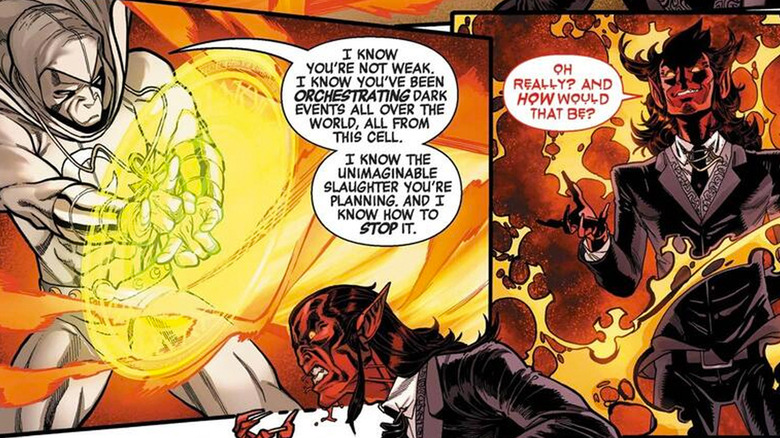 Marvel Comics
Khonshu's dissembling streak returns in Jason Aaron's 2020 Avengers series. Here, Moon Knight is a full-fledged, card-carrying member of the collective — that is, until Khonshu senses that the demon Mephisto is poised to conquer Earth. The moon god forces Marc to face off against the Avengers, and steal their essences (in lay terms, their powers) to strengthen his own. Moon Knight defeats Ghost Rider, Black Panther, Thor, and even the Phoenix, making him one of the most powerful beings within the Marvel Universe. But when Khonshu decides that he actually would rather conquer Earth himself, it forces Marc to question the will of the deity.
Though Khonshu's ambiguity is most often written as duplicity in more recent storylines, it works well in creating conflict between Marc and his allies. Seeing Moon Knight fight some of our favorite heroes is intriguing in itself, but it's the hero's internal conflict that really makes "Age of Khonshu" sing.
From the Dead (Moon Knight Vol. 7)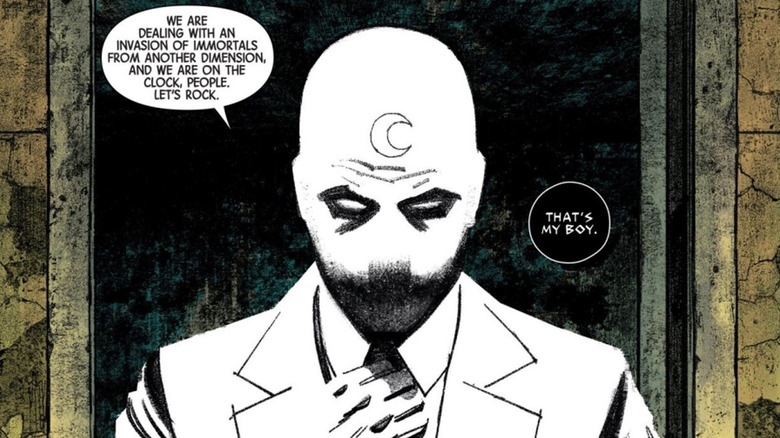 Marvel Comics
This 2014 series is truly the cream of the crop. This storyline manages to synthesize a number of Moon Knight's conflicting origin stories, and is arguably a high point after the fallout in "The Bottom." Here, Marc Spector is beginning to find some semblance of peace — at least in his own mind. But on the streets of New York, crime is only getting worse, which leads to the birth of a new superhero persona for the vigilante: Mr. Knight.
While Moon Knight continues to fight crime in his crescent-shaped cowl, the suit-clad Mr. Knight does detective work on the streets, even working with the NYPD. Though only six issues, writers Warren Ellis and Declan Shalvey helped to effectively remix Moon Knight in a way that felt fresh and surprisingly fun...
Welcome to New Egypt (Moon Knight Vol. 8)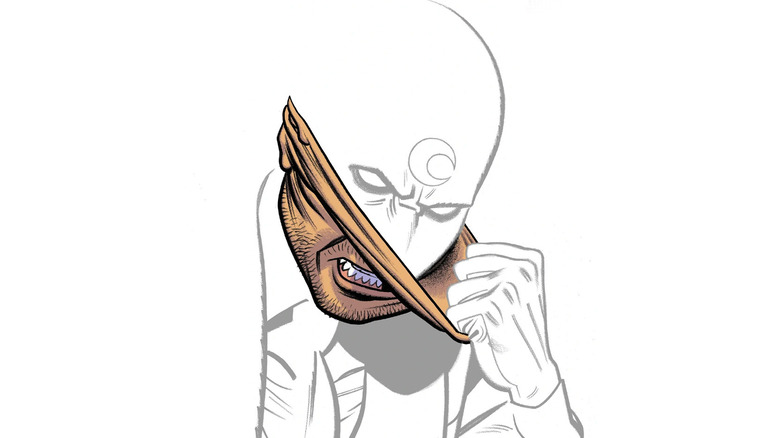 Marvel Comics
...And with Moon Knight's next solo adventure, published two years later, Jeff Lemire and Greg Smallwood took the hero in an entirely new direction. The 2016 run is widely regarded as one of the best depictions of Marc and his DID, thanks in part to its completely unconventional approach.
"Welcome to New Egypt" find Marc in a mental institution, and it's there that he comes to realize that his adventures as Moon Knight might never have happened at all. Lemire and Smallwood use Marc's mental disorder as more than just a quirk, diving into the complexities of DID and Marc's tenure as a hero. The entire run serves as an incredible end to a whirlwind journey for Moon Knight, but it also leaves the door open for more stories — like Max Bemis' "Moon Knight: Legacy" — to carry on.