The 15 Best Supernatural Thrillers, Ranked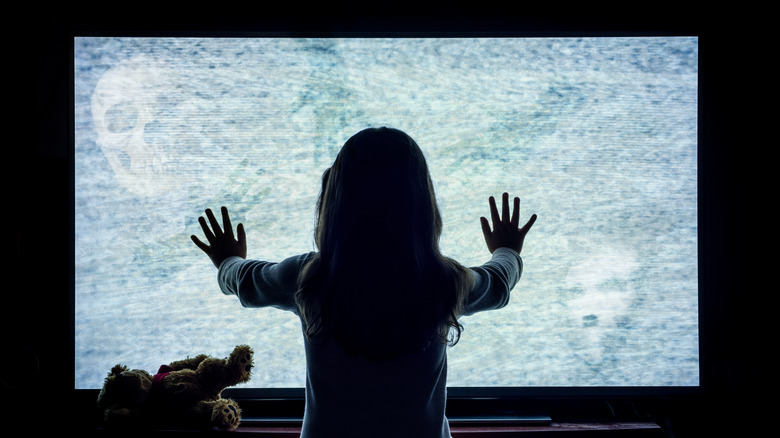 Alba Foto/Shutterstock
At its most basic, horror addresses humanity's primal anxieties, playing on phobias and insecurities such as claustrophobia or jealousy and, above all else, eliciting an all-consuming sense of dread from audiences. By contrast, supernatural thrillers focus on the unexplainable. These films are often spooky and creepy, but not always horrific. They are, however, true cinematic mainstays that appeal to broad audiences, often combining multiple genres such as crime thrillers, haunted house yarns, and stories about the psychologically disturbed to intensify viewers' primal fight or flight instincts.
Authentic and unnerving, many of this genre's films are considered classics, exploring unusual family dynamics, technologically-driven inter-dimensional gateways, or demonic activity. But they all share the same core: Ultimately, supernatural thrillers are disturbing cautionary tales rooted in our deepest fears, taking the form of stories that have been passed down as superstition and folklore. These are campfire tales that create tachycardic spinal shivers that'll force you to make sure the doors are locked and the lights left ablaze.
15. Things Heard & Seen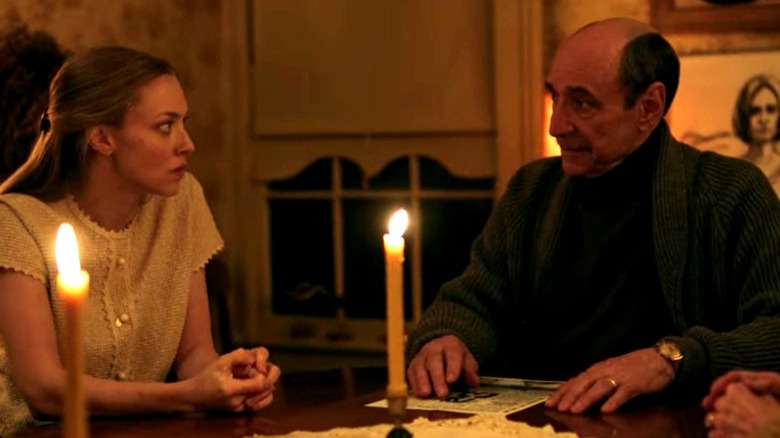 Likely Story
Based on the supernatural novel "All Things Cease to Appear" by Elizabeth Brundage, the ghostly thriller "Things Heard and Seen" tells the tale of James Claire (James Norton), Catherine Claire (Amanda Seyfried), and their three-year-old daughter, Franny (Ana Sophia Heger).
The Claires are an up-and-coming couple who join Hudson Valley's artistic and academic elite when James gets a new job, but as a result Catherine has to quit her museum position, and the move proves difficult for her. Searching for a new purpose, Catherine begins renovating their 19th-century farm. However, as her marriage disintegrates and her husband descends into psychopathy, the beleaguered housewife discovers an antique ring, a spooky connection with the house's previous owner, and another woman in need.
Cinematographer Larry Smith captures the perpetual bleakness that is winter in upstate New York, while married directorial duo Shari Springer Berman and Robert Pulcin weave the spiritual philosophies of Emanuel Swedenborg's "Heaven and Hell" into a scary movie about discovery and redemption.
14. Hereditary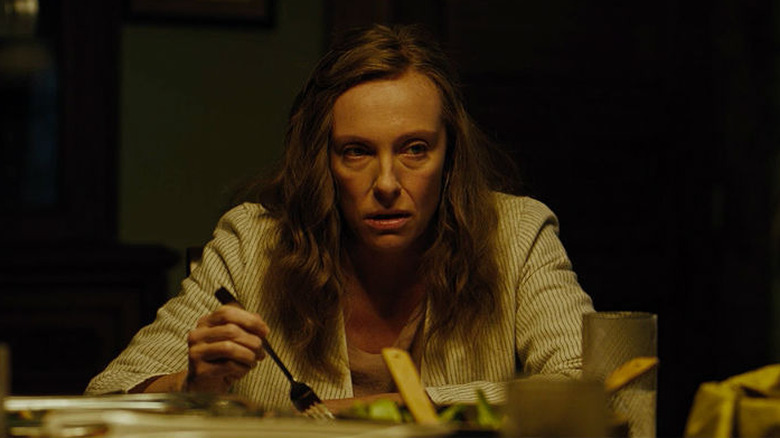 A24
A24's "Hereditary" premiered at the midnight showing of the 2018 Sundance Film Festival and went on to receive international critical acclaim and plenty of awards. Written and directed by Ari Aster in his cinematic debut, this simple psychological horror tale considers the inevitability of evil. "Hereditary" follows miniatures artist Annie Graham (Toni Collette) and her husband, Steve (Gabriel Byrne), as they raise their teenage children, Peter (Alex Wolff) and Charlie (Milly Shapiro).
As the Graham family deals with the death of Annie's distant mother, terrifying secrets about an unspeakable family inheritance slowly emerge. Littered with bizarre imagery, "Hereditary" is a profoundly frightening film that focuses on everyday human needs and emotions that quickly turn uncontrollably nightmarish. The film relies on a deliberate, hypnotic pace to propel the movie inescapably forward, but it's the family's interactions and cruel behavior towards each other that truly horrify. The film's fear is created not from perfectly timed jump scares, but rather the lingering inevitability of evil.
13. Carrie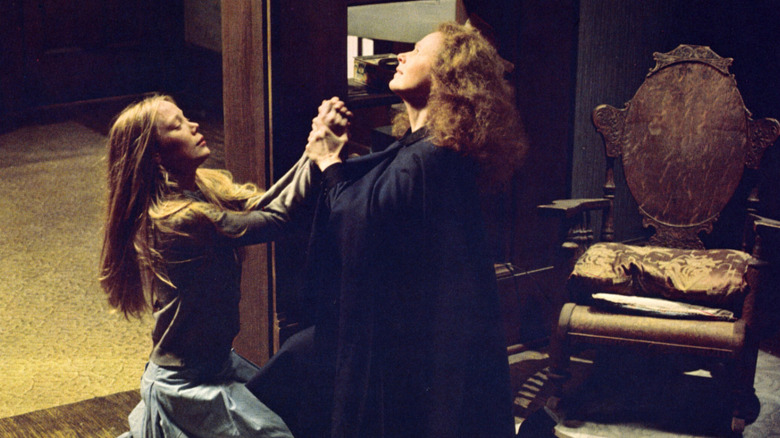 United Archives/Getty Images
This three-time Academy Award-nominated supernatural horror film is based on the novel by Stephen King, and is directed by Brian de Palma from a screenplay crafted by Lawrence D. Cohen.
"Carrie" is a positively spellbinding horror film, but it begins as a simple character study about a seemingly quiet, pretty high school teenager, Carrie White (Sissy Spacek). However, there's a twist: Carrie has a superpower.
It is easy to discern that Carrie's telekinesis manifests when she is frightened and abused. She bends, breaks, fixes, and creates things with her mind. In a moment of frustration, she even throws her claustrophobic, sexually twisted, and overly religious mother, Margaret White (Piper Laurie), across the room.
The prom seems like the ideal time for the mean girls to devastate the shy Carrie, but embarrassment, fear, and anger coalesce into one truly terrifying moment. "Carrie" demonstrates that there is more horror in how people young and old treat each other than in any prosthetic head or claw.
12. Don't Look Now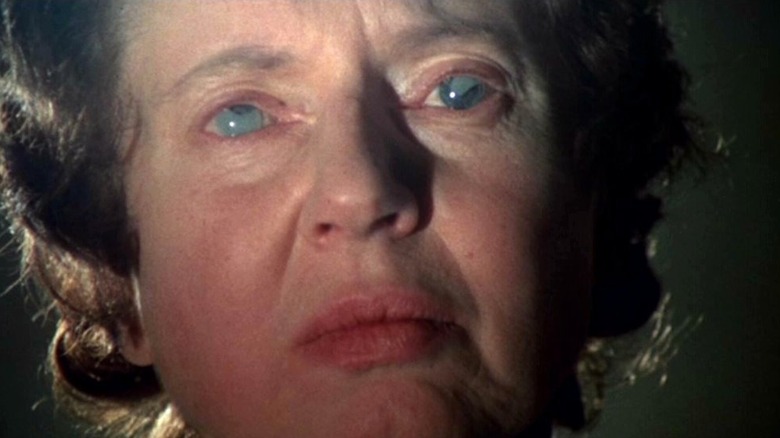 Casey Productions
Directed by Nicolas Roeg, "Don't Look Now" remains one of the great supernatural horror masterpieces. Co-screenwriters Allan Scott and Chris Bryant adapted Daphne Du Maurier's ghostly tale into this BAFTA award-winning film.
Its plot is simple. Laura and John Baxter (Julie Christie and Donald Sutherland) are grieving the recent drowning of their young daughter, Christine, at their country cottage home. Traveling to Venice, they encounter two elderly sisters, Heather (Hilary Mason) and Wendy (Cielia Mantania), who bring them a psychic warning from beyond the grave.
The terror here does not stem from gore and violence. Instead, the audience abruptly enters the world of a father who is desperately trying to use logic and reason to combat the supernatural and free himself from overwhelming, unrelenting, unexplainable terror. Roeg expertly uses quick cuts and a fragmented visual style to reinforce Baxter's grief, apprehension, and doubt, which culminate in insanity for those who cling to denial.
11. Doctor Sleep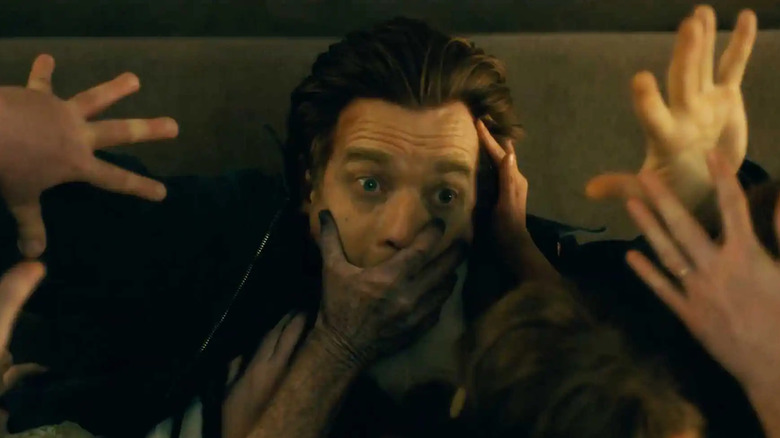 Warner Bros
In 2013, Stephen King published the novel "Doctor Sleep," a sequel to the wildly successful bestseller, "The Shining." Following King's vocal dislike of Kubrick's adaptation of "The Shining," director Mike Flanagan, who is also responsible for the "Doctor Sleep" screenplay, worked hard to stay true to King's vision, reanimating the look, feel, and terror of the Overlook Hotel. When it came time to film, Flannagan drew on the experience he gained crafting tales about the darkness in the human soul with such films as "Absentia" and "Oculus" to combine popular horror tropes with a deep look at man's traitorous deficiencies. 
"Doctor Sleep" picks up shortly after the previous film ends. Now an adult, Dan Torrance (Ewan McGregor) struggles with alcoholism as he endeavors to conquer his inner demons and hide his psychic abilities. Remembering the sinister events that unfolded at the Overlook Hotel decades before, Dan eventually accepts his responsibility to protect a young girl, Abra (Kyliegh Curran), from the True Knot cult, a group of immortals led by Rose the Hat (Rebecca Ferguson) that preys on children with the "shining" power.
Recognized by numerous film critic's associations, "Doctor Sleep" was nominated for best villain at the Seattle Film Critics Society and won best adapted screenplay at the Odyssey Awards.
10. Crimson Peak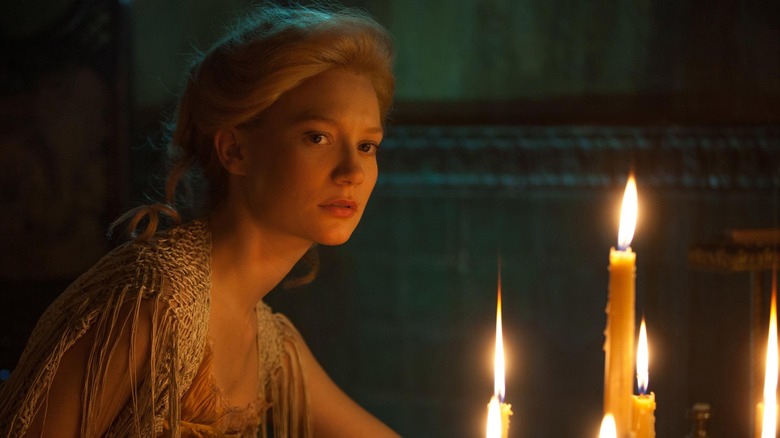 Universal Pictures
Director Guillermo del Toro often creates intricate worlds in his films, overwhelming viewers with detail and drowning them in symbolism and a sense of claustrophobic realism. Unsurprisingly, this often results in enduring psychological horror.
"Crimson Peak" is a beautiful Gothic supernatural horror film, and an example of del Toro at his finest. The film won a number of awards, including three Saturns, and earned strong praise from Stephen King himself. Co-written by del Toro and Matthew Robbins, "Crimson Peak" finds American heiress Edith Cushing (Mia Wasikowska) living in gas lamp splendor in turn of the century Boston. The headstrong Edith prefers books to beaus, but her naivete vanishes when siblings Thomas and Lucille Sharpe (Tom Hiddleston and Jessica Chastain) arrive. Searching for a wealthy wife, Thomas quickly marries Edith and the three return to Allerdale Hall, the Sharpe's family estate in England.
As Edith arrives at the foreboding mansion, Allendale Hall towers over the isolated white landscape, blood red clay staining the snow. The ancestral house creaks and moans in welcome as the deteriorating roof gives way to the elements. That's just the beginning of the horror; the film's deliberate pace creates a mounting tension and unmistakable feelings of dread as Edith discovers her new husband's diabolical true nature.
9. The Haunting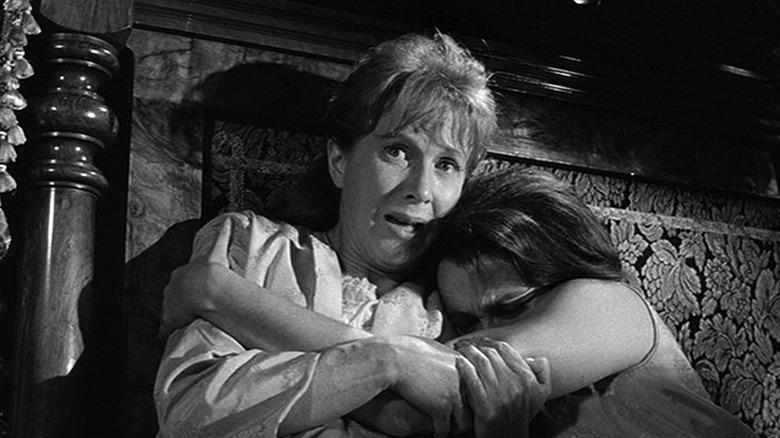 Argyle Enterprises
Director Robert Wise was a master craftsman known for his ability to create memorable films across multiple genres. Under the tutelage of Val Lawton, Wise developed a flair for horror, which is on full display in his 1963 film "The Haunting."
"The Haunting" is a classic haunted house story set at Hill House, a century-old home whose inhabitants have met strange ends. Parapsychologist Dr. John Markway (Richard Johnson) seeks scientific proof of the supernatural. So, he invites two women to join him at the house, the mousy spinster Eleanor (Julie Harris) and the brazen Theadora (Claire Bloom). Also in attendance is Luke (Russ Tamblyn), the nephew of the woman who has inherited the cursed abode. Once there, the group experiences terrifying events that threaten their sanity.
Cinematographer Davis Boulton's off-kilter camera angles highlight the imposing house. Filmed in by choice in black and white during a time when technicolor was in vogue, Hill House's gothic splendor reveals itself in its long dark hallways, which are filled with menacing, icy-cold shadows. The giant Escher-like rooms echo inexplicable noises and consume their inhabitants. Even today, "The Haunting" is a startling film that engenders genuine fear that's punctuated with carefully-timed shocks.
8. Poltergeist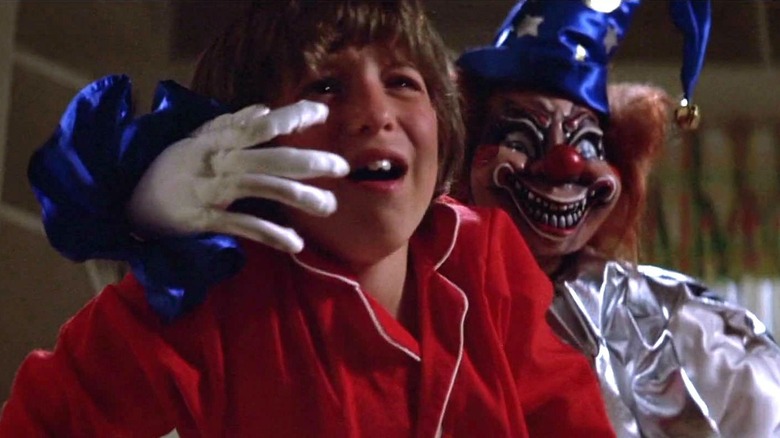 MGM/UA Entertainment
When "Poltergeist" begins, life is normal. The film's cast of relatively unknown actors depict an ordinary family, the Freelings, who live in a seemingly typical home. However, it is soon revealed that opportunistic developers built their house on an old burial ground, and that the Freeling's home is very, very haunted.
In one of the most influential scenes in the film, Carol Anne (Heather O'Rourke), Diane and Steve's (JoBeth Williams and Craig T. Nelson) youngest child, touches the television screen. Over broadcasting white static she creepily declares, "They're here." Then, the blonde munchkin disappears. It is at this point that the film, like its vengeful spirits, comes alive, and an overwhelming special-effects show begins. 
As choreographed by producer-writer Steven Spielberg and director Tobe Hooper, "Poltergeist" takes away our breath and mangles our psyches. A three-time Academy Award nominee and BAFTA Award winner, "Poltergeist" blurs the lines between the ordinary and the extra-dimensional, drawing tension from its exploration of human greed, unknown supernatural threats, and some very creepy clowns.
7. Cat People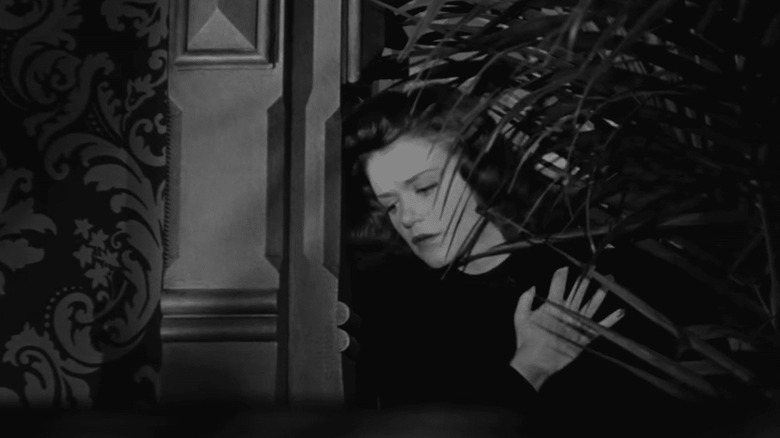 RKO Radio Pictures
Directed by Paris native Jacques Tourneur, "Cat People" was one of Hollywood's first true low-budget horror successes. Written by DeWitt Bodeen and produced by Russian-born Val Lewton, many credit it with kickstarting Lewton's influential cinematic career. The film's success also helped save the financially-strapped RKO Studios: It only cost $134,000 to film, and ended up grossing over $4 million.
As a psychological horror film, its plot is simple. A New York engineer, Oliver Reed (Kent Smith), marries East Russian immigrant Irena Dubrovna (Simone Simon), a fashion sketch artist. Dubrovna fears that she is descended from evil, and that she will transform into a fabled cat person on their wedding night. Reed assures his new bride that the stories are poppycock, but superstition and horror ultimately prevail.
In a precursor to indie-style filmmaking, Tourneur recruited a cast of unknowns and finished filming in just 18 days. And yet, "Cat People is filled with tension. Many people credit its iconic bus scene with birthing jump scares, one of cinema's most effective methods for frightening audiences. The film also relies on off-screen villains, suggestive shadows, and sound to create a sense of unspeakable horror. Decades later, the National Film Preservation Board recognized "Cat People" for its contributions to the horror genre, placing it on the National Film Registry in 1993.
6. The Devil's Backbone
Sony Pictures Classics
"The Devil's Backbone" is a simple ghost story set during the Spanish Civil War. In a crumbling orphanage, the specter-like form of a young boy, Santi (Junio Valverde), whispers to the terrified newcomer, 12-year-old Carlos (Fernando Tielve), "that many of them will be dead soon." The school's self-important Dr. Cásares (Frederico Luppi) tells Carlos of the "children of no one, the children that shouldn't have been born," emphasizing superstition over science while referencing the origin of the films title, "The Devil's Backbone," a colloquial name for the congenital disease spina bifida.
Written by Antonio Trashorras and David Muñoz, this Gérardmer Film Festival International Critics Award winner trades frenzied scenes of gore for old-fashioned feelings of disquiet and fear. Director Guillermo del Toro creates a slow, delicious, and languorous ghost story that's layered in meaning, with a frustratingly deliberate pace that contributes to the film's suspense and anxiety.
Authentic and creepy, "The Devil's Backbone" is filled with grotesque imagery that sends shivers up the spine. These haunting visual metaphors make the reality of war manifest and linger in the mind's eye, juxtaposing the conflicting forces of good and evil while celebrating the beauty of the deformed.
5. Angel Heart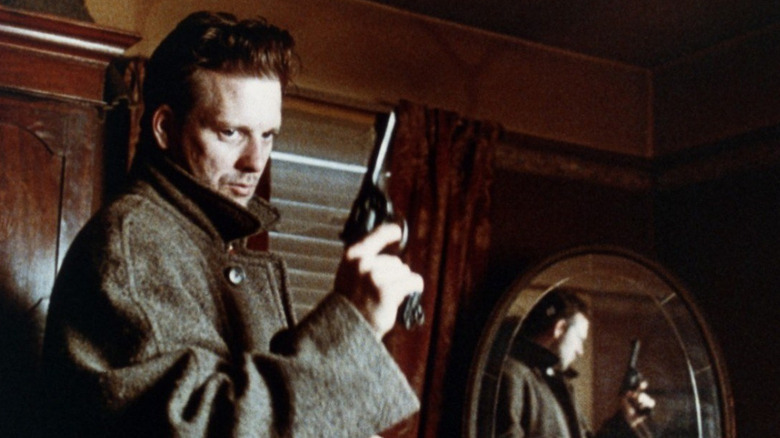 TriStar Pictures
This post-World War II-set neo-noir follows Harry Angel (Mickey Rourke), a gritty New York private eye. Struggling with personal demons, Angel agrees to track down a missing singer named Johnny Favorite for a mysterious Harlem businessman, Louis Cyphre (Robert De Niro). Angel is aided in his search by a sensual Louisiana voodoo priestess, Epiphany Proudfoot (Lisa Bonet) as the investigation undergoes numerous twists and turns.
True to its mystery roots, "Angel Heart" is a spooky film. Screenwriter and director Alan Parker's adaptation of William Hjortsberg's novel "Falling Angel" is brutally stylistic, set in a depraved and impoverished New Orleans. Imbued with sinister elegance, Trevor Jones' soundscape's subtle heartbeats and discordant tones create a drumbeat pace that culminates in jarring screams. 
Initially targeted by the Motion Picture Association of America (MPAA) for a blood-splattered love scene, creative editing saved this supernatural Sam Spade riff from obscurity by earning it an R-rating.
4. The Empty Man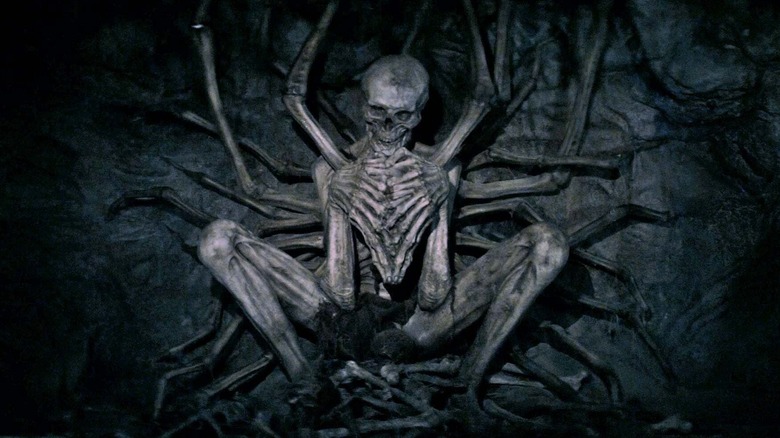 20th Century Fox
In "The Empty Man," writer-director David Prior adapts Cullen Bunn and Vanesa R. Del Rey's graphic novel into a striking and scary film. This Fangoria Chainsaw Award nominee immediately sets itself apart from the standard horror film with a strange but compelling 22-minute prologue that resembles a short film.
The film opens on four friends who are hiking in Bhutan in 1995. Immediately after hearing a sound, one of the quartet falls into a crevice. A second member of the group rappels downwards to find his friend staring at a horrifying skeleton. Before going catatonic, the friend utters, "If you touch me, you'll die." Later, in act two, widower James Lasombra (James Badge Dale) is drawn to his neighbor, Nora (Marin Ireland), whose daughter Amanda (Sasha Frolova) has gone missing. There are few clues as to the girl's whereabouts, other than a mysterious, bloody message: "The Empty Man made me do it."
These two seemingly unconnected events eventually combine in this classic boogeyman story. "The Empty Man" creates an aura of thick suspense with its surreal, circuitous plot twists, and famed cinematographer Anastas N. Michos uses space and light to great effect, symbolically separating good from evil.
3. The Nun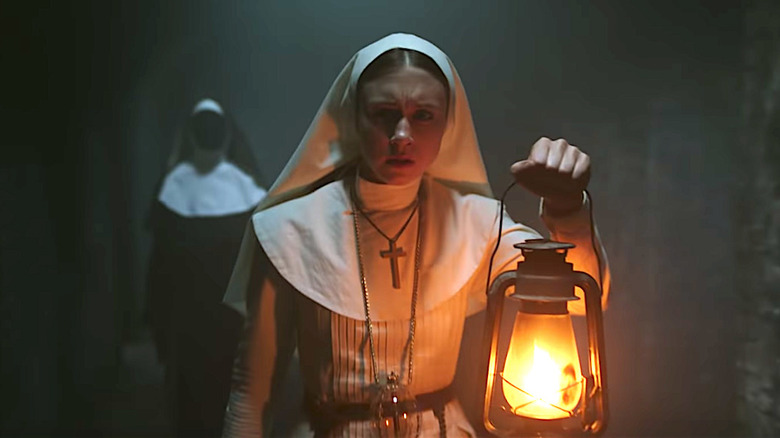 Warner Bros
Written by Gary Dauberman and directed by Corin Hardy, "The Nun" is a stand-alone exploration of other-worldly Gothic terror that serves as the origin story for James Wan's wildly successful "Conjuring" franchise. The film begins in 1952, when an unseen evil force attacks two Romanian nuns as they attempt to retrieve an ancient Christian relic.
Sister Victoria survives the attack and flees, but shortly after her escape she hangs herself. In response to her death, the Vatican dispatches Father Burke (Demian Bichir) and novitiate Sister Irene (Taissa Farmiga) to the secretive mountain convent to investigate. As they delve deeper into the case, demonic forces emerge in the form of a ghostly nun (Bonnie Aarons).
Fantastically creepy, "The Nun" is the perfect prequel. The film treads the path between introducing new mysteries and offering up startling revelations, creating suspense while minimizing gore. It sets the stage for the larger "Conjuring" franchise without explaining too much, preserving the series' cryptic atmosphere and its enigmatic supernatural thrills.
2. Sinister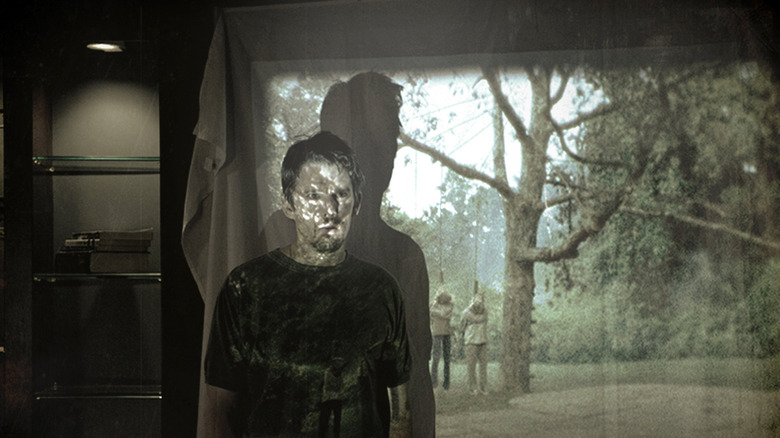 Summit Entertainment
Directed by Scott Derrickson and written by C. Robert Cargill, "Sinister" earned over $82 million on release. It's easy to see why. The familiar plot of "Sinister" belies its gruesome nature. When it begins, we join struggling true crime writer Ellison Oswalt (Ethan Hawke) as he moves his wife (Juliet Rylance) and three children to a new house, where he finds a box of Super 8 home movies and a projector hiding in the attic. Horrified by what he sees on the recordings, he quickly begins exploring the links between the subject of his current book, a serial killer, and his home.
This intense horror film is undeniably scary and supported by an award-winning score. Hawke's everyman performance lends believability to the film, and is supported by a solid but minimal cast that includes Vincent D'Onofrio as a university professor who studies the occult. Day and night blend as Christopher Young's discordant soundscape, near-subliminal noises, and mysterious boos and bumps accelerate the film's pace and its feelings of mounting dread.
1. Suspiria (2018)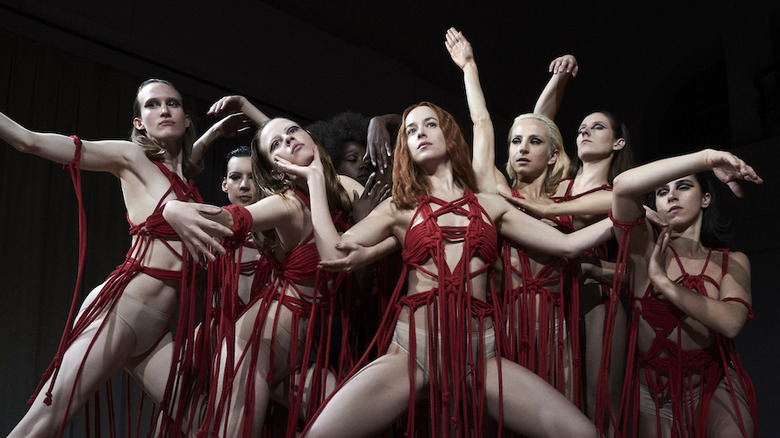 Amazon Studios
Luca Guadagnino directs this frightening reimagining of Dario Argento's seminal 1977 film, but he's not solely responsible for its thrills. David Kajganich's screenplay builds on the original story, which was written by Argento and Daria Nicolodi. Radiohead's Thom Yorke contributes a haunting score, while cinematographer Sayombhu Mukdeeprom creates a stunning visual palette that distinguishes this remake from its predecessor.
The plot of "Suspiria" is deceptively simple. A young Ohio-born dancer, Susie (Dakota Johnson), forsakes her Mennonite life in order to pursue her passion with famous artistic director Mother Blanc (Tilda Swinton). Soon, Susie travels to Berlin to join the prestigious Markos dance company. The artistic troupe is located on a deserted street overlooking the Berlin Wall. However, there's more happening at the company than Susie realizes: It's actually a coven of witches, and its plans for Susie are far from benevolent.
Deeply symbolic, "Suspiria" is a violent thriller about sacrifice and survival. While it's incomprehensibly abusive at times, the true horror of the film stems from the violence's prosaic nature. At its core, "Suspiria" is about the duality of beauty and hideousness, grace and abhorrence, and love and hatred, especially between men and women. In a post-war world destroyed by men, the dance company is a refuge where women do not need society's approval to exist. Not surprisingly, every significant speaking role in "Suspiria" is performed by a woman (including Dr. Josef Klemperer, who is played by Swinton).
"Suspiria" was polarizing for critics, but if you're tuned into its wavelength, you'll find a lot to enjoy here. Awards organizations certainly did, recognizing it for its costumes, directing, acting, and sound.