Zola Star Taylour Paige Has Joined The Cast Of Tony Kaye's The Trainer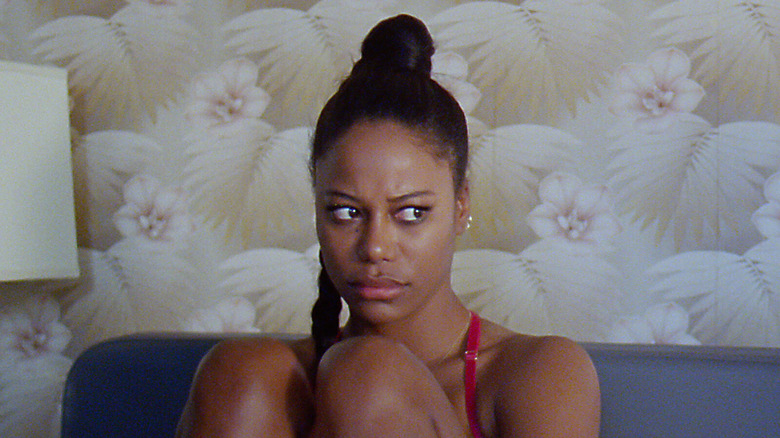 A24
The cast list for Tony Kaye's ("American History X") newest project has grown one name longer. "The Trainer" might have been floating around Hollywood for the last 10 years (and it may keep on floating, you never know what will happen these days), but its cast is starting to feel surprisingly modern. The latest star to join the wild party of a movie is Taylour Paige, who mesmerized in A24's Twitter-inspired film "Zola" as the one and only title character. While I doubt "The Trainer" will have the same surreal and internet-enhanced energy that Paige meshed so well with in "Zola," she's certainly proved that she can handle a chaotic tale or two.
And this tale sounds chaotic indeed. Taking place over eight nights, "The Trainer" tells the story of a fitness trainer named Jack (Vito Schnabel) who is living with his mother in LA and decides to say screw it all and take one last stab at pursuing a life of fame and fortune. We don't know many more details about the plot than that, but considering what we do know, I think it's safe to assume that things get really weird, and probably really bad, before they even out (if they ever do).
Booked and busy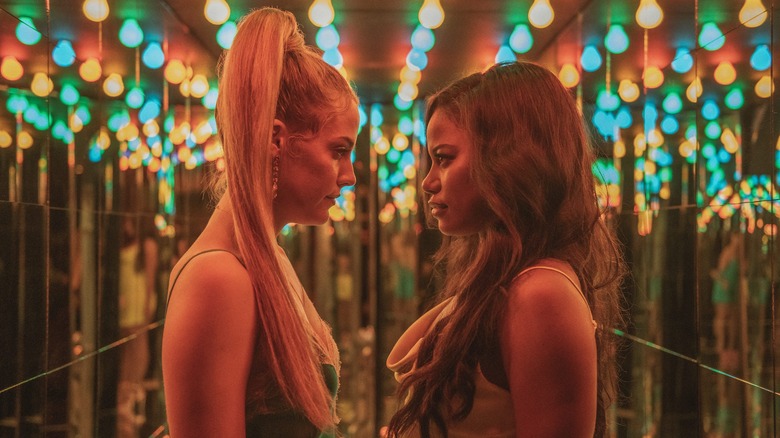 A24
Paige will be joining an interesting cast, to say the least. Names connected to the project include Julia Fox (who also dabbled in a pretty chaotic role in "Uncut Gems"), the musician/actor Steven Van Zandt (who you probably know best from "The Sopranos"), and the gallerist Vito Schnabel ("Before Night Falls"), who seems to be the heart and soul of the project. According to Schnabel, he had the idea for "The Trainer" 10 years ago and has been working to make it a reality ever since.
While "The Trainer" still has a ways to go (there's no release date or known timeline for the release of the film), it's further proof that Paige's schedule is getting really busy. Besides working with Kaye and Schnabel on "The Trainer," Paige is staring in Lena Dunham's "Sharp Stick," the Katie Aselton comedy "Mack & Rita," Max Barbakow's mysterious maybe a comedy "Brothers," and a remake of "The Toxic Avenger" by Macon Blair. From the wild to the weird, Paige is definitely keeping her calendar booked and it will be exciting to see what she does with each role. And even if all those production schedules get delayed and we never find out what happens over those eight crazy nights, we'll always have "Zola," which has enough twists and turns to fill multiple movies.