Vampire In The Garden Trailer: Humans Have Lost The War Against Vampires In New Anime Series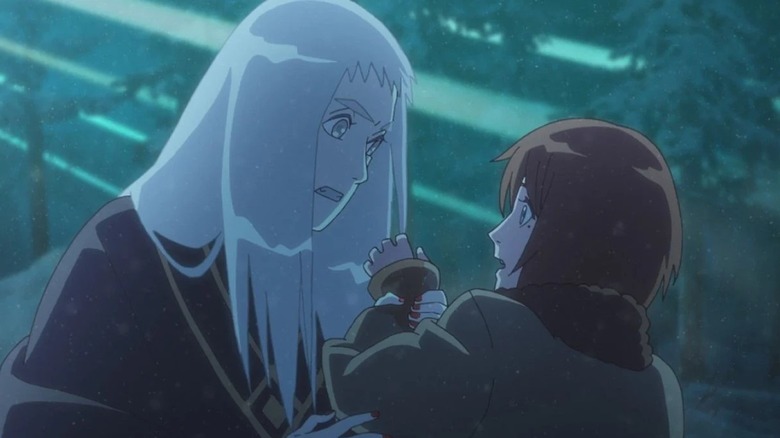 Netflix
Last year saw a rare boom in anime shows about vampires, with everything from a show about a vampire cosmonaut becoming an icon for the Soviet Union, to a sitcom about a vampire lord forced to become roommates with a vampire hunter, to a slapstick comedy about a vampire and a highschooler created by the director of "Ghost in the Shell." 
Thankfully, it seems the trend is continuing well into the Year of the Vampire with "Vampire in the Garden," an upcoming Netflix anime from Wit Studio, the studio behind the first three seasons of "Attack on Titan," the fantastic "Vinland Saga," and the spectacular "Ranking of Kings." The show takes place in a world where humanity has already lost the war against vampires, who have taken over the world — except for a small town shielded by a wall of light. Everything changes when a vampire queen who once loved humans has a chance encounter with a human girl, and together they embark on a journey to find a legendary Eden where humans and vampires live in harmony.
Watch the "Vampire in the Garden" trailer below. 
A stunning drama from one of the most exciting studios
The first thing to note about the trailer is that it looks gorgeous, with a mix of gothic and modern styles colliding to create a visually stunning world. The idea that this is a story about vampires already being in charge is interesting, if only because it reminds me of the criminally underrated "Daybreakers," where vampires control a futuristic world where human blood has become a commodity and scientists race around the clock to find a substitute.
How much of the vampire world we'll actually get to see is unknown at this point, but the story of a search for this magical safe haven for the oppressed side in a losing war also has big "Wolf's Rain" vibes, and that is never a bad sign. That show managed to find a great balance between heart-wrenching drama and thrilling action, and this looks to follow that same path. 
Plus, when you have Wit Studio in charge, especially with an original concept, it is hard not to get incredibly excited. The studio has been churning out nothing but bangers since they jumped to the scene with "Attack on Titan," and their last original concept for Netflix, "The Great Pretender," was a fun crime caper with a stunning soundtrack and clever use of language, so things bode well for this show.
"Vampire in the Garden" premieres on Netflix on May 16, 2022. Here's the synopsis for the show:
"One cold winter, humanity lost its battle with the vampires, and with it, most of where they called home. A small population of survivors created a wall of light in a small town to protect them and give them a place to live in peace. The protagonist, Momo, lives a repressed life but still wishes to coexist with the enemy, the vampires. Fine, the vampire queen, once loved humans and disappeared from the battlefield. As war rages through the humans' town, the two have a fateful encounter.

Once upon a time, humans and vampires lived in harmony in a place called Paradise. This is the story of a young girl and a vampire on a journey to find Paradise."