Only Murders In The Building Season 2 Teaser: Only In New York, Right?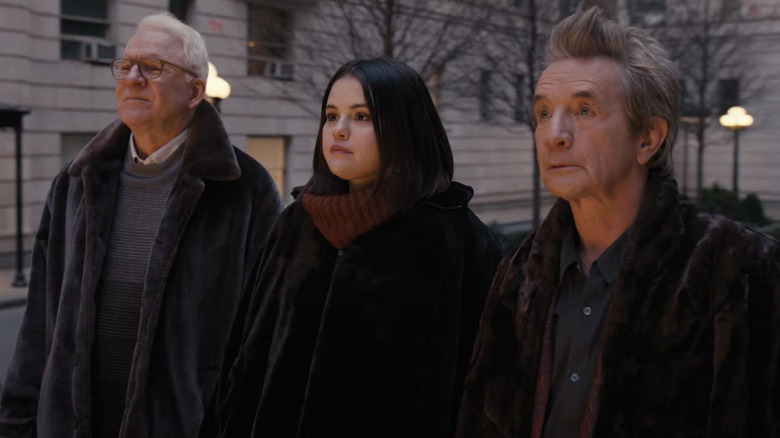 Hulu
In honor of film's biggest night, we're bringing you the latest in TV news! "Only Murders in the Building" is set to make its grand return later this year with the dynamic team-up of Steve Martin, Selena Gomez, and Martin Short. In case you missed out on one of the most delightful new series of last year, here's the lowdown: Charles Haden-Savage (Martin) is a lonely, washed-up '90s TV star; Oliver Putnam (Short) is a Broadway director struggling to find work; and Mabel Mora (Gomez) is a mysterious young woman renovating her aunt's apartment. What do they all have in common? The same thing as the rest of us — a love of true crime podcasts! After a resident of their fancy New York City building (The Arconia) is murdered, the three true-crime-obsessed neighbors attempt to solve the murder. And that's just the setup because things only get wilder from there.
For the second season, our murder-solving trio is faced with the greatest mystery yet: how to keep themselves out of prison! All who had the pleasure of tuning in for the first season know that we last left our heroes being taken into police custody, after being implicated in a new murder case. This time around, finding the truth isn't just about scratching their itch for curiosity — their own lives are at stake! And at long last, Hulu is offering us a glimpse at what's to come.
There has been another murder!
Murder accusation aside, things aren't going too badly for our favorite crew of podcasters. While they've certainly become major suspects in the murder case of Arconia Board President Bunny Folger, they won't be spending the entire season in handcuffs. In fact, the teaser show them up to their usual tricks: sneaking around, ominously narrating into a microphone and tearing down police tape to enter what's probably still an active crime scene. But hey, who among us hasn't broken a few laws to prove their innocence?
The big highlight of the teaser is finally catching a glimpse of the star-studded roster of new castmates. We catch our first glimpse of Alice, an art world insider played by Cara Delevingne. The actress has been booked as a series regular and from he looks of things, gets close to Gomez' Mabel. We also see Amy Schumer get a grand entrance, though we don't yet have details on who she'll be playing. Other stars joining for the season include Shirley MacLaine and Michael Rapaport.
"Only Murders in the Building" season 2 will premiere on June 28, 2022. Here's the official synopsis:
Following the shocking death of Arconia Board President Bunny Folger, Charles, Oliver & Mabel race to unmask her killer. However, three (unfortunate) complications ensue – the trio is publicly implicated in Bunny's homicide, they are now the subjects of a competing podcast, and they have to deal with a bunch of New York neighbors who all think they committed murder.