JoJo's Bizarre Adventure: Stone Ocean Part 2 Trailer, Release Confirmed For Fall 2022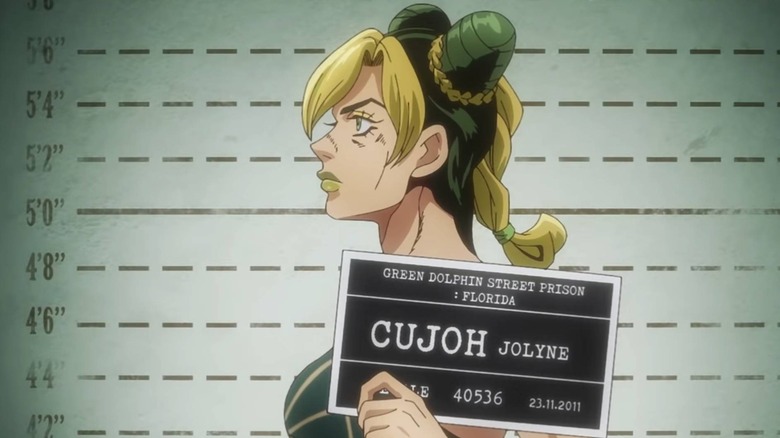 Netflix
If you can't stand to wait much longer, there's good news on the horizon: part two of "JoJo's Bizarre Adventure: Stone Ocean" will soon be gracing our Netflix selection screens! Like part one, part two will consist of 12 episodes (episodes 13 to 24, to be exact).
Set in 2011, part two of the "Stone Ocean" arc will continue to follow the adventures of the wrongfully incarcerated Jolyne Cujo, a fan favorite of "JoJo's Bizarre Adventure" manga readers (and cosplayers), and the only female JoJo to date. For those unfamiliar with the "Stone Ocean" arc, here's what you can expect according to the official Netflix summary:
Florida, U.S.A, 2011 — After an accident while on a drive with her sweetheart, Jolyne Cujoh falls into a trap and is sentenced to fifteen years at the state-run maximum-security correctional facility Green Dolphin Street Prison — AKA "the Aquarium." On the verge of despair, she receives a pendant from her father that causes a mysterious power to awaken inside of her.

'There are things in this world that are more terrifying than death, and what's happening in this prison is definitely one of them.' A message from a mysterious boy who appears before Jolyne, inexplicable events that occur one after another, the horrifying truth told to her by her father when he comes to visit, and the name DIO... Will Jolyne ultimately be set free from this stone ocean they call a prison? The final battle to end the century-long, fateful confrontations between the Joestar family and DIO begins!!
Check out the trailer below!
Release Date
Let's talk about my earlier use of the word "soon." Soon can mean a lot of things, and in this case it means "fall 2022." Although many fans were hoping for a spring 2022 release date, the series track record shows that the next installment of the beloved, chaotic anime will be well worth the wait. Still, the exasperation at a longer wait time than previously anticipated is understandable, especially when many anime fans tend to prefer a weekly release schedule over the chunky staggered release treatment that Netflix has given the series. 
How it feels to be a Stone Ocean fan rn pic.twitter.com/tozUP9TKOL

— 🦀Reapeageddon🦀 || COMMISSIONS OPEN (0/3) (@reapcykes) March 26, 2022
While binge-watching is fun, there is something to be said for the excitement that comes with anticipating a new episode of your favorite anime every week.
Why do Netflix batch episodes suck for stone ocean? Episodes 13-24 will drop late September and again we'll have no idea about the next batch for 6months. It will kill the hype again. The weekly episodes of Japan have had better quality of animation & sound.

— JOLYNE KUJO IS HERE? (@Saitamagoated) March 26, 2022
I mean, look at the way "Demon Slayer" managed to trend for months on end due to Hulu opting for weekly episode premieres rather than dropping the entire thing at once or in multi-episode bundles.