Drew Struzan's Hellboy II: The Golden Army Poster Finally Sees Print From Vice Press [Exclusive]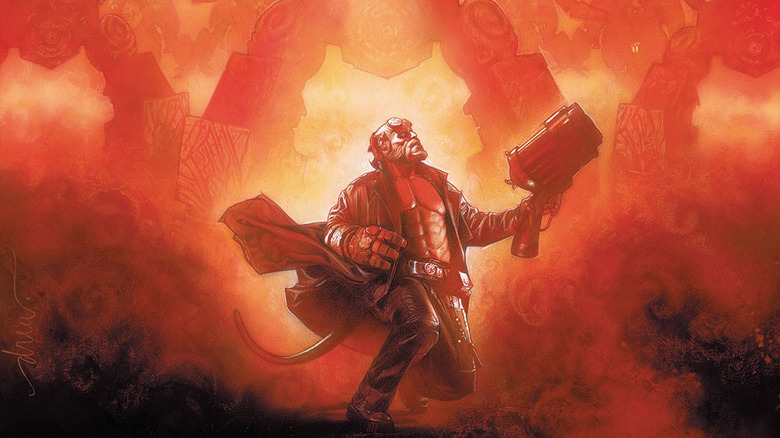 Universal Pictures
Legendary poster artist Drew Struzan of "Back to the Future," "Star Wars," and "Indiana Jones" fame ended his illustrious career on an unfortunate sour note, having created a beautiful painted poster for Guillermo del Toro's "Hellboy II: The Golden Army" only to see it outright rejected by Universal Pictures. However, on Thursday, March 31, 2022, our friends at Vice Press will be releasing a very special limited edition 24x36 inch version of Struzan's artwork for the 2008 monster mash, /Film has learned exclusively.
Originally commissioned by filmmaker Guillermo del Toro to promote the film on its release, the poster was previously only available as a giveaway print at New York Comic-Con in 2008. Vice Press has collaborated with Struzan, under license from Universal Studios, to rework the art into two new limited-edition versions including a regular movie poster edition of 450 (featuring a gold hot foil stamped title) as well as a variant art print edition of 250.
You will be able to pick up both versions of the poster on March 31, 2022 at 6:00 PM British Summer Time (1 PM Eastern) from Vice-Press.com and from Sideshow Art Prints. This release ships Worldwide. 
Check out both versions below!

Hellboy II: The Golden Army
Art by Drew Struzan
Edition of 450
24x36 inches
Hand Numbered Offset Lithograph Print With Gold Hot Foil Title
Printed on 300gsm Archival Paper.
£59.99 / $85
Hellboy II: The Golden Army Art Print
Art by Drew Struzan
Edition of 450
24x36 inches
Hand Numbered Offset Lithograph Print
Printed on 300gsm Archival Paper.
£49.99 / $75
Ships Worldwide
A poster not to be... until now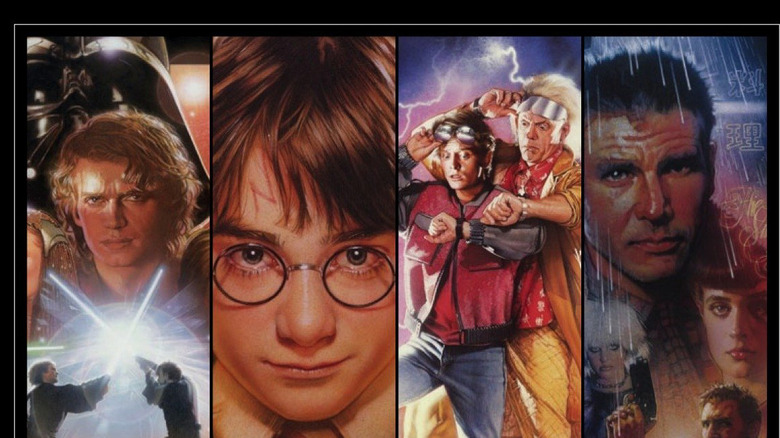 Titan Books
In Drew Struzan and David J. Schow's 2010 book "The Art of Drew Struzan," the artist goes into detail about how little support he had from the studio for the "Hellboy II" poster:
"Universal never, ever used it. For anything. Except Guillermo printed them up as a numbered limited edition and took them to Comic-Con in New York. Which I would think pissed off Universal. To prove they were right and Guillermo and I were wrong, they polled people on the street, asking them to fill out preview cards that rated the painting. I was told it got the highest approval rating of any such test they had ever done. In spite of that, the studio still refused to use it."
After years of having his painted posters rejected by studios despite director approval, this specific incident on "Hellboy II" is what proved to be the straw that broke the camel's back and led to Struzan retiring. Now age 75, he's been doing his own original paintings exclusively ever since. 
"Hellboy II: The Golden Army" was the second and final film in Guillermo del Toro's planned three-part adaptation of Mike Mignola's classic hero, earning $168 million worldwide on an $85 million budget. When a third film featuring Ron Perlman as the title hero proved too expensive a proposition, a disastrous 2019 reboot starring David Harbor came to be in its place. 
Here is the official synopsis for del Toro's film, which is currently streaming on Starz:
After an ancient truce existing between humankind and the invisible realm of the fantastic is broken, hell on Earth is ready to erupt. A ruthless leader who treads the world above and the one below defies his bloodline and awakens an unstoppable army of creatures. Now, it's up to the planet's toughest, roughest superhero to battle the merciless dictator and his marauders. He may be red. He may be horned. He may be misunderstood. But when you need the job done right, it's time to call in Hellboy (Ron Perlman). Along with his expanding team in the Bureau for Paranormal Research and Development–pyrokinetic girlfriend Liz (Selma Blair), aquatic empath Abe (Doug Jones) and protoplasmic mystic Johann–the BPRD will travel between the surface strata and the unseen magical one, where creatures of fantasy become corporeal. And Hellboy, a creature of two worlds who's accepted by neither, must choose between the life he knows and an unknown destiny that beckons him.