Steve McQueen's Biggest Challenge On Widows Came Down To The Casting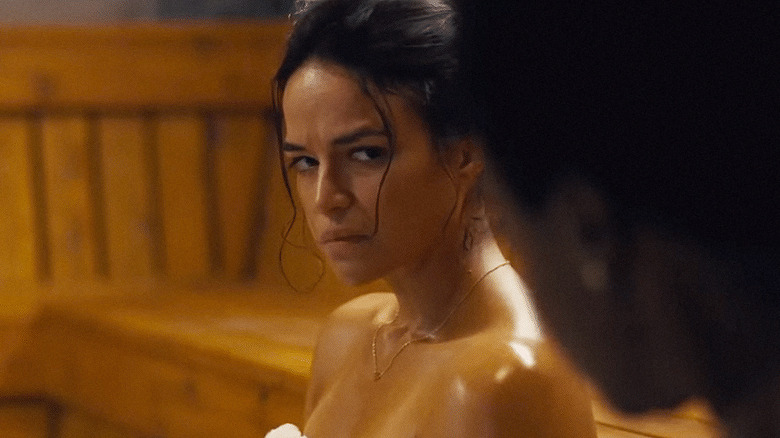 20th Century Fox
Back in 2018, Steve McQueen took a surprising pivot from his usual arthouse fare with the heist film "Widows." The film is still one of the director's more "mainstream" projects, but what really makes it such a standout is not his careful subversion of conventional filmmaking techniques (though that scene that takes place entirely from the outside of a car deserves all the praise) but his four disparate female leads. 
Viola Davis is, of course, Viola Davis, playing the no-nonsense grande dame that made "How to Get Away With Murder" such a pleasure to watch. Elizabeth Debicki stuns in a quiet (but no less compelling) remix of an abuse survivor who decides to use her feminine power to her advantage, for once. Cynthia Erivo's role, as a getaway driver with a Terminator-level resolve, was her very first on film — if you can believe it. And then there's Michelle Rodriguez, whose role as a down-on-her-luck mom of two is a far cry from the characters she typically plays. Rodriguez has carved a career out of high-octane action movies, and she's pretty much universally beloved as Letty Ortiz in the "Fast and Furious" saga. But in "Widows," her performance is defined by grief and desperation, two emotions the 43-year-old actress goes out of her way to avoid. It's the one thing each of their characters have in common, aside from the fact that they're all women torn apart by systemic prejudice.
Their blistering, strictly-business dynamic feels strangely foreign compared to those we're used to seeing, like the close-knit sisterly bond in "Set It Off," or the easy-breezy girl gang in "Ocean's 8." All that aside, it still feels effortless — and that's in part to McQueen's eye for potential. The filmmaker rarely holds an audition: Debicki was the only one out of the four to do so. Davis and Erivo signed on to the project after brief, informal meetings with McQueen. But nabbing Rodriguez for such a vulnerable role was almost a heist unto itself, one that took major convincing on McQueen's part.
Too close for comfort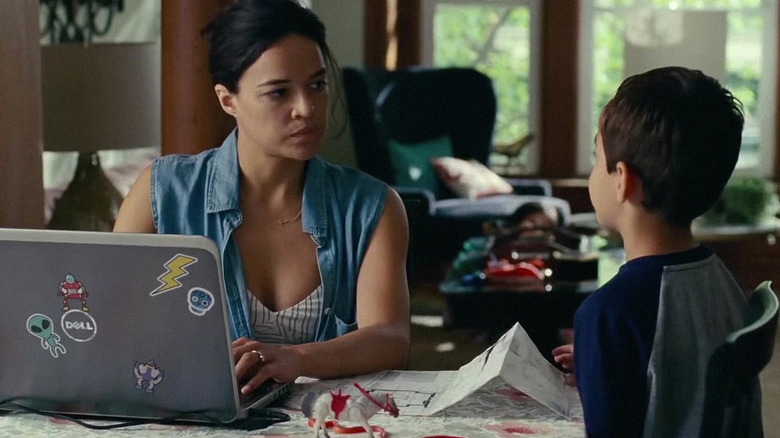 20th Century Fox
For some actors, a role in a Steve McQueen film is the role of a lifetime. Debicki has since described her role in "Widows" as "a f***ing golden ticket in Willy Wonka's Chocolate Factory." But Rodriguez apparently turned down the offer to star in McQueen's followup to "12 Years a Slave" — and on more than one occasion.
Still, McQueen persisted — in fact, he had to "literally beg" Rodriguez to reconsider. The director told Vogue, "I'm like, 'Michelle, you need to look at this. Why does it make you so uncomfortable?'"
The answer, perhaps, was more personal than anyone could have guessed. Rodriguez had no problem with McQueen or with the script he'd cowritten with "Gone Girl" scribe Gillian Flynn. She just couldn't get behind a story about poverty-stricken women who lived in the places she once called home. "That's the epitome of everything I despise," Rodriguez said. "The horror of having your security and your life just ripped out from under you, I hate it."
In hindsight, Rodriguez attributes her resistance to her ego. The actress only saw weakness in the women of "Widows," but only because she'd been taught to think that way. "My idea of strength is a demonstrative exaggeration of male qualities," she told Vanity Fair. As a result, she "didn't see the strength" of the women of McQueen's film or the women they were inspired by. "In my mind, I thought, 'What could I do by playing this statistic?'"
The scary place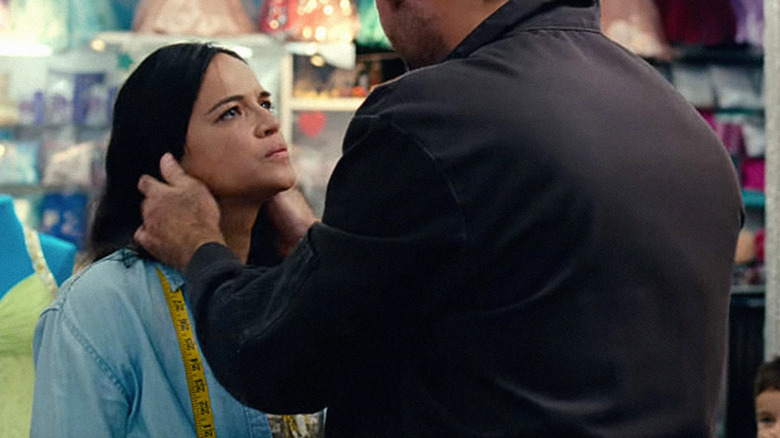 20th Century Fox
Though Rodriguez eventually agreed to meet with McQueen, she was sure that her opinion couldn't be swayed. Fortunately, the director had approached Rodriguez just as she was entering a time of introspection, and beginning to explore new sides to herself. It was McQueen who helped her contextualize what strength actually looked like from the perspective of working class women like Rodriguez's mother. In fact, their conversation triggered a "big, self-reflective moment" for the actress:
"I looked at myself, and I saw this surface layer, papier-mâché creature with no dimension, and I said, "I need to do this movie." It will help me see the beauty in my mother, the beauty of all those women that I felt sorry for growing up. Nobody talks about soft power. In these poverty-stricken areas, where this machismo is through the roof, to see the strength in these women, raising these kids by themselves. It always brought me such deep sorrow, which is why I never wanted to go near that."
McQueen was asking her "to go to a scary place" with "Widows." In fact, it was the most challenging role she'd been offered since "Girlfight," her 2000 debut. Tapping into such vulnerability was "incredibly uncomfortable" for Rodriguez, who said, "For somebody who's been wearing armor her entire life, it's not something that I can easily jump into and start running with."
But once she committed, she really committed, even working with an acting coach for the first time in 20 years. Her "soft power" drives some of the most surprising emotional beats in "Widows" (some of which might feel so disarming because we're not used to seeing Rodriguez in that light), and by the time she steps back into the action hero role we all know and love, it feels much more earned.