Peter O'Toole Nearly Turned Down His Lawrence Of Arabia Role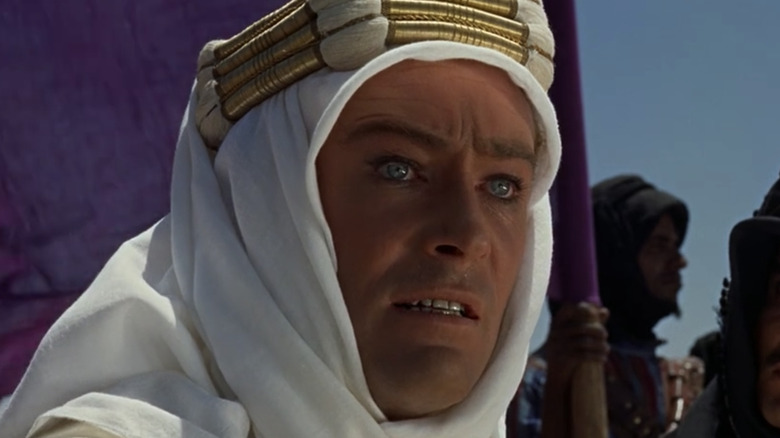 Columbia Pictures
Imagining "Lawrence of Arabia" without Peter O'Toole at its center seems completely unthinkable today. With his intense blue eyes and mysterious demeanor, he was the perfect choice to play the man in the middle of this gargantuan, near four-hour epic who remains as elusive at the end as he was at the beginning. O'Toole may be regarded as one of the finest actors of all time now, but back when he was first cast in the part, he was not a known commodity outside of the British theater scene. He had been in a couple of pictures and some television, but nothing major. Theater was his home, which obviously does not give you the notoriety to lead a major, high budget feature film.
For many, the idea of Peter O'Toole possibly turning down this part would seem outrageous. He would be the nobody who refused the keys to kingdom. But for a lot of actors, particularly those who work in the theater, money and fame are not what drive them. It's the work. It's the character and script that compel them to keep on performing, because paltry theatrical pay does not entice anyone. That being said, Peter O'Toole did take the part of T.E. Lawrence, but it was not without some major convincing. It was not because of the part, which was obviously as rich and complex as any Shakespearean character he was playing on stage. No, he needed convincing because of a sour relationship with one of the main people behind "Lawrence of Arabia."
A feud with the producer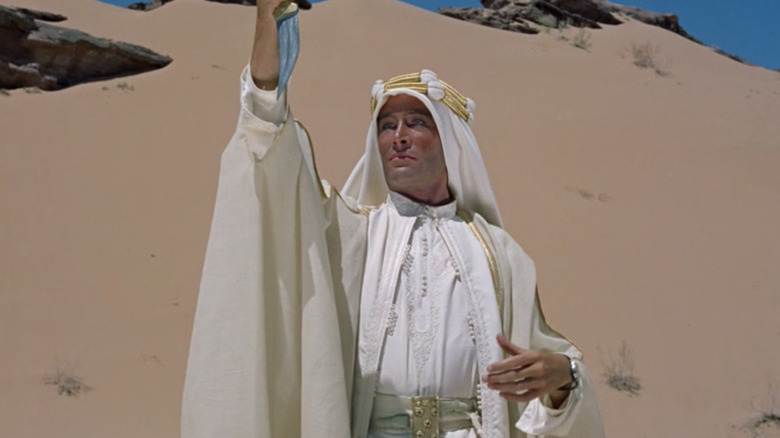 Columbia Pictures
Every young actor at the time wanted the part of T.E. Lawrence. After all, this was the leading part of the new David Lean movie, whose previous film "The Bridge on the River Kwai" won a whole swath of Academy Awards, including one for its leading man Alec Guinness. Lean had his sights set on the underdog Peter O'Toole for the role, who was playing Shylock in a production of William Shakespeare's "The Merchant of Venice" at the time. In a Q&A with Roger Ebert back at the 2002 Telluride Film Festival, Peter O'Toole recounted his first meeting with Lean about playing the role. Things were going well until Lean brought up who would be the producer on the film:
"I said, 'who's the producer?' He said, 'Sam Spiegel.' I said, 'Not a chance.' Because Sam Spiegel and I didn't get on at all and we didn't get on for years before 'Lawrence of Arabia.' And David said, 'Well, look, you're going to hear everybody in the world is about to play this but please have faith, please trust me, and you'll do it.' And Spiegel, of course, was having a baby. He said, 'You can't have him. For God's sake, David, you can't have that awful man, that dreadful life.' But David stuck to his guns and indeed that's what happened and then two years later we finished it."
Sam Spiegel was an enormously successful producer in the 1950s and '60s, having produced films like "The African Queen," "On the Waterfront," and Lean's own "The Bridge on the River Kwai." He was a Hollywood big-wig that Wendy Smith of Variety reports had all the horrible sides of the job, such as "the sleazy financial maneuvers and creepy taste for underage girls." O'Toole not seeing eye to eye with this man was probably a good thing. Unfortunately, he was the one who could mount this enormous production. Obviously, O'Toole relented and decided to do the picture, changing his life forever.
Did it get better?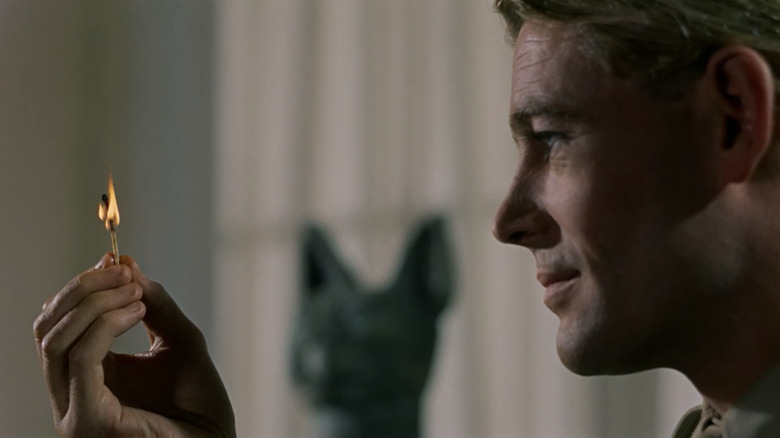 Columbia Pictures
One may think that since Peter O'Toole and Sam Spiegel were thrust together for this expansive production that they would have to find some sort of courteous working relationship. A begrudging one, yes, but one that was functional. This was not the case. When Roger Ebert asked O'Toole is his relationship with Spiegel improved at all, O'Toole responded:
"Not at all. He turned up at one point, on his yacht, when we moved to Spain, and he summoned me on board the yacht. He'd seen the rushes for the nine months we'd done in the desert and I left the yacht feeling dreadful. Destruction was his game. I couldn't bear the man. When I came off the yacht, there was a little bar and there was the artistic director, John Box, who's alive and well, and I was about to tell him what had happened. He said, 'Don't. Don't, don't. I was there for an hour before you.' So we helped ourselves to the wine and we finished up–this is so pathetically boyish–climbing up the anchor chain onto his yacht and we stole all his cigars."
Good. A creep like that doesn't deserve cigars!
Considering Spiegel was occasionally showing up on a yacht, it does not sound like he had much day-to-day involvement with the making of "Lawrence of Arabia." Megalomaniacal producers tend to operate in two ways. Either they want complete control over everything, or they give all the control to the director and make sure nobody interferes with this, which is perhaps how Spiegel ran things. After all, "Lawrence of Arabia," "On the Waterfront," and "The African Queen" all feel like movies completely from the minds of their respective filmmakers. But if you aren't going to regularly involve yourself in the production, you can't then just show up and be horrible to the people who are working everyday. You haven't even put in the work!
Strangely enough, however, Peter O'Toole did work on a Sam Spiegel produced film once more with 1967's "The Night of the Generals," directed by Anatole Litvak. Perhaps seeing the actual extent of Spiegel's involvement made him think it was actually okay to give it one more shot.