How Steven Spielberg's Love Of James Bond Led To Indiana Jones (And A Few Cinematic Easter Eggs)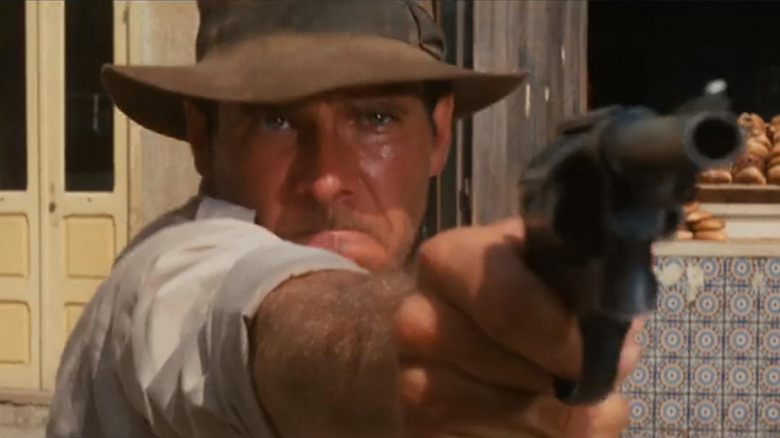 Paramount Pictures
As a producer of "The Goonies," the rousing 1980s adventure about a band of misfits searching for pirate's treasure, Steven Spielberg managed to sneak his love of James Bond into one of the props worn by one of the rascals in the titular gang of treasure hunters. 
Data, AKA Richard Wang, is an intelligent young inventor played by Ke Huy Quan who creates a spy-like device disguised as a belt. The belt opens to reveal a suction cup on a cord that fires out at objects and sticks to them, allowing Data to pick things up and reel them back in from a distance. James Bond's agent number 007 is scrawled on the belt buckle and Data plays the "James Bond" theme song on his tape player while he zip-lines. Data is clearly enamored with the gadgets that help the suave intelligence officer easily outwit his enemies. 
"The Goonies" is not the only time Steven Spielberg included a reference to the "James Bond" franchise in his films. In "Jaws," the license plate recovered from the dead body of a tiger shark reads 007 and is from Louisiana, the state "Live And Let Die" takes place and was filmed in. James Bond Lifestyle observes that the numbers '72 and '73 are on the side of Louisiana, "exactly the years that 'Live And Let Die' was produced and released." Also, the top of the license plate reads "Sportsmen's Paradise," the state slogan that is seen on a roadside in the Bond film.
It was Spielberg's hope that after the mammoth success of "Jaws" he would be able to fulfill his lifelong fantasy of directing a "James Bond" movie. He told IndieWire: 
"When I first started making movies, the only franchise I cared about and wanted to be part of was James Bond. When I started out as a TV director, my pie-in-the-sky dream was to make a little movie that would get some notoriety, and then [Bond producer] Cubby Broccoli would call me and ask me to direct the next James Bond picture. But I could never get Cubby Broccoli to hire me." 
Spielberg was turned down twice — first for lack of experience and the second time, post-"Close Encounters of the Third Kind," for being too expensive — so he went ahead and made his own version of "James Bond." 
Indiana Jones is Steven Spielberg's James Bond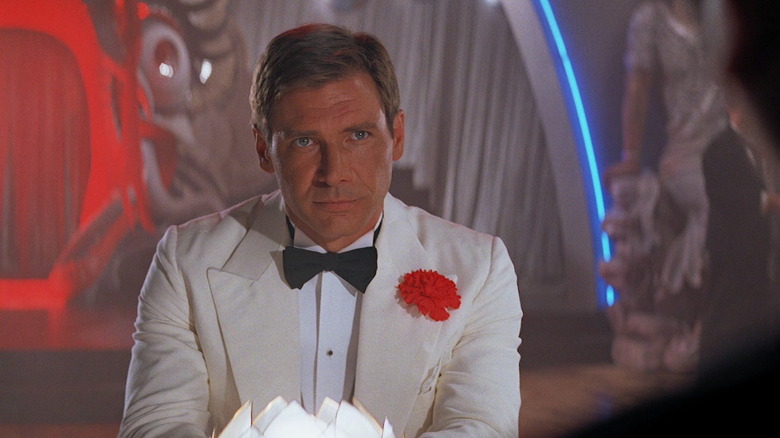 Paramount Pictures
The "Indiana Jones" adventure series was Spielberg's own way of making a 007 movie. Harrison Ford's debonair archaeologist has a lot in common with the charming secret agent. Indy carries plenty of that machismo that has somewhat fallen out of fashion in today's action heroes. Plus, while both have their own impressive set of skills and intelligence, they're also not afraid to throw some punches when things get messy. The cunning, handsome daredevils survive death traps, conquer enemies, and cavort with beautiful women while on wild escapades in exotic locales. 
"Indiana Jones and the Temple of Doom" has the most obvious "James Bond" inspiration, particularly in its opening sequence, which mirrors the traditional Bond movie structure by revealing the end of one of Indy's adventures before heading off on a new one. "Temple of Doom" opens with Indiana Jones in a Shanghai nightclub called Club Obi-Wan (a fun little "Star Wars" reference) and survives a murder attempt by the crime boss Lao Che. He wears a white dinner jacket and red flower lapel that exactly matches Sean Connery's costume in "Goldfinger." So it's only appropriate that the renowned James Bond actor notably appears in the third film, "Indiana Jones and the Last Crusade," as Dr. Henry Jones, literally making James Bond the father of Indiana Jones, complete with a marvelous performance and brilliant chemistry with Harrison Ford. 
Steven Spielberg may have never gotten to bring James Bond to life, but he did manage to communicate his love of the spy series in a franchise that became just as beloved as the missions of 007.