Kate Mulgrew Had Her Doubts About Reviving Janeway For Star Trek: Prodigy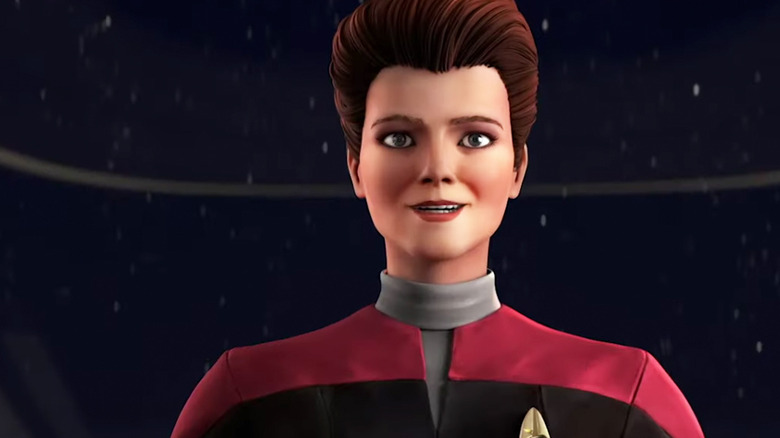 Paramount
One of the biggest draws of "Star Trek: Prodigy" is that it features the return of Kate Mulgrew as Captain Kathryn Janeway — albeit in holographic form. Not only does Janeway's return provide a mentor for the crew of the U.S.S. Protostar, but she also provides a thematic tie to "Star Trek: Voyager." In "Voyager," the captain and her crew were stranded in the Delta Quadrant and often had to rely on each other to overcome obstacles, much like the Protostar's crew; Janeway's ability to innovate while under pressure — a key characteristic in "Voyager" — makes her an intriguing, if unorthodox, mentor for the young Protostar crew. It's also nice to see the first female captain in "Star Trek" history getting to play another major role in the franchise.
However, while Mulgrew may play an integral part of "Prodigy," she had doubts about reprising the role of Janeway.
Janeway is for the children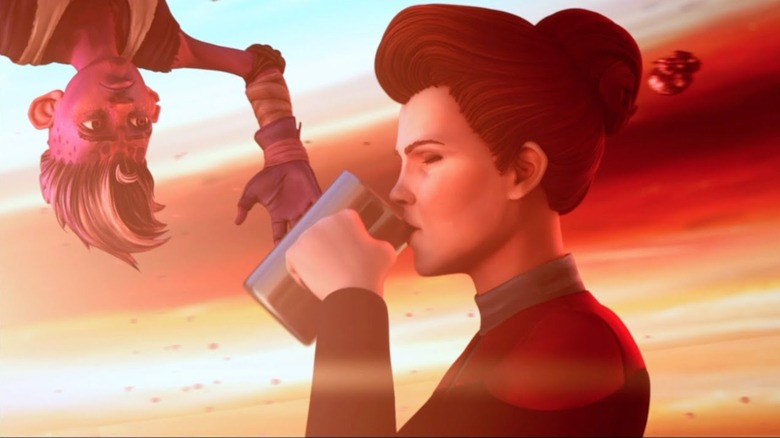 Paramount
During the "Star Trek: Prodigy" panel for New York Comic-Con, Mulgrew discussed why she was reluctant to return to "Star Trek" when producer Alex Kurtzman called her. She'd spent a long time playing Janeway on "Voyager," and wasn't sure she wanted to step back into that role: 
"I have to tell you that at first I was a little bit uncertain. After all, I had played her for seven years. In four and a half inch heels. I'd invested every scintella of my being in that woman. And I thought, 'An animated version of Janeway? I don't know, I don't know.'"
However, when she learned that "Prodigy" was an animated series, the desire to revisit Janeway flared up. The idea of working with younger characters was also a plus:
"I thought, this will be heaven. I can go into a recording booth — which I love to do. I can now endow her with nuance that I didn't do before because I will have the privacy and freedom of a recording booth. And we can take it to unlimited places. And then I thought, you know, I was the first female captain, and now I'm going to be the first children's captain. And what on earth could be better than that?"
Janeway or the highway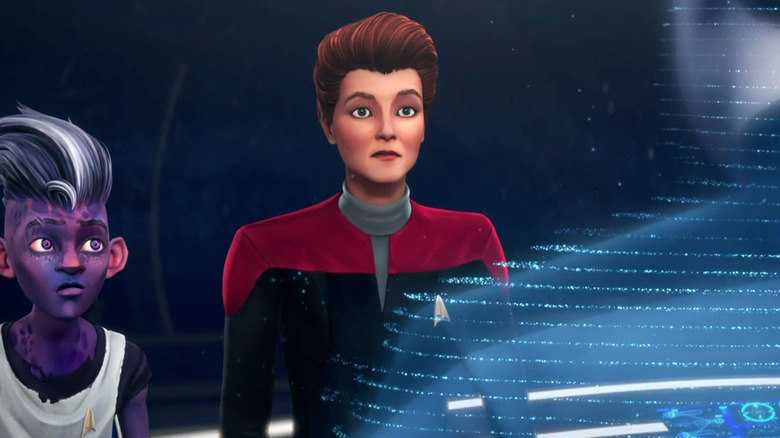 Paramount
Mulgrew's instincts proved to be correct; on "Prodigy," hologram Janeway still retains her no-nonsense attitude (and love of coffee) while managing to steer Dal and his friends on the right path – well, most of the time (it wouldn't be a "Star Trek" show without some intergalactic chaos, right?). The show is dealing with teenagers, who aren't precisely known for following orders. Still, mentoring young officers on the ins and outs of Starfleet is a new role for Janeway, which brings a fresh angle to the beloved character.
And Mulgrew will soon have the chance to fully reprise her role: the midseason finale "A Moral Star" revealed that the flesh-and-blood Janeway has discovered the U.S.S. Protostar and is hot on its heels. With showrunners Dan and Kevin Hageman comparing the second half of "Prodigy" season 1 to "The Fugitive," there's a chance for Mulgrew to add new dimensions to the character — especially if Hologram Janeway and real-life Janeway meet face to face.