Bridgerton: Queen Charlotte's Season 2 Wigs, Ranked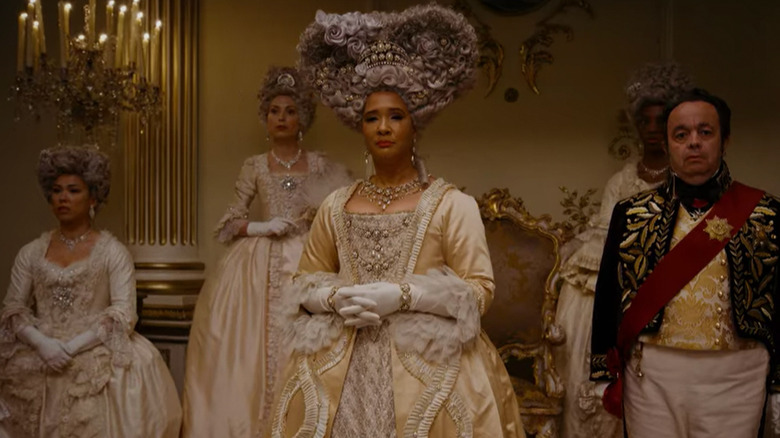 Netflix
It's been almost two years, but "Bridgerton" has finally returned to whisk us back into their gaudy, scandalous reimagining of 19th century England. The first season of Netflix's runaway hit made major waves for its horned-up romance alone — but the series' commitment to colorblind (or perhaps color-conscious) casting kept the flame alive for those less interested in all that bodice-ripping. That, and the gorgeous costumes.
Queen Charlotte of Mecklenburg-Strelitz represents the crux of what makes "Bridgerton" so fascinating. In real life, the Queen is widely regarded as one of Britain's first Black royals, though she was never portrayed as such before. "Bridgerton" took that speculation and ran with it, casting scene-stealer Golda Rosheuvel as the gossip-obsessed Queen that keeps the 'ton in check — and opened the door for a much more colorful society ... in every sense of the word.
Rosheuvel stuns as Queen Charlotte in the series. Though she wasn't given much to do in the first season, she quickly became a fan favorite, as much for her meme-worthy sneers as for her decadent, jaw-dropping wig collection. She never wears the same one twice, and each is more daring than the last.
In season 2, Queen Charlotte is more than the sum of her wigs, but that doesn't mean they've gotten any less fantastical. Here are the hairpieces the Queen sports in "Bridgerton," and though they're ranked, they're still all wins in my book.
Be warned, though: spoilers follow for "Bridgerton" season 2. Proceed with caution, gentle reader!
13. Turning red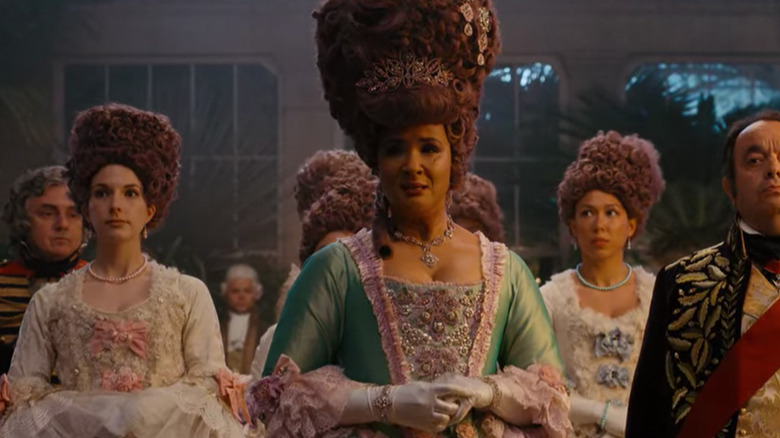 Netflix
When it comes to makeup and hairstyling, I like to find the positives (even if I don't like the look!), but this wig is not doing Her Highness many favors. It might be the color for me. Also: the Lucille Ball bang. The "Bridgerton" creative team has been known to draw influence from the 1950s and '60s to give their Regency looks some extra flair, but I think this one needed a bit more time to marinate.
12. All together now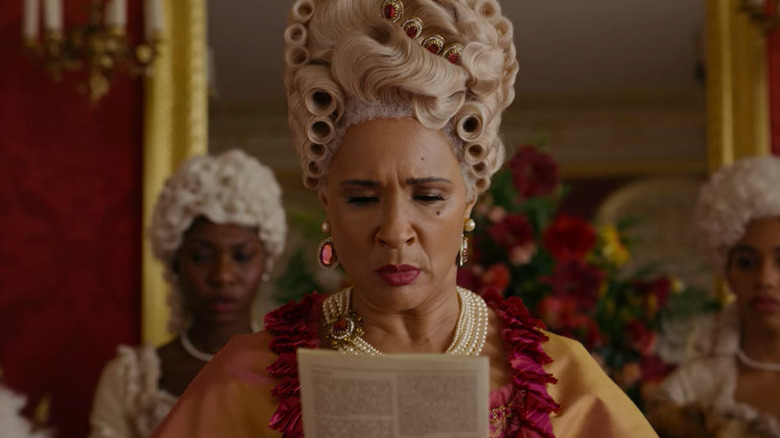 Netflix
Queen Charlotte opts for a more traditional style when chilling at home with the latest Lady Whistledown. This wig, like all the Queen's wigs, is still a show-stopper, immaculately coiffed and perfectly in sync with the rest of the look. That said, the jewels — and the dress! — are the real stars here. But I do admire a wig that isn't afraid to step back and let others shine. She's a real team player.
11. Touch of pink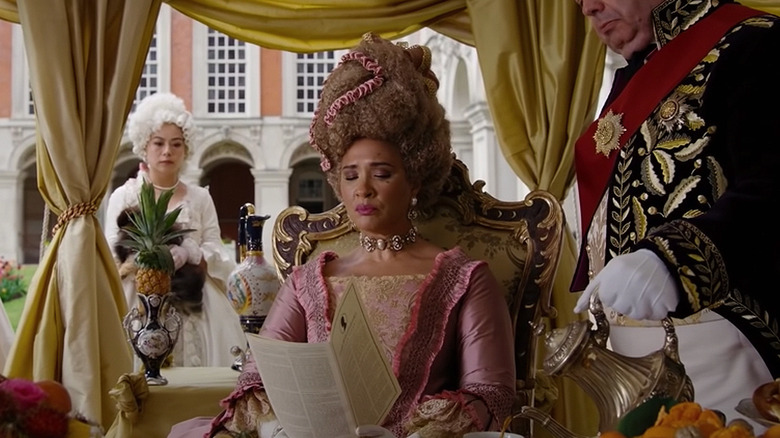 Netflix
The beauty of "Bridgerton" — and Queen Charlotte's role — is that she literally never wears the same look twice. The catch? Not every look gets the chance to make the impression it deserves. It hurts to say, but this look falls into that devastating category. The wig is great, the dress is gorgeous, the jewels are sitting pretty as always. But on the whole, it's not saying much — it's more of a filler look, isn't it?
10. The wedding planner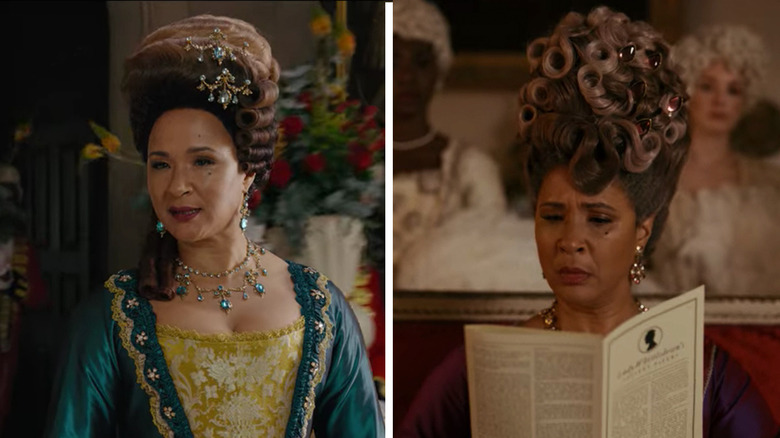 Netflix
The ombre look was invariably en vogue a few years ago. Though its influence has waned since, it's nice to see it pop up now and again, especially in less conventional ways. The Queen's ombre wig from episode six elevates a pretty run-of-the-mill 19th-century hairpiece just enough to get heads turning: a smart touch for a busy day of wedding planning.
That said, her final look in the same episode feels a bit too similar, design-wise. Both are gorgeous and impeccably styled, but it's gonna have to be a tie.
9. Ginger snapped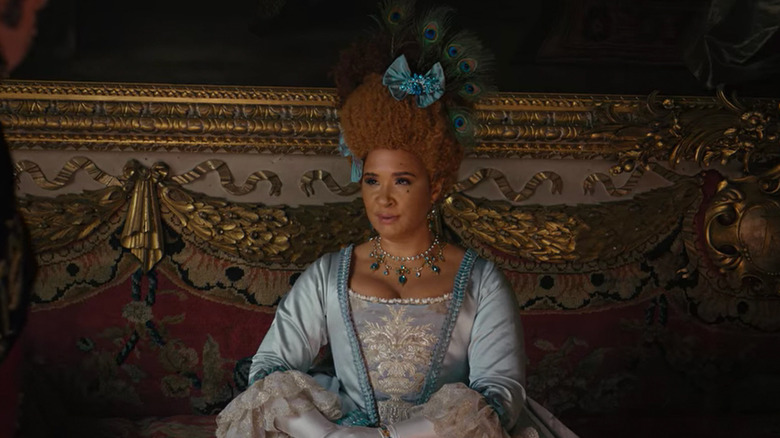 Netflix
Now, I absolutely love this wig. What I could see of it, anyway. The Queen doesn't stay in this look for long either — she's got more pressing matters to deal with, like uncovering the identity of Lady Whistledown once and for all. Still, curating such an immaculate look, only to appear in it for 15 seconds, is a bit of a flex, all things considered. If you're going to sleuth on your subjects, you might as well look good doing it.
8. Perfect blue
Netflix
We all need a Marie Antoinette moment every once in a while. The Queen's episode two look is a periwinkle dream, perfect for a stroll in her weird menagerie. This wig is another team player: she wouldn't work half as well if the dress and the accessories weren't a perfect match in every regard. But that's the beauty of the look! We love a refined palette.
7. Red velvet
Netflix
Unfortunately, we don't see very much of this more natural hairpiece either. It harkens back to Keira Knightley's Duchess of Devonshire look in the period film "The Duchess," which was also a big inspiration for the Queen's wigs in season one. Golda Rosheuvel has a soft spot for the wigs that skew closer to the Queen's natural hair, and I must say: I quite agree.
6. An abundance of Charlottes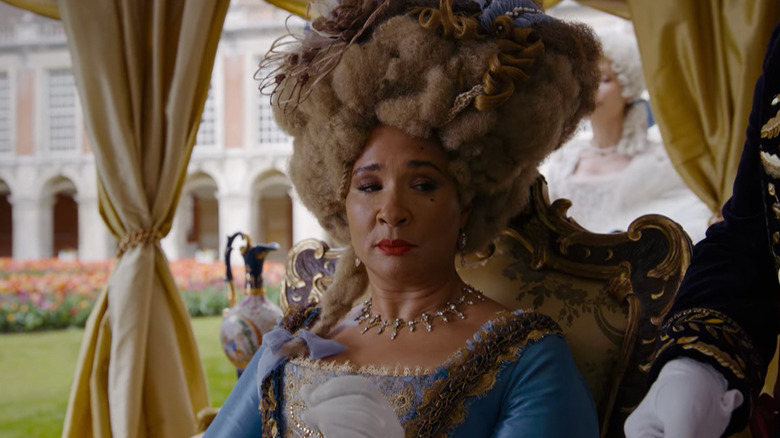 Netflix
The "Duchess" influence returns in this gorgeous — but fleeting — look from this season's first episode. "Bridgerton" began with a bang this season, and our Queen rocked no less than four disparate looks for each of her appearances in the pilot. I so wish this wig had been given a bit more time to shine. Still, its lack of screentime just makes me want to cherish it more.
5. Sovereign of the bride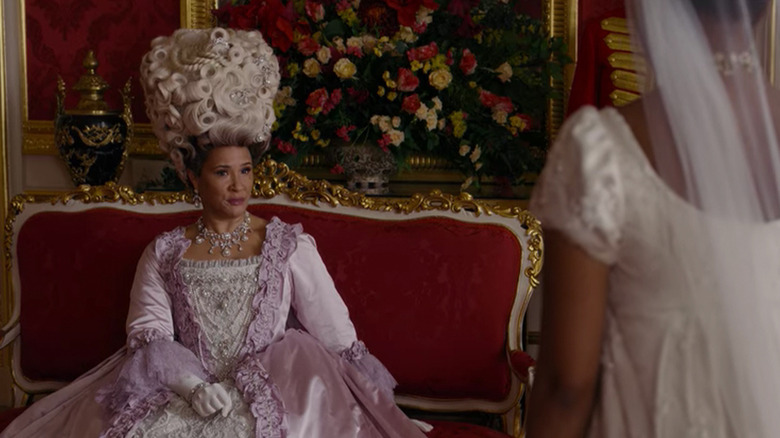 Netflix
It's a general courtesy to refrain from upstaging a bride at her own wedding, but when you're a Queen, those rules (or any rules) don't really apply. The ombre motif manifests once more in Queen Charlotte's dazzlingly iced-out wedding look. This wig incorporates some dark roots into the style, which certainly helps to anchor her sky-high bouffant. I'd be floating on cloud nine if the nuptials in episode six weren't such a disaster.
4. 'Did you miss me?'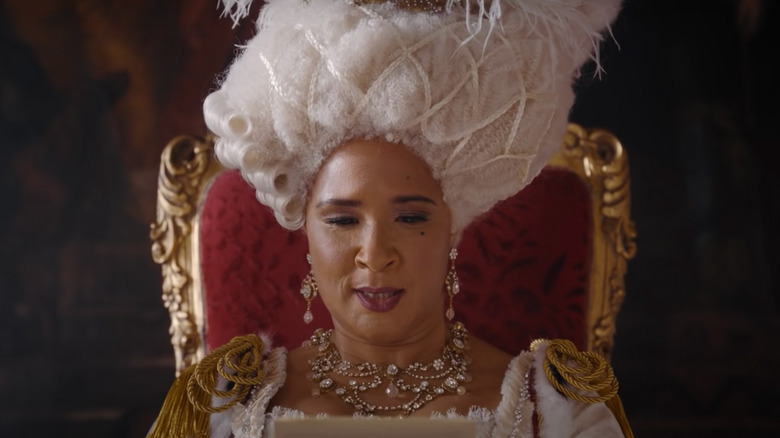 Netflix
Now this is cloud nine. A new season comes with all-new expectations, and it's clear we were all expecting the second season of "Bridgerton" to start off with a bang. Narrative-wise, things get off to a slow start, but at least we can count on the Queen the deliver a straight-up look right out the gate. Her Majesty's first appearance in two years had to be memorable, and this all-white pouf — complete with a braided design that gives an almost macrame effect — definitely set the tone for the rest of the season. More braided styles in the future, please.
3. Chiller Queen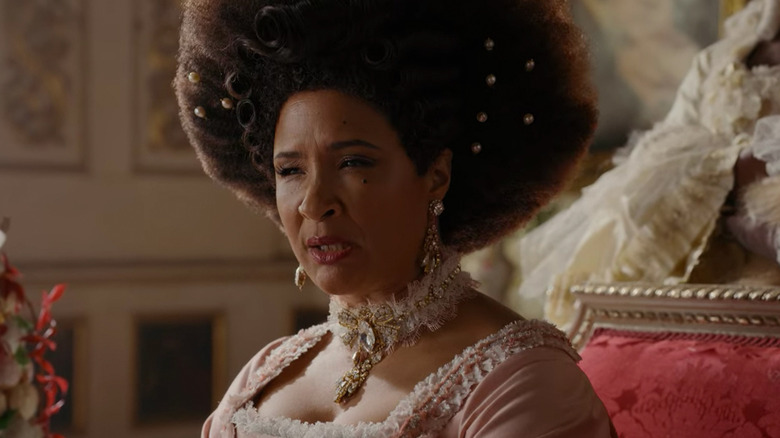 Netflix
You really can't go wrong with an afro, especially juxtaposed with the pomp of 19th-century England. The Queen's picked-out styles are a personal favorite of mine, and though there's certainly no topping Her Majesty's Beyoncé-inspired wig from season one, Golda Rosheuvel has gone on record about her experience in it.
Rosheuvel's scalp "got really hot" underneath that wig, she told Insider. The "burning" sensation could only be alleviated by sticking metal combs into the piece between takes — and it's probably the reason that the team opted for this condensed afro in season 2. Hopefully cooler heads prevailed this time around.
2. Heavy is the head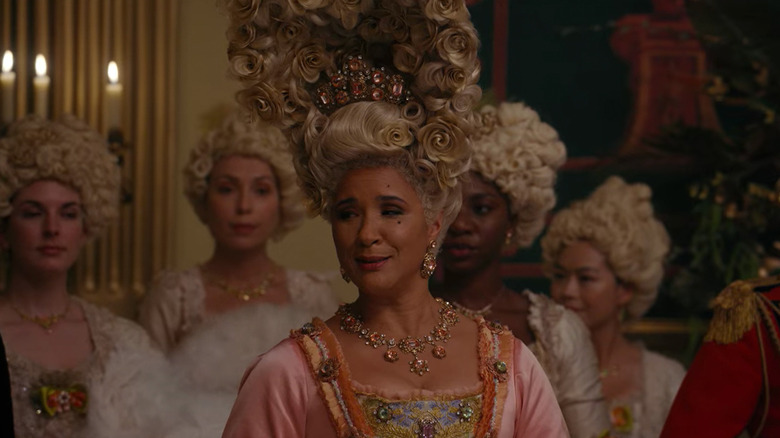 Netflix
When in doubt, save the best for last, and Queen's Charlotte's final look for "Bridgerton" season 2 is certainly one of her best. Creating a little hair cave in which to rest your crown is the ultimate flex; it totally shouldn't work, but it also absolutely does.
1. Heart-shaped locks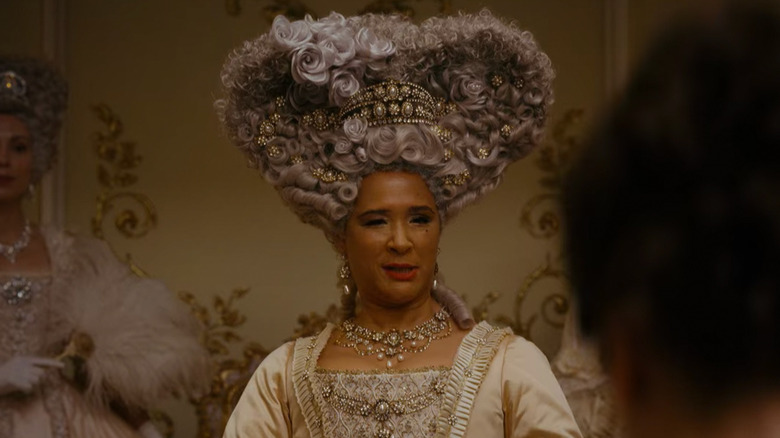 Netflix
Of course, the finale was not our first introduction to the above style. The Queen tested out a heart-shaped, jewel-encrusted hair cave (yes, that is the technical term) in the season two premiere, "Capital R Rake" — and it's a capital L Look. The roses are an excellent touch, blending seamlessly — but not too seamlessly — into the entire affair. Honestly, I'm gobsmacked, but this dazzling hairpiece comes with the territory. You've gotta look the part if you're choosing the season's diamond, after all.