Helena Bonham Carter Had Her Doubts About Filming Fight Club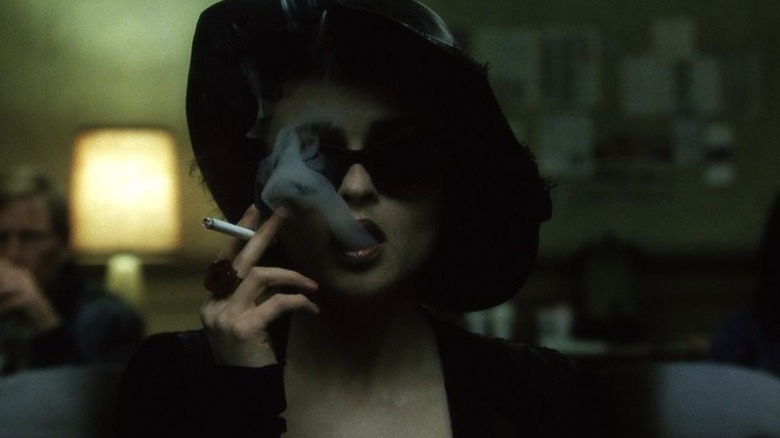 20th Century Studios
Helena Bonham Carter is a rare jack of all trades — and master of every damn one, when it comes to her eclectic career. She's played royalty -– herself being granted a royal title, per CBS News, in 2011 -– in films like "The King" and Netflix's "The Crown." There's the near-endless catalog of beloved roles she's had in Tim Burton classics and her terrifyingly-deranged portrayal of Bellatrix Lestrange. Each reveals Carter's love for eccentric and dark characters. So it might come as a mild surprise that when she was handed the script of "Fight Club" by director David Fincher, she hesitated on taking the part.
Today, it's hard to imagine anyone else embodying the whirlwind of razzled complexity that is Marla Singer other than Carter. What makes the actor's apprehension more interesting is the fact that early in her career she'd begun to be typecast as "virginal English rose," according to the Sunday Times –- which annoyed her. That perception started to change when she appeared as the tragic and ambitious character of the Henry James novel "The Wings of the Dove." It's her acting in this film that placed her atop Fincher's list for the delightfully despondent and fatalistic Singer. Not to mention if there was ever a role that would adamantly reject her previous typecast, it was this one, without a doubt. So, what did Carter have to fear?
Carter's mom was repulsed by the script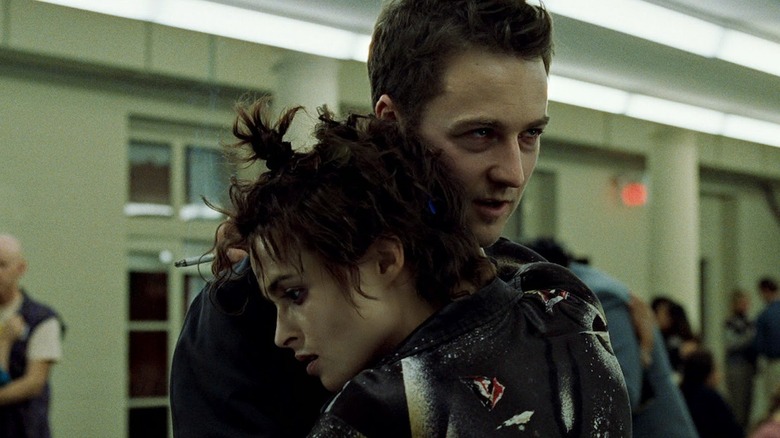 20th Century Studios
Turns out we have Brad Pitt to thank for Carter being considered for the role. In an excerpt from the book "Best. Movie. Year. Ever." by Brian Raftery posted on The Ringer, it's revealed that it was Pitt who recommended Fincher view "The Wings of The Dove" in the first place. After seeing Carter's "exquisitely emotional" portrayal of the morally ambiguous Kate Croy he immediately sent her a copy of the "Fight Club" screenplay. Her initial reaction? Less than enthused. But her mother? Thoroughly repulsed.
"Mum put the script outside her bedroom, because it was a pollutant!" the actor said. "I didn't get it when I first read it, either. I thought, 'This is weird. Is this message particularly life-enhancing?'"
Since both the film (and novel, for that matter) were released, they've become a sad rallying cry for men who idolize a sentient id like Tyler Durden. Just like Edward Norton's Narrator, their existential disappointment with a vapid and commercial world leads them angrily towards nihilistic and dangerously fascist worldviews. So there's plenty that feels dangerously possible to misinterpret, which was a clear concern for Carter after reading through the screenplay and getting a taste of her character. So she set up a meeting with Fincher, the purpose of which was "to ascertain that he wasn't a complete misogynist." It was a meeting that also helped turn on Carter to the possibilities for Singer's character.
Who is Marla Singer?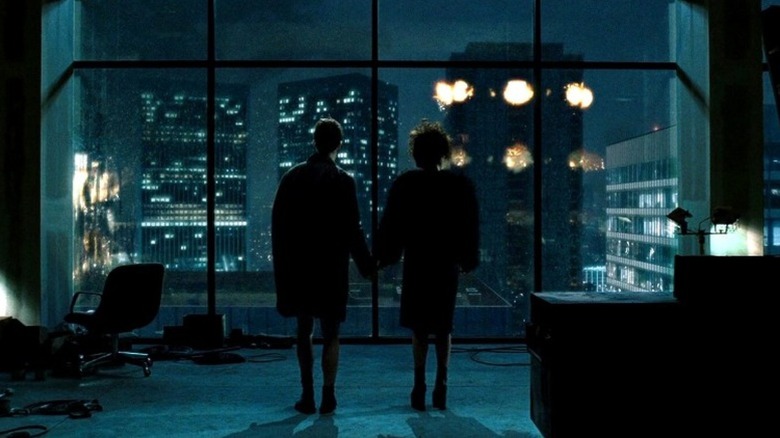 20th Century Studios
Carter evidently saw no evidence of Fincher being a hyper-masculine sadist. So after their meeting in Los Angeles, she sent him a fax that doubled as a list of concerns and an attempt to convince herself to take the part.
"I just said, 'I've got to play it with a big heart.' Marla had to have a heart, otherwise she'd be just a nightmare. I was talking myself into it. By the end of the letter I'd convinced myself to do it."
Immediately after accepting the role Carter got in touch with "Fight Club" costume designer Michael Kaplan, who'd also worked on films like "Blade Runner," to create Singer's wardrobe aesthetic.
"Helena said, 'Who the f*** is Marla Singer? You're going to have to help me with this one,' " Kaplan recalled. "My response was 'Think Judy Garland for the millennium. Not the actress in The Wizard of Oz — think Judy Garland later on, when she was a bit of a mess, drinking and doing drugs while her life was falling apart.'"
Trusting in the vast expertise of Kaplan, who designed Durden's fabulously loud style, Carter cloaked herself in outfits true to Singer's soul. From her drably chic furry black coat to the iconic and morbid, with a discarded bridesmaid dress: It was a foreshadowing of Carter's future playing gothic caricatures. But it's the heart she gives Singer that brings out some of the very life-enhancing themes she believed were missing. Chuck Palahniuk has said the central theme of most of his works is that of "a lonely person looking for some way to connect with other people." We can't think of any more quintessential fulfillment of that desire for connection than the final scene from the film, where the Narrator and Singer are holding hands. Carter might've been right to hesitate when she first read the script, but it's hard to see anyone but her bringing out the absolute best in the character.