Netflix's 'The Crown' Casts Helena Bonham Carter As Princess Margaret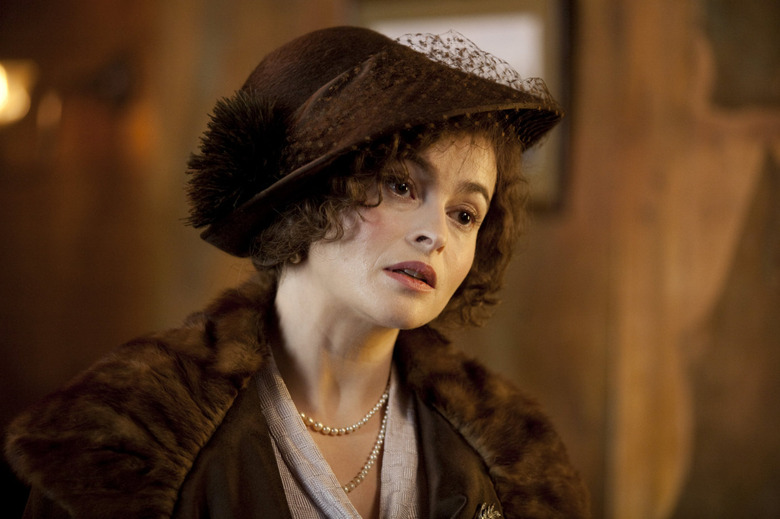 If the critical raves surrounding the first two seasons of The Crown weren't enough to get you to watch, maybe the casting of Helena Bonham Carter will.
The Ocean's 8 actress is in talks to take over the role of Princess Margaret, which was originated by Vanessa Kirby in the lavish Netflix series. She would act opposite Olivia Colman, who is set to take over the role of Queen Elizabeth from Claire Foy.
Carter is reportedly nearing a deal to ascend to The Crown, according to Entertainment Weekly. Carter would play Princess Margaret in seasons 3 and 4 of the British royalty series, which will see all of its core cast members recast with older actors as the series moves forward in time. This includes Foy, who won an Emmy in the lead role, and was " truly sensational in the part, even more so in season 2 than season 1," according to /Film's Chris Evangelista in his review of the second season of The Crown.
With the first two seasons spanning approximately 20 years (each season taking place over the course of 10 years or so), it's reasonable for the older actors to take over — and the transition shouldn't be too jarring, with the show making emphatic efforts to subtly age up the original cast as the episodes have gone by. But as synonymous as Foy, Matt Smith, Kirby, and the others have become with their roles, they have worthy successors. Carter is especially a huge nab for Netflix, having played her fair share of royalty — either proper or rebellious — before. She even has a vague connection to the role, having played Queen Elizabeth II's mother in 2010's The King's Speech.
However, Princess Margaret veers more to the side of the rebellious roles that Carter has occupied before, especially the wild, reckless version played in the early seasons by Kirby. The younger sister of Queen Elizabeth II, Princess Margaret has had a tragic arc plagued with heartbreaks and scandals, with her various romances obstructed by the restrictions of royalty and her own sister. Carter has played her fair share of eccentric, tragic souls and will occupy the part perfectly.
Season 2 of The Crown premiered on Netflix on December 8, 2017, and is one of the best series that the streaming platform has to offer. As Chris writes in his review, it's "an old fashioned, admirably episodic costume drama with superb performances, intricate direction, and enough simmering, bottled-up righteous fury to keep you hooked from beginning to end (give or take an episode or two)."
The Crown season 3 will pick up sometime in the 1970s, reportedly spanning Queen Elizabeth II's reign from about 1971 to 1979. No release date has yet been announced.