The Sunset Blvd. Silent Film Scene Is More Significant Than You Thought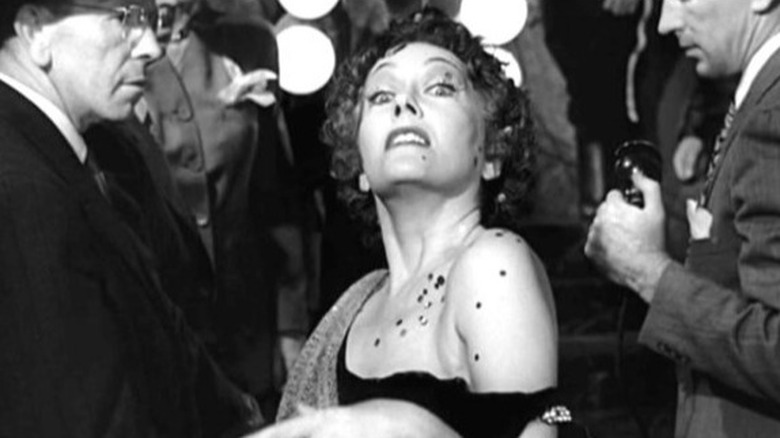 Paramount
Among all of Hollywood's reckonings with its own steadily shifting lore, where priorities shift according to novelty, few movies still feel as raw, dark, and funny as Billy Wilder's "Sunset Boulevard." The 1950 dark comedy, about a young writer who moves into the mansion of an effectively exiled silent film star, runs the tightest of lines between cruelty and empathy. The movie casts its leading lady, Norma Desmond, as a uniquely tragic figure and a villain all at once. While the silent era of film ran only 20 or so years prior, that was a lifetime for the stars left behind. And who better to play the formerly glamorous shut-in than Gloria Swanson, a silent film star who also saw her stock sink as sound took over?
While the Gloria Swanson casting is a natural and intuitive choice, director Billy Wilder also snuck in a reference to one of her more infamous films with the casting of actor and filmmaker Erich von Stroheim as Norma's butler Max. As details of Max and Norma's bizarre and unsettling relationship come to the fore, the significance of the casting may be less than notable for most viewers, but it ultimately serves as a cornerstone of the movie's concept of Hollywood. The grimy subtext of sexual exploitation and obscure toil all relate back to the actors' real histories, and the movie they made together: 1932's "Queen Kelly."
Queen Gloria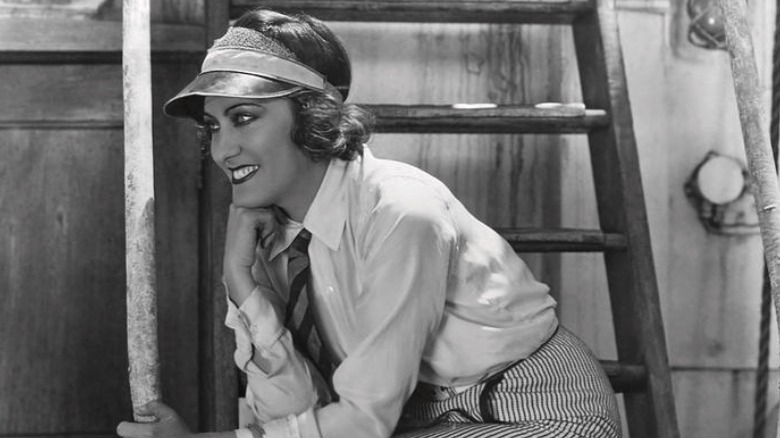 United Artists
The production of "Queen Kelly" came at the tail end of a wild and prosperous decade for Swanson. Having gotten her start as a precocious teen sneaking her way onto sets to become an extra, she began working with big-time producer and director Cecil B. Demille in 1919, when she was just 20 years old. From there, her fortunes rose. Much like her friend Rudolph Valentino, she rose to international stardom, becoming one of the most bankable film actors in the world. Her ambition and sense of good taste may have signaled what was to come when she became an independent producer in 1925, working with United Artists.
To join United Artists at that point was to announce your commitment to the art, to put your money where your mouth was. The studio began life in 1919, as a venture between several of the silent film industry's most influential artists to preserve their independence. Now that Swanson's reputation put her at the same level, she sought out the same degree of creative freedom, putting out two movies as a producer that saw great difficulty and small box office returns: "The Love of Sunya" and "Sadie Thompson." To make good on the United Artists loan, she sought the financial assistance of her extramarital lover, Joseph P. Kennedy. It was Kennedy who, despite the rise of sound film and the director's bad reputation, pushed for Swanson to reach out to Erich von Stroheim to make a silent picture.
Stroheim and Swanson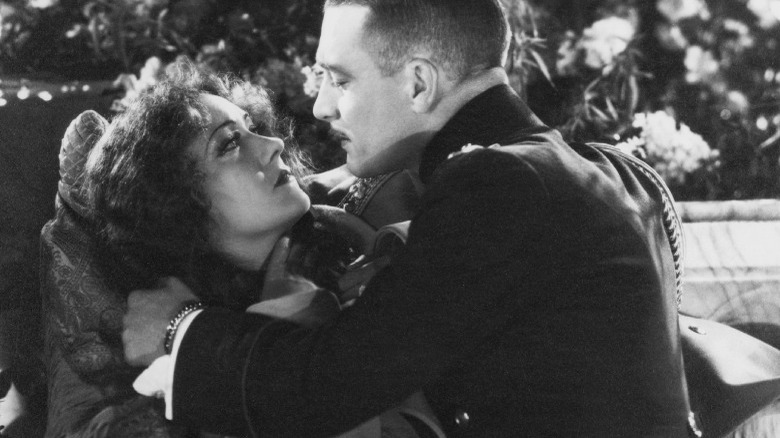 United Artists
Stroheim, the Austrian immigrant who saw a similarly quick and meteoric rise in the world of film, also shared Swanson's stubborn sense of commitment. It makes sense the two would clash. Stroheim's avant-garde sensibilities and inability to conceive of a commercial goal for his films made him difficult. On productions, he was willing to be expensive and shoot on location — cost was nothing, which made him an enemy of money men like Irving Thalberg and Marcus Loew (one of many responsible for the butchering of his 1924 masterpiece, "Greed").
Swanson allegedly had no interest in hiring Stroheim for her film, "The Swamp." In the wake of possible financial destitution, she knew the employment of a costly artist could sink the picture. "The Swamp" became "Queen Kelly," and the script got racier. Swanson's good taste became a major concern, as did the slowing down of production to accommodate Stroheim's directorial fixations. Swanson objected not just to his meticulous on-set style — she also despised his narrative direction for the movie's final act, as her convent student character is exiled to live with her aunt in German East Africa, becoming the madam of a brothel. 
When Swanson fired Stroheim in January of 1929, the movie was effectively shelved, as talkies took over the world of film and her own career changed. While not part of the class of actors who saw their fortunes totally shift with the arrival of sound, she took a major hiatus from film work.
Icy reunions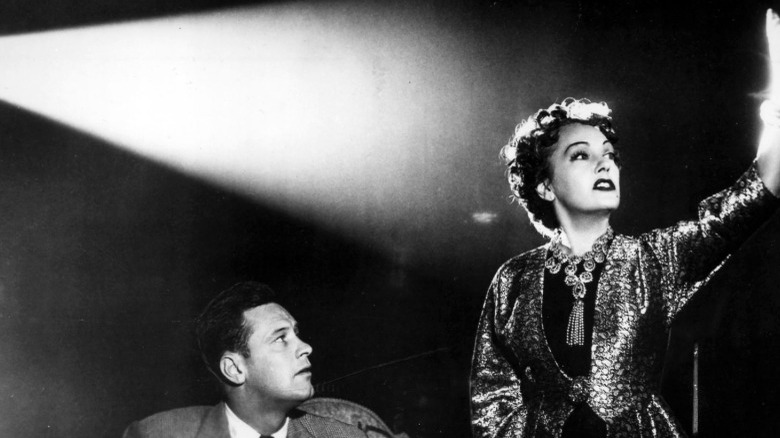 Paramount
"Queen Kelly" stayed buried, with Swanson and Kennedy putting together a less scandalous ending for European release in 1932. Most American audiences would never see it, and Stroheim became an actor full-time, never to direct again after 1933.
According to Billy Wilder, many names came up for the part of Norma Desmond in "Sunset Boulevard" before Swanson's. From a list of silent film stars, he ended up with one who best epitomized the beautiful and glamorous. And for her butler, Max, he cast Stroheim, pairing the two up for the first time since their disastrous collaboration. Max, it turns out, is far more than a butler; he was a silent film director, who, like Norma, has been forgotten in the decades since. Like Stroheim, Max was once considered one of the very best to do it. Now, he writes fake fan mail for the actress, to whom he was also briefly married. The two share a unique and parasitic relationship.
Their pairing also gave American audiences the first chance to see anything from "Queen Kelly." When Norma cozies up with young writer Joe Gillis (William Holden), they watch actual scenes from that mostly-forgotten film. By incorporating that real failure, "Sunset Boulevard" twists one more knife into the Hollywood legends being satirized. Stroheim took credit for the choice.