The Best New Blu-Ray Releases: West Side Story, The Godfather Trilogy 4K, And More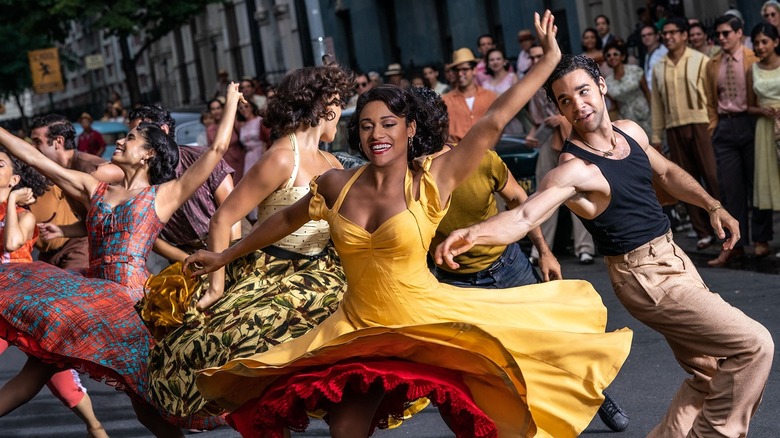 20th Century Studios
Hey, we're back! It's time yet again for one of my always-popular, highly-revered, award-winning Blu-ray round-ups! This week features some heavy hitters. We're talking Spielberg, Coppola, del Toro, Scorsese, and Welles! You can't beat a line-up like that, especially if you're one of the few people out there still clinging to physical media the way Kate Winslet clung to that damn door after the Titanic sank. 
West Side Story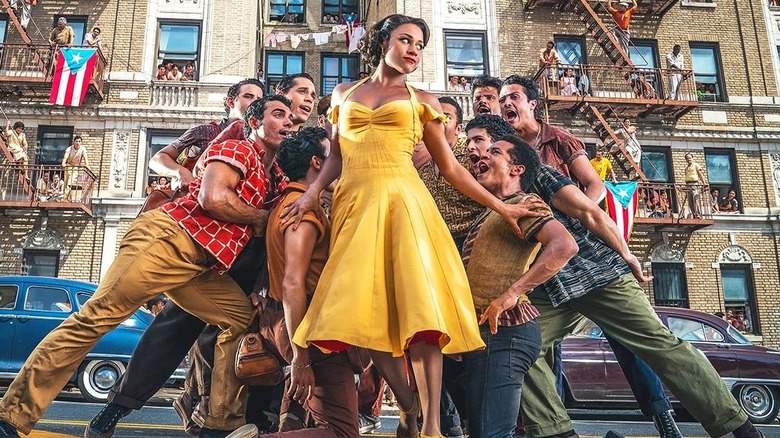 20th Century Studios
Since it dropped on both Disney+ and HBO Max, more and more people have discovered that Steven Spielberg's "West Side Story" does, in fact, rule. While I'm thrilled that the movie continues to find an audience, I will always be a little salty that Spielberg's first big-screen musical was virtually ignored on the big screen. Sure, you could argue that the pandemic played a part. But if folks can flock to the umpteenth "Spider-Man" movie, they should be able to see a new Steven Freakin' Spielberg movie on the big screen. And while I'm still seeing absolute boneheads say things like, "Why would I see that? It's just a shot-for-shot remake of the original movie!", I'm here to proclaim that's not even close to true. Spielberg takes his "West Side Story" in a completely different direction, and that includes re-arranging when certain songs appear and recontextualizing a lot of the story elements. In short, it's a whole new movie, and while I have no illusions that it will end up winning Best Picture at the Oscars this year, it absolutely should.
Special Features:
The Stories of West Side Story
Opening – Director Steven Spielberg begins the journey of one of his career goals – to direct his own cinematic version of the iconic musical. Doing so means he will embrace enormous challenges.
Prologue – From the iconic finger snaps to the complex choreography, we are introduced to the film's opening scene and explore its setting. We begin to see Spielberg's vision take shape.
Sharks & Jets – Meet the actors who play the Sharks and the Jets. Go behind the scenes of "La Borinqueña," the song of the Puerto Rican Revolution, which was added into this vision of the story. Discover the deeper meaning of "Jet Song."
Dance At The Gym – Mambo your way through "The Dance At The Gym" and Justin Peck's choreography, as it leads to the pivotal moment when Tony and Maria meet for the first time.
The Romance – Explore the budding romance of Tony and Maria with the songs "Maria" and "Tonight" as Rachel Zegler (Maria) and Ansel Elgort (Tony) talk about the casting process, and what led them to this career-defining film.
America – During a sweltering New York heat wave, the cast and crew take the production to the streets for one of the biggest dance numbers in the film, "America," featuring Ariana DeBose, who plays Anita.
Gee, Officer Krupke – Spielberg and the Jets make "Gee, Officer Krupke" their own through a new setting, vocal direction and choreography, while they explore the meaning of Stephen Sondheim's lyrics. Get to know Iris Menas (Anybodys) and the significance of their role.
Cool – During the first week of production, Spielberg and the cast nervously jump into filming on the elaborate and challenging set of the musical number "Cool."
From Quintet to The Rumble – Spielberg and his team navigate the intertwining scenes of "The Quintet" and "The Rumble." Once there, they take a scene that is traditionally stylishly choreographed, and instead bring a more visceral authenticity to the fight between the two gangs.
I Feel Pretty – Screenwriter Tony Kushner sheds new light on "I Feel Pretty." We see how, in Spielberg's film, the beloved song by lyricist Stephen Sondheim is given new vision, as it is set and performed within Gimbel's department store.
Somewhere – Hollywood Legend Rita Moreno, who won acclaim for playing Anita in the 1961 film, returns as Valentina, a shopkeeper's widow, as well as an executive producer. She brings extraordinary experience and emotion to the film and sings the song "Somewhere."
Finale – In a moving testament to the talented cast and crew of WEST SIDE STORY, Spielberg reluctantly wraps "one of the best filmmaking experiences" of his career.
Tribute – The late Stephen Sondheim reflects on his career and experience making WEST SIDE STORY in this dedication to the esteemed lyricist.
The Songs
Go directly to your favorite musical numbers from WEST SIDE STORY.
Prologue
La Borinqueña
Jet Song
Something's Coming
The Dance At The Gym
Maria
Balcony Scene (Tonight)
America
Gee, Officer Krupke
One Hand, One Heart
Cool
Tonight (Quintet)
The Rumble
I Feel Pretty
Somewhere
A Boy Like That/I Have A Love
The Godfather Trilogy 4K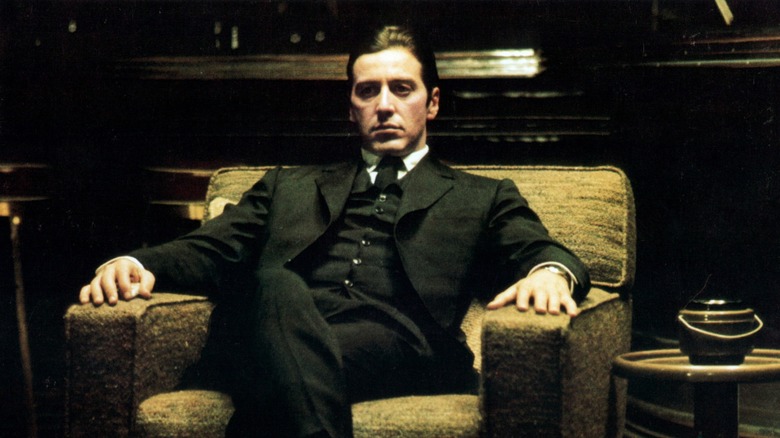 Paramount
Everything you've heard about "The Godfather" trilogy is, of course, true. The first two films are bonafide masterpieces, and the third film, while not as great as the previous duo, still has its moments. And now the trilogy is, at long-last, on 4K. And this isn't some slapdash job either, oh no. As press notes tell us, "Over 300 cartons of film were scrutinized to find the best possible resolution for every frame of all three films," and "Over 4,000 hours were spent repairing film stains, tears, and other anomalies in the negatives." Ah, but wait! There's more: "Over 1,000 hours were spent on rigorous color correction to ensure the high dynamic range tools were respectful of the original vision of Coppola and cinematographer Gordon Willis." In other words, you're getting your money's worth. Francis Ford Coppola's epic saga of the rise and fall of Michael Corleone is, as Pauline Kael famous wrote, "a great example of how the best popular movies come out of a merger of commerce and art." "The Godfather" is a big studio project, adapted from a trashy best-selling novel. In other words, it could very easily have turned into something soulless; a slick, quick product. But through a series of events, Coppola and company were able to work magic, creating work that has stood the test of time, and will remain relevant and powerful long after we've all gone to that great big orange grove in the sky. 
Special Features:
New:
Introduction to The Godfather by Francis Ford Coppola
Full Circle: Preserving The Godfather—Paramount Pictures archivists detail the incredible restoration process with archival footage showing the evolution of the film through various home entertainment incarnations as picture and audio technologies make quantum leaps over the decades.
Capturing the Corleones: Through the Lens of Photographer Steve Schapiro— In this reflective and frank discussion, special photographer Steve Schapiro shares his unique perspective and cherished memories as a witness to the making of this seminal film. Commentary on curated archival images makes for a fascinating, never-before-seen addition to the production's history.
The Godfather: Home Movies— An assortment of 8mm home movie footage shot in 1971 offers a candid glimpse into the production of The Godfather. Shot on location at the Norton family estate on Staten Island's Emerson Hill, this is the first time it's been made available to the public.
Restoration Comparisons— Before and after highlights showcase extensive picture quality improvements to The Godfather.
Previous Release Special Features Included Here:
The Masterpiece That Almost Wasn't
Godfather World
Emulsional Rescue—Revealing The Godfather
...when the shooting stopped
The Godfather on the Red Carpet
Four Short Films on The Godfather
The Godfather vs. The Godfather: Part II
Cannoli
Riffing on the Riffing
Clemenza

The Family Tree
Crime Organization Chart
Connie and Carlo's Wedding Album
2008 Credits
Behind the Scenes

A Look Inside
On Location
Francis Ford Coppola's Notebook
Music of The Godfather

Nino Rota
Carmine Coppola

Coppola & Puzo on Screenwriting
Gordon Willis on Cinematography
Storyboards – The Godfather: Part II
Storyboards – The Godfather: Part III
The Godfather Behind the Scenes 1971

Additional Scenes
Galleries
Trailers
Acclaim & Response
Additional Material
The Filmmakers
The Godfather: Part III—newly remastered and restored versions of the original theatrical cut and Coppola's 1991 cut (note: these are exclusive to the 4K Ultra HD Collections)
The Last Waltz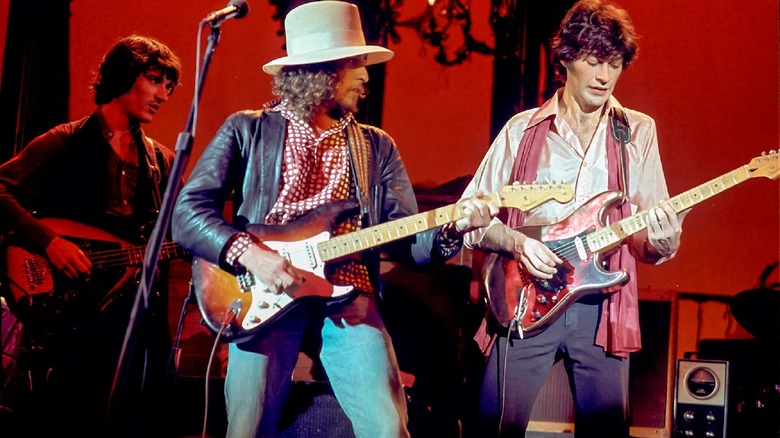 United Artists
Some people — clowns, let's call them — are fond of proclaiming that Martin Scorsese "only" makes mob movies. That's not true at all, of course. There are multiple examples of Scorsese's eclectic body of work, including his documentary "The Last Waltz," which is now on 4K thanks to the folks at the Criterion Collection. Shot at San Francisco's Winterland Ballroom on Thanksgiving, 1976, "The Last Waltz" is a documentary about the farewell performance of the Band, featuring a murderer's row of performers including Bob Dylan, Eric Clapton, Neil Diamond, Joni Mitchell, and more. Scorsese intercuts rousing, killer musical performances with cheeky, low-key interview segments, creating an experience that operates like a time machine. We're not just watching "The Last Waltz," we're transported back to that ballroom. We can smell the cigarettes and spilled beer. We can feel the vibrations. Even if you're not overly familiar with the Band's music, you're in for a treat here. 
Special Features:
New 4K digital restoration, supervised and approved by director Martin Scorsese, with 5.1 surround DTS-HD Master Audio soundtrack supervised and approved by musician Robbie Robertson
In the 4K UHD edition: One 4K UHD disc of the film presented in Dolby Vision HDR and one Blu-ray with the film and special features
Two alternate soundtracks: the original 1978 2.0 surround mix, presented in DTS-HD Master Audio, and an uncompressed stereo mix from 2001
Two audio commentaries, featuring Scorsese; members of the Band; members of the production crew; and performers Dr. John, Ronnie Hawkins, and Mavis Staples
New interview with Scorsese, conducted by critic David Fear
Documentary from 2002 about the making of the film
Outtake
Interview from 1978 with Scorsese and Robertson
Trailer and TV spot
English subtitles for the deaf and hard of hearing
PLUS: An essay by critic Amanda Petrusich
Nightmare Alley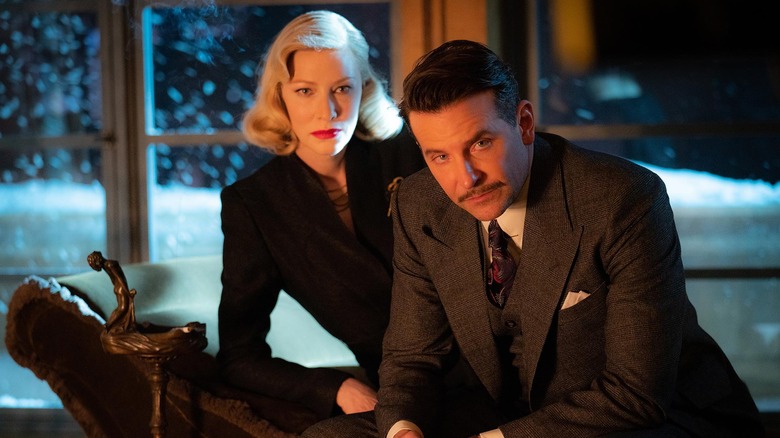 Searchlight Pictures
Another 2021 film that sadly did not find an audience is Guillermo del Toro's wonderful, twisted noir "Nightmare Alley." Working with co-writer Kim Morgan, del Toro crafts a bleak, nasty little thriller featuring a career-best Bradley Cooper performance. Cooper plays a carny who becomes a high-class mesmerist, only to get embroiled in cons and schemes, and a fetching femme fatale played to purring perfection by Cate Blanchett. Some have argued del Toro's take on this material is overlong, especially since a previous film adaptation from 1947 is much, much shorter. However, I like the slow build-up del Toro creates here. It hammers home the overall atmosphere of the film and makes the gut-punch payoff all the more rewarding (and disturbing). 
Special Features:
Del Toro's Neo Noir – Writer-director Guillermo del Toro and his standout cast decipher the dark, complicated world of Nightmare Alley. The filmmaker reveals how his take on noir is rooted in classic cinema but offers an accessible, modern narrative.
Beneath the Tarp – Production designer Tamara Deverell and her talented team skillfully delivered both a decaying traveling carnival world and a gilded Art Deco high society with striking visuals. We explore how this design supported del Toro's genre-bending filmmaking.
What Exists in the Fringe – Costume designer Luis Sequeira unravels his collaboration with Guillermo del Toro and reveals the symbolism that's constantly at play in the film's carefully crafted wardrobe's design.
Touch of Evil 4K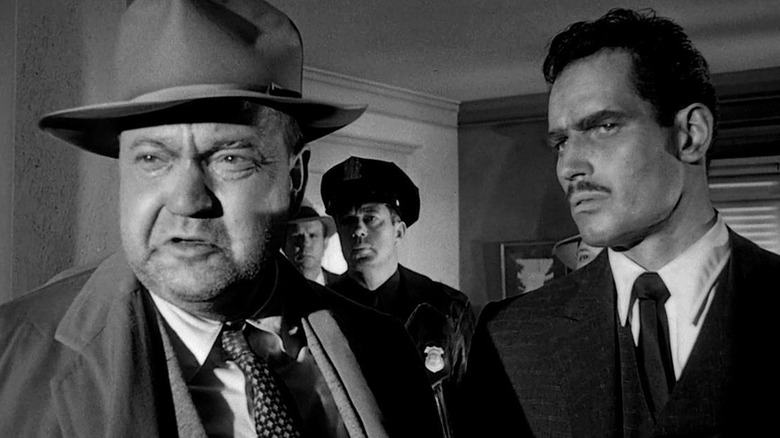 Universal Pictures
By the time Orson Welles made "Touch of Evil" in 1958, he was considered washed-up. An artist who refused to play by anyone else's rules, Welles was eternally hindered by studio heads who didn't adhere to his artistic vision. But when "Touch of Evil" came along, star Charlton Heston requested Welles direct. But, as was par for the course with much of Welles' work, the studio didn't see eye to eye with the filmmaker and recut the finished film. Welles famously outlined his actual vision for the film in a 58-page memo, and decades later — in 1998 — "Touch of Evil" was restored to something closer to what Welles' wanted. Now hailed as a great movie, "Touch of Evil" wasn't as well-regarded when it first opened, and one can't help but wonder if that would've been different if the studio had just stuck with what Welles wanted. Here, Heston (in regrettable brown face) plays a Mexican drug enforcement agent investigating a bombing on the U.S./Mexico border. Welles plays the slovenly American cop trying to frame an innocent man for the crime, putting him at odds with Heston's character. 
Special Features:
DISC 1:
Brand New Dolby Vision HDR Master of the Theatrical Cut
NEW Audio Commentary by Film Historian Tim Lucas
Audio Commentary with Writer/Filmmaker F.X. Feeney
Theatrical Trailer (2:10)
Optional English Subtitles
Triple-Layer UHD100 Disc
DISC 2:
Brand New Dolby Vision HDR Master of the Reconstructed Cut
NEW Audio Commentary by Film Historian Imogen Sara Smith
Audio Commentary by Charlton Heston, Janet Leigh and Reconstruction Producer Rick Schmidlin
EVIL LOST AND FOUND: Featurette (17:06)
Optional English Subtitles
Triple-Layer UHD100 Disc
DISC 3:
Brand New Dolby Vision HDR Master of the Preview Cut
Audio Commentary with Orson Welles Historians Jonathan Rosenbaum and James Naremore
BRINGING EVIL TO LIFE: Featurette (20:59)
Optional English Subtitles
Triple-Layer UHD100 Disc