Adrien Brody's Small Part In The Thin Red Line Started Out As A Lead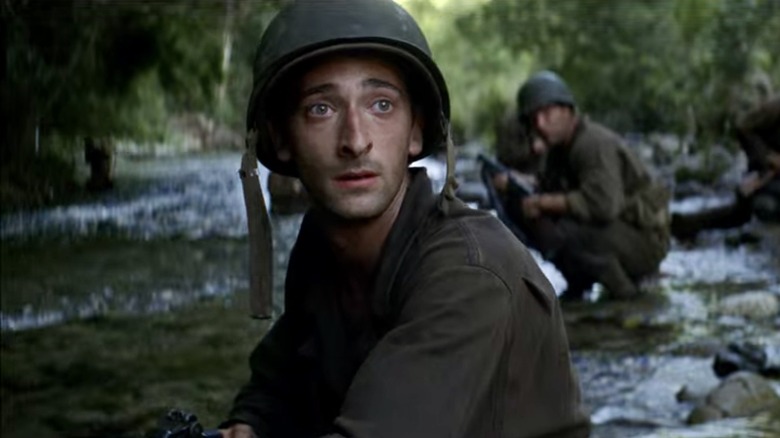 20th Century Fox
Over the years, a number of well-known actors attached to Terrence Malick films have seen their roles reduced or even cut entirely after shooting them. While other directors might be inclined to pre-edit scenes as they go, Malick is known for shooting hundreds of hours of footage and then sifting through all of it later as he finds his films in the editing room — sometimes dramatically reworking them and letting performances from famous names fall by the wayside.
Adrien Brody presents what is perhaps the most extreme case of this in that he was supposed to be the lead in "The Thin Red Line," and it wasn't until he was doing press for the film that he learned his role had suddenly shrunk to a minor one among an ensemble cast led by Jim Caviezel. In the 1998 movie, set in Guadalcanal during World War II, Brody plays Corporal Fife, a major character in the James Jones novel on which the film is based. Referring to Malick as "Terry," Brody himself later recounted his experience on "The Thin Red Line" to The Independent (by way of Cinephilia & Beyond), where he said:
"I was so focused and professional, I gave everything to it, and then to not receive everything... in terms of witnessing my own work. It was extremely unpleasant because I'd already begun the press for a film that I wasn't really in. Terry obviously changed the entire concept of the film. I had never experienced anything like that."
Malick has a history of cutting actors from his films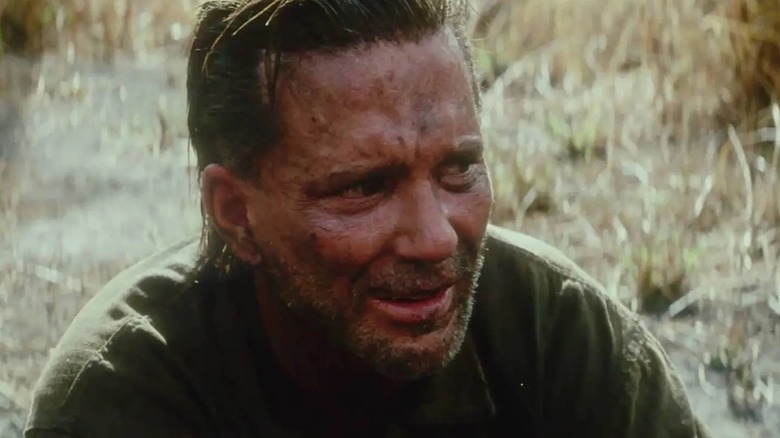 20th Century Fox
Brody's co-star, John Cusack, who wound up having a much larger role than him in "The Thin Red Line," described Malick's approach to filmmaking as "wildly intuitive and impressionistic." At the time, he said Malick "wrote a script based on the novel" and was "making a film based on the script" but "not shooting the script," just its essence. This led to other actors like Mickey Rourke, Bill Pullman, and Lukas Haas being left on the cutting-room floor, where Billy Bob Thornton's voiceover narration also went.
Brody, at least, still has some limited screen time in "The Thin Red Line," whereas Rourke's performance, for instance, only lives on in deleted scenes. It's an experience actors in other Malick films have shared well into the 21st century. As Indiewire notes, Rachel Weisz, Michael Sheen, Amanda Peet, Barry Pepper, and Jessica Chastain were all cut from Malick's 2012 film, "To the Wonder." More actors seem to know, now, what they are getting into when they sign on for a Malick project, with many of them being happy just to work with him and observe his unique process, even if their performances get cut.
For "The Tree of Life," comments from cinematographer Emmanuel Lubezki once led us to estimate that Malick had shot almost 365 hours of footage for that film, which he would ultimately edit down to 2 hours and 18 minutes. This would mean he only used about 1/150th of the footage he shot. That's an unusually high ratio of unused footage, but it gives you an idea of how much material Malick might be working with when he edits.
It's one thing to read Malick stories, but even among stars in roundtable discussions, his unorthodox working methods have become the stuff of Hollywood legend. As you can see in the video below, what happened to Adrien Brody in "The Thin Red Line" came up during one such Oscars Roundtable, which Christopher Plummer, Viola Davis, George Clooney, Tilda Swinton, Michael Fassbender, and Charlize Theron participated in for Newsweek back in 2012.
The Brody story is legendary even among stars
Plummer and Clooney had appeared in "The New World" and "The Thin Red Line," respectively. Plummer said that Brody didn't find out about the reduction of his role in "The Thin Red Line" until he was at the movie's premiere. Clooney, who had more direct, firsthand knowledge of the film's production, said that he thought it actually happened at a press junket. Either way, that's extremely late notice, and it's hard to believe that Malick (or someone on his behalf) didn't reach out to Brody sooner to let him know before he appeared in Vanity Fair profiles and started doing other promotions for the film.
Clooney recalled how Malick reshaped "The Thin Red Line" around Caviezel, while Plummer related his own experience of having an emotional scene reduced to background noise in "The New World." "The problem with Terry, which I soon found," Plummer said, "is that he needs a writer, desperately."
Plummer also mentioned his co-star, Colin Farrell, joking to him about ospreys, and it seems this stemmed from Farrell's own experience of being overlooked by Malick while shooting a scene in favor of a bird that wandered onto the set. While Plummer acknowledged that Malick had a tendency to write and then "overwrite," it seems that, in some cases, Malick has also been radically rewriting and restructuring his films in the editing room at the expense of some actors' performances — with Brody being one of those.
That hasn't stopped names like Christian Bale from wanting to work with Malick again. For them, maybe, Malick's artistic ends justify his means. Fassbender, too, even after sitting there at that roundtable and hearing all these stories, would still go on to work with Malick in "Song to Song."