The 15 Best Horror Movies From Black Directors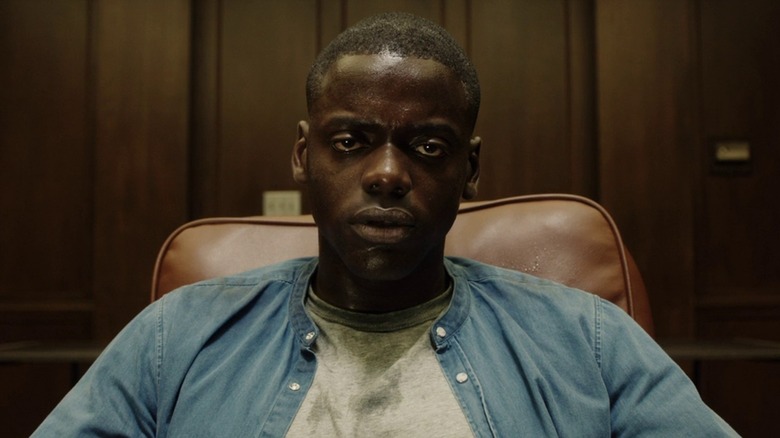 Universal
"We've always loved horror, it's just that horror, unfortunately, hasn't always loved us," author and film historian Tananarive Due says in the opening to Shudder's extensive "Horror Noire: A History of Black Horror." The sweeping deep-dive confronts the truth about Black representation in horror, spanning from the infamous 1915 film "The Birth of a Nation" through cinematic beacons such as "The Night of the Living Dead" to modern fare like Jordan Peele's "Get Out." Based on Dr. Robin R. Means Coleman's 2011 book of the same name, the documentary (directed by Xavier Burgin) is a deeply insightful and engaging document, rendering the Black voice as forever vital to the genre.
"Black history is Black horror," Due has said about the entanglement of the genre and real life. Historically, the needle has swung from overtly-racist depictions ("I Walked with a Zombie") to the very first Black protagonist ("The Night of the Living Dead") and the Blaxploitation era in the 1970s. The pendulum continued to swing, with filmmakers Ernest Dickerson, Rusty Cundieff, and James Bond III making inroads in the '80s and '90s. Decades later, 2017 marked yet another crucial turning point with Jordan Peele's "Get Out," opening the floodgates for countless talented young filmmakers to have their stories and work heard.
Below, we take a look at the 15 best horror films from Black directors, ranging from experimental pieces to more traditional approaches.
The Obituary of Tunde Johnson
Ali LeRoi's 2019 film "The Obituary of Tunde Johnson" exposes the truth about living as a gay Black man in America. Through a captivating psychological thriller lens, LeRoi reuses the "Groundhog Day" mechanics (reliving the same day over and over) for a powerful, gutting, and evocative showpiece for actor Steve Silver. Silver, most known for his work as Marcus Cole in "13 Reasons Why," dishes up a remarkable, nuanced performance as the titular character.
The day and time of Tunde's death (9:38pm, May 28th, 2020) is marked on your brain. Killed in a police shooting, he relives his fateful moment again and again, each time feeling like a horrible nightmare. His mental state cracks under the weight, as every time he leaves his house, he faces a racist system. Each day could be his last. Even more, he juggles a hidden romance with Soren (Spencer Neville); both are in the closet, struggling to come to terms with sexuality and publicly come out. Tunde does. In one of the most emotional moments of the film, his parents embrace him, offering unconditional love and support. Meanwhile, Soren side-steps the issue, putting even more pressure squarely on Tunde's shoulders.
"The Obituary of Tunde Johnson" confronts police brutality head-on. "I can't breathe," utters Tunde, as his life fades away when a policeman puts him into a death lock. It's uncomfortable to watch, as it should be. The truth is never easy, and LeRoi's film is downright stunning.
Candyman (2021)
With the 1992 original "Candyman" as a jumping-off point, Nia DaCosta reclaims the narrative of the Black experience, as it relates to the gentrification of the projects. Her visionary retelling sees the return of Vanessa Williams as Anne-Marie McCoy, as well as her infant son Anthony, now a grown adult played by Yahya Abdul-Mateen II. Through a hyper-stylized lens, DaCosta depicts all the "things that are really personal to Black people and should be to all Americans," she said, "but it's really about so much trauma and pain and how we grieve and how we engage with it."
The engagement is found through Anthony's artwork and a newfound obsession with Cabrini Green, the projects on the outskirts of Chicago. Creatively struggling, he goes for a leisurely stroll through the neighborhood to find insight and a fresh creative muse, stumbling into the tragic story of a community completely forgotten and abandoned by institutions claiming to care. His work begins to reflect a painful history, as the urban legend of Candyman represents a history of pain lobbied at the Black community since the dawn of time. "Candyman ain't a he. Candyman's the whole damn hive," Burke (Colman Domingo), the man who runs the local laundromat, tells Anthony. "They're all real. Candyman is how we deal with the fact that these things happened. That they're still happening."
DaCosta's "Candyman" shines a glaring spotlight on cycles of trauma in a way that's thought-provoking and unsettling.
His House
Writer/director Remi Weekes explores the life of two South Sudan refugees, now living in London, in "His House." Based upon a story by Felicity Evans and Toby Venables, the psychological thriller tears through the senses with mind-altering imagery, symbolic manifestations of the constant struggle to survive in a new place. Wunmi Mosaku plays Rial, a resilient, hard-working woman trying to do right by her husband Bol (Sope Dirisu) and daughter Nyagak (Malaika Abigaba).
Once they cross the English Channel in a motorboat, the family receives probational asylum and are assigned to live derelict home on the outskirts of London. Try as they might, strange disturbances begin haunting their every moment, representing cyclical trauma from past generations. Rial is not only tormented by whatever unknown presence seeks to destroy her family but her past, one riddled in genocide and pain. "His House" operates as its own well-written ghost story, but its thematic overtones carry a greater significance for its very raw, real-life implications.
Tales from the Hood
Most anthology films are uneven, at best. Strong installments are offset by stories that don't quite stick the landing with tepid storytelling and lackluster thrills. But Rusty Cundieff's 1995 four-parter "Tales from the Hood" still terrifies with its vampire-like fangs digging into police brutality ("Rogue Cop Revelation"), domestic violence ("Boys Do Get Bruised"), political corruption ("KKK Comeuppance"), and gang violence ("Hard-Core Convert").
The wrap-around story, titled "Welcome to My Mortuary," is a deadly chiller, as well. When three dug dealers arrive at the Simms Funeral Home, their esteemed host Mr. Simms, played by the one and only Clarence Williams III, is more than happy to welcome them in. They want their drugs, and Simms is willing to give it to them 一 but only if they entertain him by listening to four blood-curdling tales. In the end, they too have a lesson to learn about life, death, and what kind of person they were in existence.
Get Out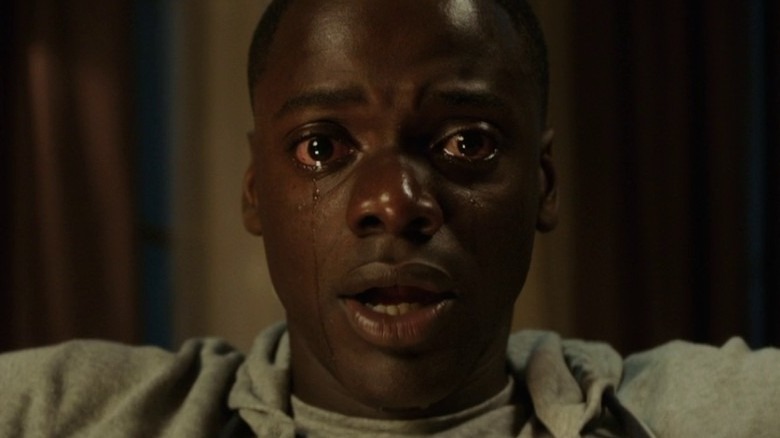 Universal
It's safe to say Jordan Peele's 2017 feature film debut "Get Out" is an important mile marker for modern horror. As detailed in Shudder's "Horror Noire: A History of Black Horror," the film confronted a genre that has long portrayed Black people as either monsters or hapless victims. Actor Daniel Kaluuya stands at the center, playing the charming Chris Washington, who meets his white girlfriend Rose's (Allison Williams) family for the first time. Peele frames the psychological thriller through the lens of the Black experience, from dealing with racist cops to complicit family members who spout things like, "I would have voted for Obama a third term if I could."
During the weekend trip, Chris is ensnared in a twisted scheme in which rich white people harvest Black bodies for their own pleasure. Rose, of course, is a willing participant; in fact, it is her job to lure Black people to the sweeping country estate. In addition to its tightly-written social commentary, "Get Out" brims with tense, moody imagery that will pack your dreams full of nightmares.
Sweetheart
J.D. Dillard's 2019 feature "Sweetheart" tests the resilience and physical limits of a young woman named Jennifer Remming, played by Kiersey Clemons. When her boat sinks after a raging thunderstorm, Jennifer washes ashore a secluded island and is forced to scavenge for food and shelter. But the elements are the least of her worries. She soon encounters a deadly humanoid sea monster, and her will to survive meets an ultimate test. When she reunites with boyfriend Lucas (Emory Cohen) and friend Mia (Hanna Mangan Lawrence), they brush off her claims of an underwater creature, which seals their fate.
Jennifer squelches any fears she has by writing about the events in her journal, in the event she fails to conquer the beast. In an epic third act finale, she attracts the monster into a trap of wood and grass and then lights the whole thing on fire. She then comes hand-to-hand with the slimy critter and eventually decapitates it on the sandy shoreline. Clemons exudes sheer strength and nuance in her performance, allowing the audience to really attach to her character. For such a wild premise, "Sweetheart" is nothing if not truly heartfelt.
Ganja & Hess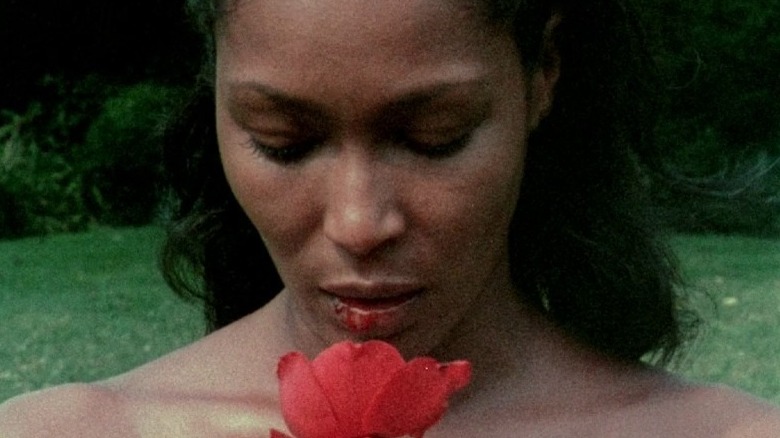 Kelly/Jordan Enterprises
Writer/director Bill Gunn's 1973 film "Ganja & Hess" takes a unique glimpse into vampirism through experimental camera work, frantic editing, and pulsing voices in the film's sound engineering. It all conjures up a whirlwind of mayhem and tragedy. Themes of emotional well-being, suicide, hunger (carnal and otherwise), and individual thought are interlaced into a story about Dr. Hess Green, who is stabbed with an ancient dagger and transformed into a vampire.
When her husband George (Gunn) goes missing, his estranged wife Ganja (Marlene Clark) tracks him down to Hess' lavish mansion. Her quest for answers blossoms into a romantic love affair, and soon she too experiences a bloodlust for human flesh. The film's nightmarish quality is enough to tingle the spine, punctuated with sequences that feel otherworldly and unholy. Amidst throes of lust, Ganja and Hess are tested beyond their wildest dreams, and one among them must make the ultimate sacrifice. It's nothing short of spellbinding from opening to closing frame.
Eve's Bayou
Kasi Lemmons' directorial debut "Eve's Bayou," released in 1997, is a fascinating picture. Billed as a drama, it weaves in fantasy/horror elements like curses, ghost stories, and voodoo. It's a visually striking and masterful story about one family's deeply troubled past and generational trauma, following a 10-year-old named Eve Baptiste (Jurnee Smollett), who learns the twisted truth about her father (Samuel L. Jackson) and older sister Cicely (Meagan Good).
"People have a way of dying at their own speed," a local mystic named Elzora (Diahann Carroll) tells Eve, who plans to cast a spell to make someone die. The weight of the world bears unbelievably on Eve's shoulders, and it is her naivety that perhaps is her biggest fault. Her decisions have grave consequences, and even with regret seeping into her bones, what is done is done. And there's no taking back her actions. "Eve's Bayou" is as elegant as it is unsettling, as the audience attempts to put the pieces together to find out their own perception of the truth.
Atlantics
Mati Diop sets her directorial debut in the coastal city Dakar in Senegal. "Atlantics" explores the cruelty handed down from greedy corporations to the working class, as well as themes of true love, desperation, and tradition. A young woman named Ada (Mame Bineta Sane) is expected to marry Omar (Babacar Sylla), a wealthy gentleman, but she's in love with Souleiman (Ibrahima Traoré), a construction worker.
Souleiman and several of his fellow laborers decided to hop a boat and head to Spain, where better opportunities await them. But a storm overturns their ship and they're lost at sea. Back in Dakar, Ada's nuptials are quickly approaching, and on her wedding day, Omar's bed catches on fire. Allegedly, one in the wedding party witnessed Souleiman wandering around the building that evening. Meanwhile, several other people rise from the dead, possess other inhabitants, and invade the home of the tycoon responsible for poor living conditions and lack of wages.
"Atlantics" is a beautifully sculpted sci-fi fantasy. It draws you into a heartbreaking, true-to-life story about working people, and you stay hypnotized by Diop's expert directing and story-craft skills.
Dr. Black and Mr. Hyde
A Blaxploitation essential, William Crain's "Dr. Black and Mr. Hyde" retools the 1886 novella "Strange Case of Dr. Jekyll and Mr. Hyde" (by Robert Louis Stevenson) for a powerful story surrounding white aggression on the Black community. Bernie Casey stars as Dr. Henry Pride, who is working on a cure for cirrhosis of the liver. Through many unethical experiments, he creates a serum that transforms whoever is injected into a white monster, akin to Frankenstein's monster. Upon administering a dose to himself, he goes on a rampage, killing sex workers at the local Moonlight Lounge.
"You dress white, and you think white," a sex worker named Linda (Marie O'Henry) says in one of the film's first scenes. This moment, in particular, addresses internalized racism, suggesting that Pride's physical mutation is a literal manifestation of deeply-harbored self-loathing.
"Dr. Black, Mr. Hyde" also references the infamous Tuskegee Syphilis Study, during which hundreds of poor Black workers in Alabama were injected with Syphilis to test development when left untreated. Author Andrew L. Grunzke writes in his 2015 book, "Educational Institutions in Horror Film: A History of Mad Professors," how "horrors of the Tuskegee experiments were a major impetus for the development of modern research ethics. An African American doctor willing to violate those ethical rules created a highly charged situation in the film."
Kuso
Flying Lotus (real name Steven Ellison) goes for broke with his 2017 feature film, "Kuso." The boldest and most absurd entry on this list, its barrage of stomach-turning imagery, nonsensical storyline, and thematically divulging centerpieces won't be for everyone. "Art is garbage," one character says early on in the film. Art, as a wholly subjective medium, lies at the film's center.
After a devastating earthquake in Los Angeles, survivors experience physical mutations, including fusions with other bodies or gross-out puss-filled sores. The world has been thrown into a catastrophic wasteland, and Ellison creates such a vision that's not too far removed from our own, at least in terms of the digital effects on human psychology and our understanding of relationships. It's a full-throttle exhibition of expressionism, peppered with perverse animation and quick-cuts between characters.
"Kuso" drives hard into themes of sex, fear, and identity in a way that leaves very little to the imagination. It's as hard-core as experimentalism can really get these days. That should be commended and admired.
Black Box
In Emmanuel Osei-Kuffour's "Black Box," an installment of Blumhouse's 2020 "Welcome to the Blumhouse" film series, Mamoudou Athie plays Nolan Wright, a man stricken with severe amnesia. Following a deadly car crash, which took his wife, he attempts to pick up the pieces of his photography career and provide care for his daughter Ava (Amanda Christine). When approached by a medical professional, Dr. Lilian Brooks (Phylicia Rashad), to do an experimental treatment, Norman expresses concerns about its boundary-pushing approach in regards to the subconscious.
Once he signs on, Dr. Lilian attaches a neuron cap to his head, which allows the device to extract and transmit vital memories into a black box. Then, the contraption transforms hidden memories into virtual reality images. In the work, Nolan may be able to recover who he once was and regain his life.
The film initially banks on expectation before yanking the rug out from under you in the third act. "Black Box" is a captivating dissection of the complexities in medical research, as well as what happens afterlife and the possibility of our subconscious living on. It feels very much like a lost "Black Mirror" episode but with far more power and finesse.
Def by Temptation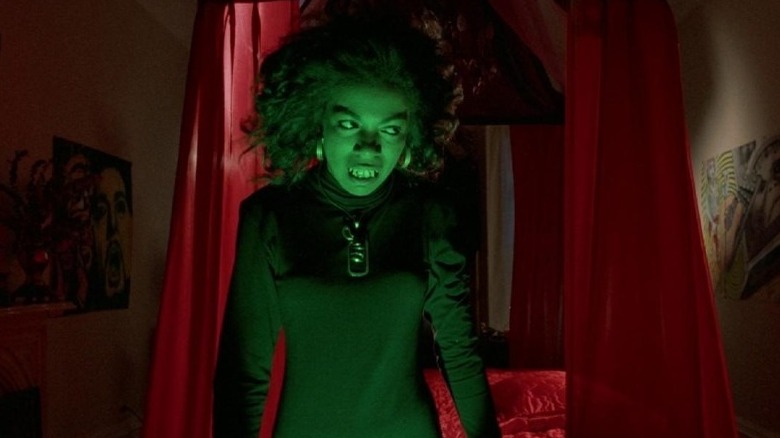 Troma Team Video
A seductive succubus (played by Cynthia Bond) wreaks havoc through New York City nightlife in James Bond III's 1990 feature "Def by Temptation." When a young boy named Joel (Bond) leaves his small southern town and strict Christian beliefs to visit his cousin and aspiring actor K (Kadeem Hardison) in the City That Never Sleeps, he is met with more than he bargains for. Instead of an easy-going trip taking in the sights and sounds of the city, the succubus (only known as Temptation) latches onto Joel, as he is the very last of his bloodline.
Bond's directorial style is both romantic and graphic, depicting several men meeting a grisly end. Plush lighting decorates otherwise skin-crawling imagery and becomes just as tantalizing as the story itself. The film tackles moral ambiguity, sex positivity (as well as its weaponized use in popular culture), and bonds of family. With a tragic past, Joel learns that he must grow up whether he's ready to or not, and only K can show him the way.
Blacula
"Blacula" is William Crain's crowning achievement. Released in 1972, the Blaxploitation feature stars William Marshall in the title role, as the first ever Black Dracula. The story follows Mamuwalde, who is imprisoned, turned into a vampire, and locked away by none other than Count Dracula. Centuries later, Blacula (the name bestowed upon him) is resurrected when two interior decorators purchase his coffin for their estate. They become the first in a long string of unsuspecting victims.
During his scavenges throughout LA, Blacula meets a young photographer named Tina (Vonetta McGee), and the pair strike up quite a love affair. The film transpires as you might expect it to, yet its importance lies in its historical text, linking early days of white colonization to the ongoing struggles for racial equality. "Blacula" demonstrated that the Dracula figure in literature/film could be sexy, while also delivering an important message about the human condition and collective pain.
Tales from the Crypt: Demon Knight
Billy Zane makes a wildly unhinged and charming turn as The Collector in Ernest Dickerson's "Demon Knight," presented in the "Tales from the Crypt" series on HBO. The story follows a man-on-the-run named Frank Brayker (William Sadler), whose possession of an ancient artifact, containing Jesus Christ's blood, leads to a near-doomsday event. When The Collector tracks him down to a derelict motel, featuring a cast of characters, including Jeryline (Jada Pinkett Smith), Cordelia (Brenda Bakke), and a drunken Uncle Willy (Dick Miller), mayhem ensues in a fight to the death.
You see, The Collector's band of demons has a long history. They were once present at the very beginning of time, when God created light as evidenced in the Book of Genesis. In the dark, primordial soup that was darkness, an evil incarnate controlled everything. Every few centuries or so, they return to earth to find the seventh key to the world and will do anything to plummet humanity back into the dark ages again.
Decades later, "Demon Knight" still delivers on its action-fueled sequences and wonderfully sticky special make-up effects. There are few horror/comedies that are just a blast from start to (epic) finish.