Why Many Of Channing Tatum's Ad-Libs Were Cut From The Lost City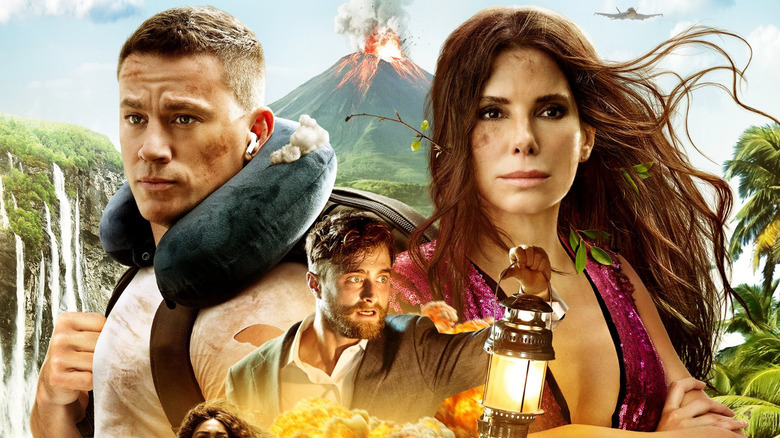 Paramount Pictures
Rom-com queen Sandra Bullock and himbo extraordinaire Channing Tatum have combined their powers for "The Lost City," a rom-com adventure movie about a frustrated romance novelist (Bullock) who gets swept up into a wild treasure hunt with her books' cover model (Tatum). /Film's own Hoai-Tran Bui described the film as "'Romancing the Stone' for the '21 Jump Street' generation" in her review, stating, "There's a goofy sincerity to the movie even as it sends up better movies that came before it (complete with corny needle drops), and it retains that old Hollywood screwball spirit that gives it a timeless feeling." That sounds like a great time to me, given how long it's been since we last got a fun action-comedy throwback of this kind. 
If there were any doubts the film's stars had an equally good time making it, Bullock put them to rest while speaking with Insider at the movie's SXSW red-carpet premiere. "There's a scene where they have to get me to a car. He and that other actor — I can never remember his name, he's got blond hair," joked Bullock, referring to her and Tatum's "The Lost City" co-star Brad Pitt. (True facts: Pitt ended up in the film thanks to him and Bullock sharing the same hairdresser.) Shenanigans ensue as Bullock spends the entire scene tied to a chair while Tatum and Pitt carry her to their getaway car, with the movie's villain — an eccentric billionaire played by Daniel Radcliffe — and his goons in hot pursuit.
Sadly, though, none of Tatum's ad-libbing in this scene made it into the movie's final cut. As Bullock admitted: 
"The directors [Aaron and Adam Nee] had Channing ad-lib lines to us, and none of his lines were used because I was laughing so hard."
Behold the power of the himbo!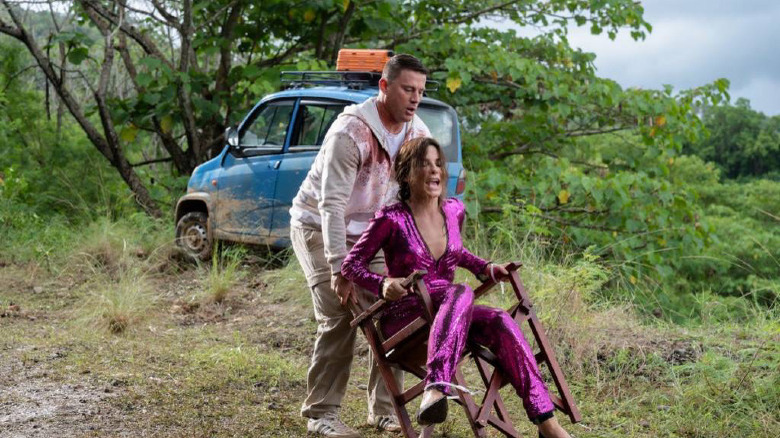 Paramount Pictures
Bullock has only starred in a pair of po-faced Netflix Originals (the horror-thriller "Bird Box" and the crime-drama "The Unforgivable") since her last comedic turn in 2018's "Ocean's Eight," so it's good to have her back on the big screen and being silly again in "The Lost City." She and Pitt are also starring in the upcoming "Bullet Train," an action-comedy from "Atomic Blonde" and "Deadpool" director David Leitch that Sony's given a prime summer theatrical release date.
As for Tatum, "The Lost City" caps off a busy start to 2022 that's seen him guest-star on his "Jump Street" directors Phil Lord and Chris Miller's murder-mystery-comedy series "The Afterparty" and make his directing debut with his "Magic Mike" writer Reid Carolin on the dramedy film "Dog," which Tatum also starred in. All three of these projects have been well-received by critics, with Tatum's himbo charms being cited as a key factor in what makes "Dog" and particularly "The Lost City" work as well as they do. "He is both uninhibited by and deeply in tune with his masculinity — there is no toxicity in his performance of gender as he uses his sex appeal and athletic physique to perform for a diverse audience," as /Film writer Natalia Keogan put it in her recent ode to Tatum's enduring appeal.
"The Lost City" begins playing in U.S. theaters on March 25, 2022.