The Age Of The Babadook's Star Presented A Unique Problem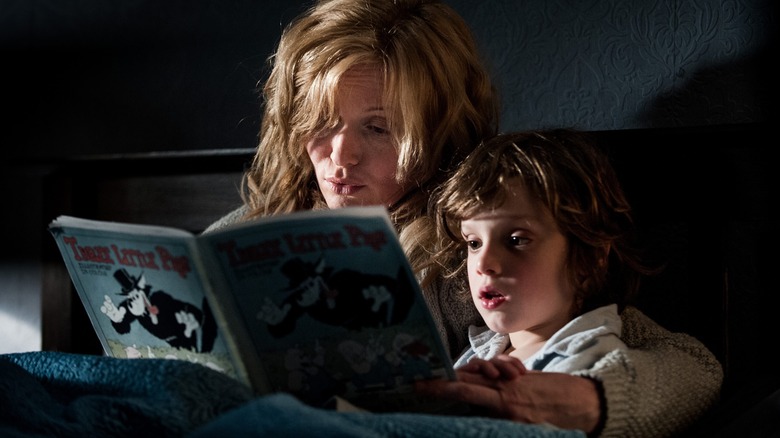 Entertainment One
A word of advice: Don't watch Jennifer Kent's 2014 horror film "The Babadook" immediately after having your first child. Kent's film, sometimes cited as one of the best horror movies of the '10s, deals directly with the taboo topic of a mother's resentment of her own child's existence. In the film, Amelia (Essie Davis) has had to raise her six-year-old child Samuel (Noah Wiseman) by herself, as Noah's father died in a car wreck driving her to the hospital while she was giving birth. In addition to a burning, suppressed wrath Amelia feels toward her own son, Samuel also requires constant attention, often puts himself in danger, and has a habit of accidentally breaking things with elaborate attack machines he builds as a hobby. Amelia has no time for herself and her life has been reduced to exhaustion, monotony, and struggle. 
The title refers to a mysterious storybook, "Mister Babadook" that Amelia mysteriously receives, starring a top-hat-wearing creature that stalks and kills children once they learn of its existence. The Babadook soon begins manifesting itself in Amelia's and Samuel's lives, personifying both the absence left behind by Samuel's father, but also the actual pain and discontent Amelia feels toward Samuel. By the film's end, well, they just have to learn to live with it. 
Noah Wiseman was the same age as his character Samuel, which presented a challenge to Kent: How can she make a movie about horror, dissatisfaction, and monsters with a six-year-old in the room? It turns out Kent needed to come up with an alternate, G-rated version of the story in order to protect Wiseman from any possible discomfort. 
That was fun, wasn't it?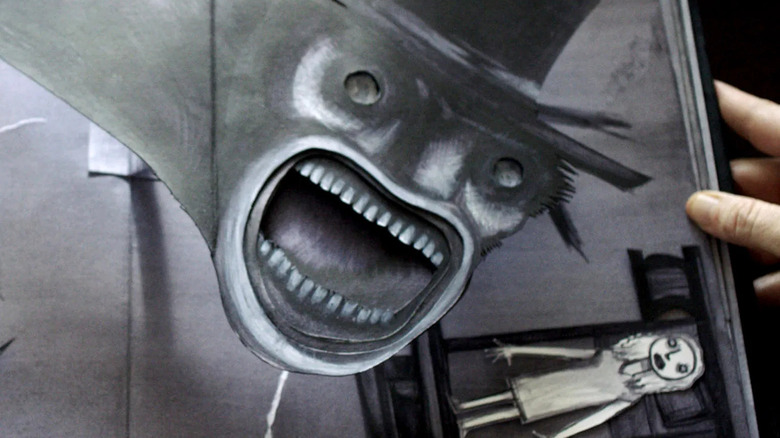 Entertainment One
In an interview with FilmInk, conducted ahead of a special screening at the Sydney Film Festival in 2019, both Kent and Davis explained the precautions they took to shield Wiseman from some of the film's more terrifying material. It was particularly fraught for Davis, who cusses at Samuel and who has to yell some pretty horrible things at him. Kent would shoot Davis' scenes separately from Wiseman's, which Davis had to get used to, while Davis would rehearse the more intense scenes with Wiseman, always being careful to accentuate that it was just a game, and that what they were doing was just fun: 
"It's complicated, but we knew what the situation was going to be. Before we were even looking at rehearsal, Jen explained to me how we were having a stand-in for certain scenes with Noah. That said, there was still a lot of stuff that Noah and I did together that was very intensive, but it was all highly protected. In the beginning, we rehearsed together, and we played lots of games together. We really got to know each other, and it was like doing drama together. At the end of every little improvisation or game, we'd give each other a cuddle and say, 'That was fun, wasn't it?'"
Davis also said that Kent had constructed a gentler version of "The Babadook," which was more appropriate for a young person. According to Davis, in the gentler version of "The Babadook," young Samuel is the hero.
The real hero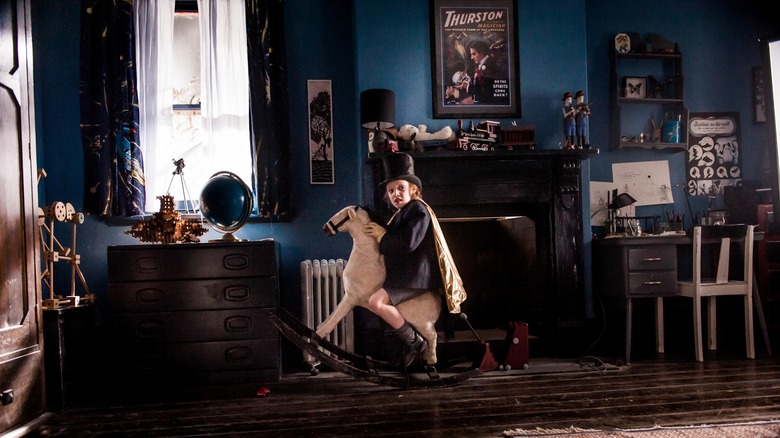 Entertainment One
In the same interview with FilmInk, Kent elucidates on the kid-friendly version of "The Babadook," and how she drew on her own experience as an actor (in addition to plays in school, Kent appeared in the Australian cop dramas "Murder Call," "Police Rescue," and "Above the Law") to intuit what a young child might require on the set of a movie. Kent took Wiseman's wellbeing incredibly seriously, and followed her gut when it came to the horror:
"He was protected, and he wasn't robbed of his childhood. I wanted it to be a beautiful experience for him. I'm a very intuitive person, and I went completely on my instinct. I also acted when I was a child, so I related to this little boy. He was very similar to how I was as a child. He's sensitive, but he's emotionally robust. We auditioned a few other kids who could have probably done the role in terms of their acting, but they wouldn't have survived emotionally. I was extremely particular in the way that I structured the environment for Noah. I talked him through the story, and gave him the G-rated version. He knew that he was the savior of the story.
At the conclusion of "The Babadook," the title creature has possessed Amelia's body, and Samuel has to knock her out to expel the monster. Wiseman's mother was given approval, and his reaction to  shoots was gauged daily.
"And of course, in any of the scenes where Essie is screaming at him, he was never there for any of that. He was heavily protected. I checked in with his mum after every day of shooting. He now looks back on the shoot fondly, and I'm proud of that. It was bloody exhausting though. Oh, my god! It nearly killed me! But I feel so proud of both of Essie and Noah, and the relationship that they built. We all built that together before we even started filming."
Kent would go on to direct the utterly harrowing revenge film "The Nightingale." Davis would appear on "Game of Thrones" and act as lead actress and associate producer on a series of adventure stories featuring the character Miss Fisher. The Babadook himself, meanwhile, has become an icon in the queer community and has served as the mascot of several Pride parades.