Why Elton John Turned Down A Lead Role In Harold And Maude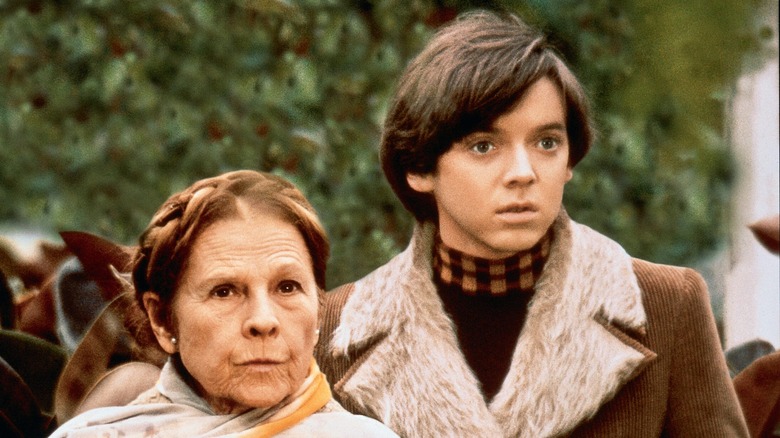 Paramount Pictures
Now that Elton John's formidable career as a rock 'n' roll legend has finally gotten the silver screen treatment, it would be remiss to ignore the countless other times the ostentatious performer has himself graced film with his presence: "Spice World," "Tommy," "The Country Bears" — all the classics, essentially. Though he had previously felt lukewarm to the idea of having his life and career turned into a slick Hollywood biopic, the legendary singer, pianist, and composer was incredibly happy with how "Rocketman" turned out, particularly with Welsh actor Taron Egerton's performance as Elton John himself. 
In an article the performer penned and published in The Guardian, he muses on the circumstances that led to his career and eventual decision to make the biopic happen, much of which was rooted in the fact that he wanted to leave a tangible legacy for his children to have access to — one that is relatively no holds barred compared to other biopics which largely lean into de-clawed flattery. He wrote:
"Some studios wanted to tone down the sex and drugs so the film would get a PG-13 rating," he wrote. "But I just haven't led a PG-13 rated life...there didn't seem to be much point in making a movie that implied that after every gig, I'd quietly gone back to my hotel room with only a glass of warm milk and the Gideon's Bible for company."
Yet before "Rocketman" — and even before any of his other (mostly ancillary) film roles — the British rock star found himself being offered a leading role in a beloved classic indie movie.
Harold and Maud and Elton John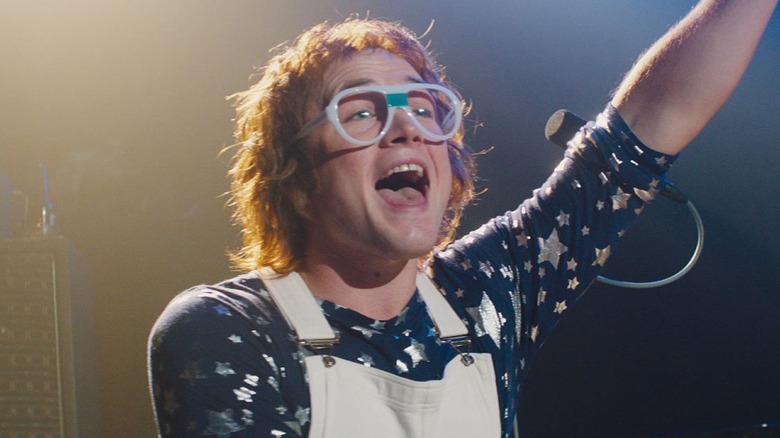 Paramount Pictures
As he recalls in the Guardian piece, John never really saw himself as fit for the film world. Clearly, the stage was his domain — but this didn't mean he wouldn't appear in a minor role or two in-between tours and studio sessions. However, it appears that he was all but offered his big cinematic break in 1971, when director Hal Ashby approached the performer to take the lead role in his coming-of-age black comedy "Harold and Maude." While the script was definitely solid, he still didn't think it was right for him:
"Nevertheless, the idea of making a film about my life still seemed like a big IF. For one thing, I've been very successful writing songs and soundtracks for films, but I've never been very comfortable with seeing myself on a big screen. Amazingly, the director Hal Ashby offered me the male lead in 'Harold and Maude' in 1971, but I turned it down: I loved the script, but it seemed like the wrong thing to do at the time."
Chronicling the taboo relationship between a 19-year-old man and a 79-year-old woman, "Harold and Maude" has gained a certain notoriety over the years. Sprouting from a friendship forged in their common weirdness, the two lead characters find friendship that unfurls into romantic love — that is until tragedy strikes, depressingly foreshadowed by their mutual hobby of attending the funerals of random strangers. 
Sure, maybe the proudly queer Elton John may not have been exactly the right fit for a solidly heterosexual (yet admittedly transgressive) relationship. But even his near involvement still raises certain questions, particularly along musical lines. The music featured in "Harold and Maude" was famously written and sung by folk singer Cat Stevens, meaning that Elton John's involvement would have likely called for a much more rock-heavy soundtrack. While intriguing in its premise, I think most can agree that Stevens' contribution to this film is one of its greatest strengths — one that would have been terrible to have lost to a change in casting. But when has a little bit of idle daydreaming every hurt anybody?