X Spoiler Review: Slasher Tropes Interrupt A More Interesting Conversation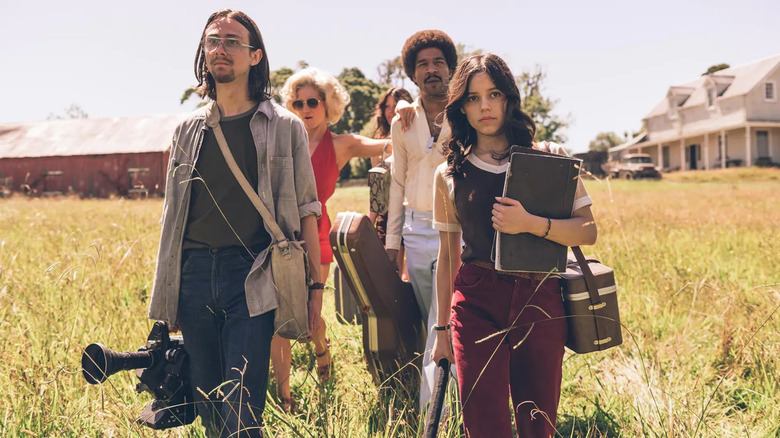 A24
In his 2009 film "The House of the Devil," writer/director Ti West took a lot of aesthetic and pacing cues from Satanic Panic movies of the 1970s to create a thriller about a babysitter hired to watch a mysterious, attic-lurking grandmother who may or may not be there. The film was set in the early 1980s, and West, using only camera technology that would have been available at that time, gave "Devil" an eerie sense of historical authenticity, opening up both favorable comparisons to beloved films like "The Amityville Horror" and "Rosemary's Baby," and a good deal of critical analysis as to what the above mentioned Satanic Panic films meant from a sociological standpoint. Ultimately, West appeared to be commenting on how such movies were code for a general sense of suburban paranoia about your neighbors in a post-Vietnam War world. 
With his new film "X," which opened exclusively in theaters on Friday, West has taken a similar aesthetic approach, this time taking his inspiration from the early days of slasher movies. Set in 1979, "X" is about a team of porn filmmakers who are heading out to a remote Texan cabin — it's implied that they were drummed out of the big city — to shoot an artier-than-most adult feature film called "The Farmer's Daughters." When there, they encounter their temp landlords, a creepy, creepy elderly couple who are alternately suspicious of the filmmakers and turned on by the sex that is being filmed. In the film's first half, West seems to have taken a similar essayist, one-step-toward-deconstructionist tone as he did with "The House of the Devil," and there are monologues about the zesty, sexy fun that porn provides in a world currently haunted by televangelists and sexual repression. 
The movie's deconstruction of slasher movies of the early 1980s, however — and eventually playing out the genre's well-worn murder-by-numbers construction — only highlights their banality. Don't get me wrong; I am fully aware and deeply appreciative of the charm that slasher banalities can provide — and "X" does indeed provide some of the most gloriously gruesome kills seen in recent horror films — but the slasher tropes ultimately interrupt a more interesting conversation "X" began having about the function of sex on film, the empowering nature of open sexuality, and the dark resentment that can arise from a life not fully, sexually lived. In short, the fun gory brainlessness of "X" hinders its fun brainy meatiness. 
Guerilla filmmaking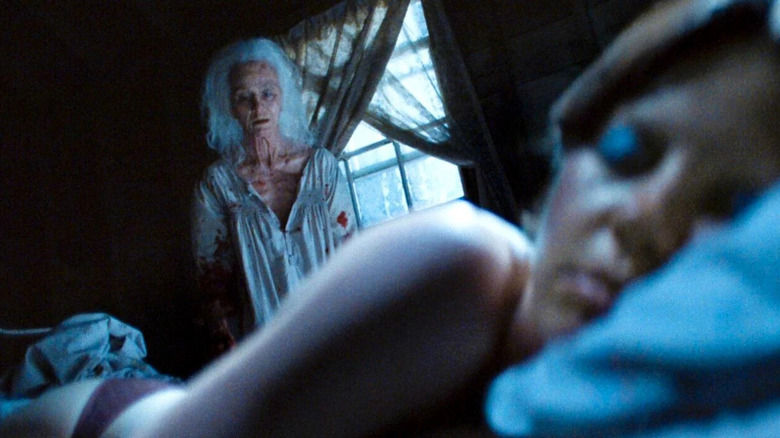 A24
Like the film itself, the characters in "X" have high ambitions interrupted by violence. The auteur of the lot is director R.J. (Owen Campbell), who drags along his comparatively innocent girlfriend Lorraine (Jenny Ortega) to work sound. The project is masterminded by a blustery "executive producer" (Martin Henderson) who is eager to break into the big time. The film will star the sparking and intelligent Bobby-Lynn (Brittany Snow), who seems to better understand filmmaking and the fun nature of her career than anyone else. Her boyfriend (Scott Mescudi) will play the male lead. The film's heroine is Maxine Minx (Mia Goth), an intense, upbeat, coke-addicted pole dancer with dreams of escape. It will be Maxine who will ultimately be targeted by the elderly Pearl, the lovelorn landlady. Pearl is also played by Goth, openly communicating thematic parallels between sexually active youth and sexually waning old age; one Goth is a rising star, the other a setting sun.
The post-credits scene in "X" is in fact a trailer for an upcoming prequel to "X," already completed, called "Pearl." "Pearl" will take place about 70 years before "X," and Goth will play the character as a young woman, and will presumably be about how she discovered her sexuality in a repressed farm community. While "X" may not go the full mile in terms of its sexual themes, it's looking like "Pearl" was meant to fill in those gaps. Perhaps the two films will complete each other in a vital way. It's a pity we couldn't have had the whole story the first time through.
Frustratingly subdued from the film is the entrepreneurial spirit of true guerilla filmmakers. West is too much of a stylist to shoot by the seat of his pants — his takes are carefully constructed, his music deliberate, his photography (by Eliot Rockett) is impeccable — and the charming, sloppy, scrappiness that comes from true underground filmmaking is wholly absent. West emulated the aesthetics of an early generation's filmmakers, but (responsibly) not their danger. Fans of the shock spectacle of early John Waters, or the sleazy punk wonderment of the recently late Nick Zedd, or the openly lascivious badassery of Russ Meyer may find a film like "X" to be frustratingly tame, unwilling to truly scare, rattle, and arouse its audience. 
The aesthetics of porn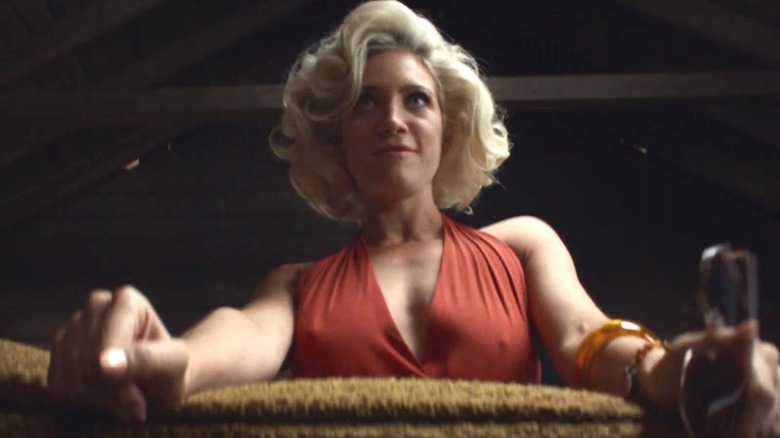 A24
West may have aimed to shock and titillate in making a film about pornography, complete with nudity and sex, but seems to have forgotten that, thanks to the ubiquity and variety of smut instantly available on the internet (my misspeaking a search term on your phone, you can now find porn by accident), merely depicting the making porn isn't so shocking. Porn has been demystified in many films previously, most recently in Sean Baker's "Red Rocket," which did have a greater deal of verisimilitude compared to "X." Other films like 2018's "Cam," or the upcoming "Pleasure" deal with how much porn is a blue-collar job. "X" seems to have little interest in delving too deeply into porn, and even seems a little scared by it. 
But merely scratching the surface is still appreciated. "X" is a film that, despite its modest philosophies, still possesses the boldness to say that sex is fun, that porn is good, and having a lot of sex with whoever you want will ultimately lead to a happier life. It's repression preached from crusty old white Evangelicals that are doing the real damage. 
Additionally, if you like gore — and I do — "X" certainly provides. Heads are crushed, hands are smashed, and arterial spray coats more than one person. When RJ is murdered by Pearl, at night, in front of a van, his blood sprays straight from his neck over the headlights, turning the entire scene red. West definitely knows how to stage a good kill, how to set up a good Final Girl, how to play into tropes. Now all he needs to do is expand the tropes. Perhaps "Pearl" will do that.