Hypochondriac Review: A Powerhouse Donnie Darko Riff About Mental Health [SXSW]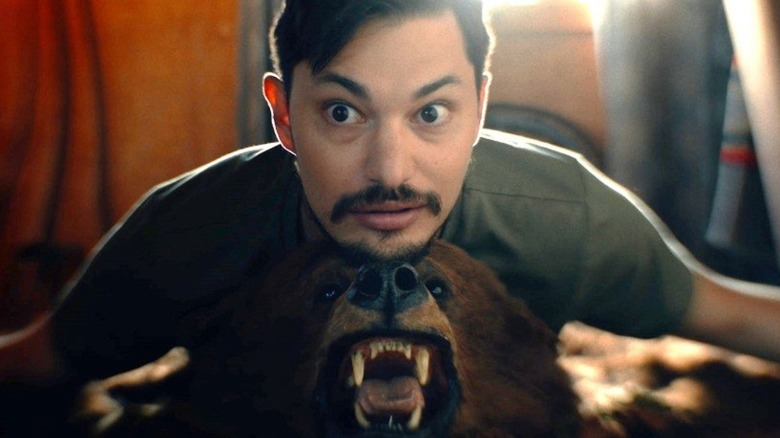 SXSW
A debut like Addison Heimann's "Hypochondriac" turns heads, the same way Richard Bates Jr. once did with "Excision" — an intentional comparison because "Hypochondriac" channels the energy of Bates Jr. doing a "Donnie Darko" riff about mental health. It's impassioned, embraces LGBTQ+ authenticity, and feels fresh despite nearly cloning Donnie's pal Frank except with a wolf costume instead of a bunny. Heimann seamlessly blends nightmarish hallucinations into a traumatic breakdown that roots itself in traumas without treatment. Never as cheap exploitation, just as an alarming in-your-grill metaphor meant to posterize its messages of finding the courage to challenge hopelessness.
Zach Villa accomplishes a star-making performance as Will, who's trying to live a high-end pottery crafter's everyday life. It's been eighteen years since Will's mother snapped and tried to strangle him — her sanity deteriorated for much of his childhood. Will's boyfriend of eight months, Luke (Devon Graye), starts to ask personal questions as any partner of that duration would. Predictably — and destructively — Will holds everything inside. Then, out of nowhere, Will's mother attempts to phone for the first time in years. A package with a taped recording appears on Will's doorstep when calling doesn't work, with a message that warns Luke isn't to be trusted. It's the beginning of Will's adult confrontation with his mother's condition, which he now fears is his inherited future.
Cinematographer Dustin Supencheck stages sumptuous visual storytelling as framing becomes fear's weapon of choice. Will's wolf-costumed manifestation with beady glowing eyes is typically first pictured from afar — peepers piercing wilderness nightshades — before bounding erratically towards the camera. Mike Hugo's editing cuts further promote frantic escalation like the seize of a panic attack, intercutting spikes of dread while Will confoundedly tries to parse "brain fog" from possibly undiagnosed psychosis. With the mention of Schizophrenia, Heimann distorts imagery by overlaying then mirroring Will's person like two ghostly doppelgängers hovering on-screen (glaring at one another). Camerawork creatively represents dissociation through perspective with the aid of post-production techniques, keeping pace with Will's increasingly unwell internal spiral.
Informs and terrorizes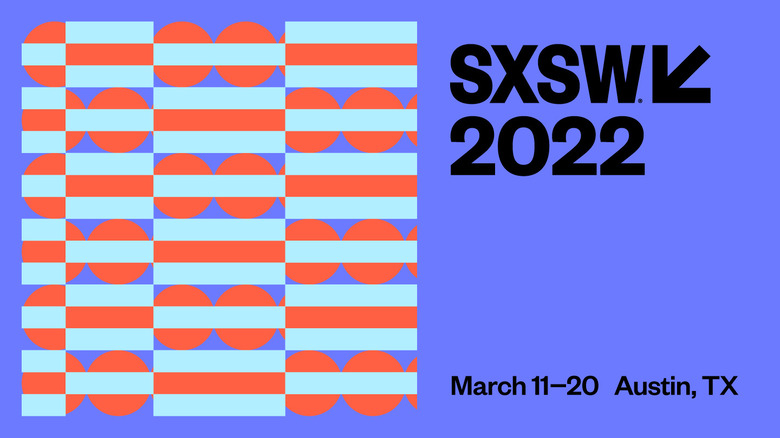 SXSW
Villa is the pinnacle of leading man material through Will's unpredictable behaviors and horrific delusions. Romantic sparks between Villa and Devon Graye whizz like a 4th of July grand finale. Will's shame-filled resistance against restorative treatments comes with all the paranoid Googling of symptoms and isolated outbursts with such tragedy — Will walls himself from compassion because he'd rather sacrifice himself to his tethered wolf ("I'll save you by hurting myself"). Villa's banter with gym-bro doctors (Michael Cassidy) or his ice-cold, uncaring father (Chris Doubek) is heartbreaking as facial expressions push closer and closer to psychological brinks. Villa fires on all cylinders, whether rapping distractions through friend Sasha's (Yumarie Morales) anxiety attack or suffering his own hyperventilation or recoiling in terror as Mr. Wolf does more than huff and puff.
"Hypochondriac" uses horror in traditional senses, but what stings are the wellness myths and ignorant tropes of mental health that Heimann depicts. Hipster pottery boutique owner Blossom (Madeline Zima) threatens to fire an in-pain Will, perpetuating the reality of corporations excluding mental health as a serious condition. Doctors disgruntled by Will's nervousness restate "happy mind, happy body" (paraphrasing) repeatedly like it's common practice. Interactions between Will and his wolfy companion range from imaginatively creepy to superbly frightening once or twice, yet Heimann's character dissections are infinitely more thorned. Doubly as Heimann holds both Will and society accountable, the man for refusing help and humanity for belittling mental health in workplaces, public, even private healthcare institutions.
Somehow — quite impressively — Addison Heimann ensures that "Hypochondriac" entertains, informs, and terrorizes in equal bursts. Zach Villa performatively answers no matter how he's called upon, ensuring audiences care unconditionally about Will's battling of headspace demons. Will's cognitive inability to shrug away the fear of everything at some physician's request plays like mockery in front of self-help posters that read, "Be Bright Like Glitter And Bubbly Like Champagne" — there's the cure! "Hypochondriac" is thoughtfully unhinged as bloody spoofs on clay-shaping infamy in "Ghost" become morbid fodder for Will's wildest figmentations because Heimann's here to indulge macabre delights amidst torturously serious themes. Mindfulness breeds a brand of horror that some might describe as "insane," with a light at the end of the tunnel for those brave enough — rightfully, Heimann first makes us understand the darkness within.
/Film Rating: 8 out of 10