Here's Where You Can Stream Or Buy Every Episode Of Attack On Titan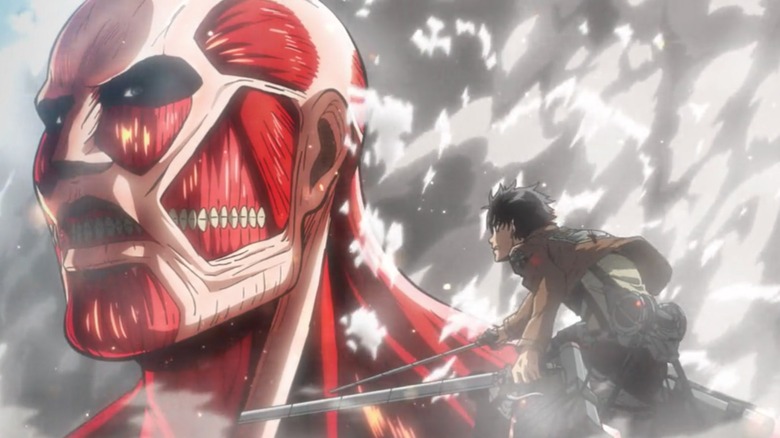 NHK
(Welcome to Where to Watch, which provides a clear and simple answer to the question, "Hey, where can I watch this thing?")
"Attack on Titan" is a global phenomenon, an anime that has attracted viewership that rivals television juggernauts like "Game of Thrones" and "The Walking Dead." Fans have been hooked since Eren Jaeger and the Survey Corps took up arms against the monstrous, ravenous Titans storming their city's walls, and the ensuing twists and turns have made for gripping mysteries and fascinating character arcs.
The series is currently wrapping up after four seasons, though the third and fourth seasons are divided into two parts. That means that if you haven't watched the show before, now is a better time than ever to catch up on past episodes and eventually witness the end of an era. On the other hand, if you're a fan, you'll probably want to revisit previous seasons in honor of the show's end, filling that Titan-shaped hole in your heart. For your convenience, here's where you can stream and purchase every episode of "Attack on Titan."
Where to stream Attack on Titan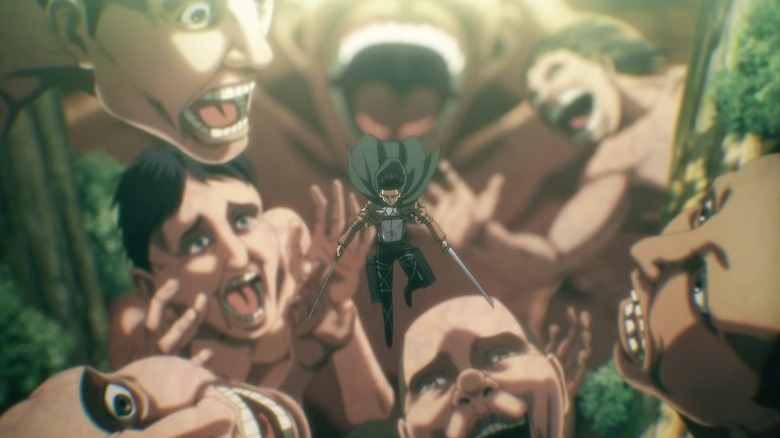 NHK
The most straightforward way to watch "Attack on Titan" is on Hulu, where every past episode is available to stream and where new episodes are released on Sunday afternoons. The only problem (and it may be a big one for some) is that the currently airing episodes are only available in their original Japanese language with English subtitles. Subscribers will have to wait some time, most likely a couple of months, after the season completely finishes to catch the English dub.
If you prefer dubs but are understandably looking to watch the episodes as soon as possible to avoid spoilers, the alternative is Funimation and Crunchyroll. Both of these anime-exclusive services began an "Attack on Titan" English SimulDub on February 13, 2022. This means that although the English dubs are about a month behind schedule, audiences can keep up with the Japanese airings in a more timely manner, with newly dubbed episodes also releasing every Sunday. Funimation has selected free content, but a Premium Plus plan that costs $7.99 is required to unlock all of the dubs. The same goes for Funimation, which has three tiers of $7.99 (Fan), $9.99 (Mega Fan), and $14.99 (Ultimate Fan), though only the standard Fan tier is necessary to watch the "Attack on Titan" dubs. Finally, the Adult Swim website also carries the newest "Attack on Titan" dubs, although the premiere dates follow the SimulDub schedule and you need access to a cable service subscription to unlock all of the content.
Where to buy Attack on Titan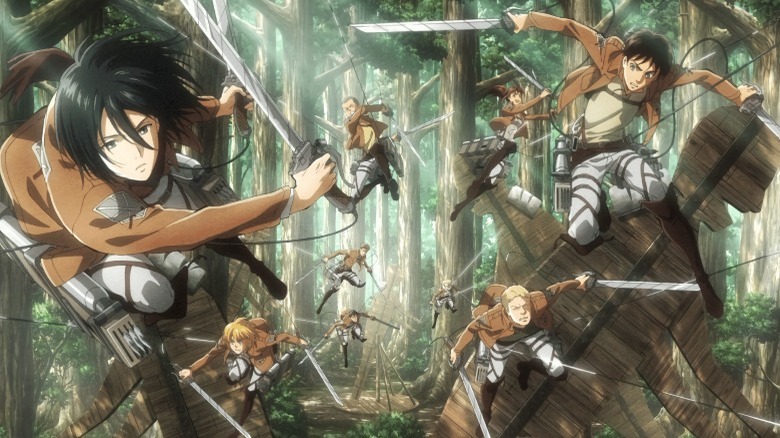 NHK
Unfortunately, there's currently nowhere to buy episodes from the currently airing second part of "Attack on Titan" season 4. However, past episodes are available to purchase on both Amazon and Apple TV (through iTunes) in both HD and SD. Full seasons are also available for purchase, though Amazon lists the second part of season 3 as season 4 and the first part of season 4 as season 5. The most recent season costs $32.99 in HD ($21.99 in SD), but the older the season the cheaper the cost.
Of course, there are also good old-fashioned Blu-rays. The prices for these hover around the $40 range on Amazon, Best Buy, and everywhere else, and the final season on its own costs $49.99. It's quite a financial investment, but for the die-hard fans, it might be worth owning a physical copy.