The Outfit Review: Mark Rylance Is The Special Thread Holding This Tightly Wound Mobster Movie Together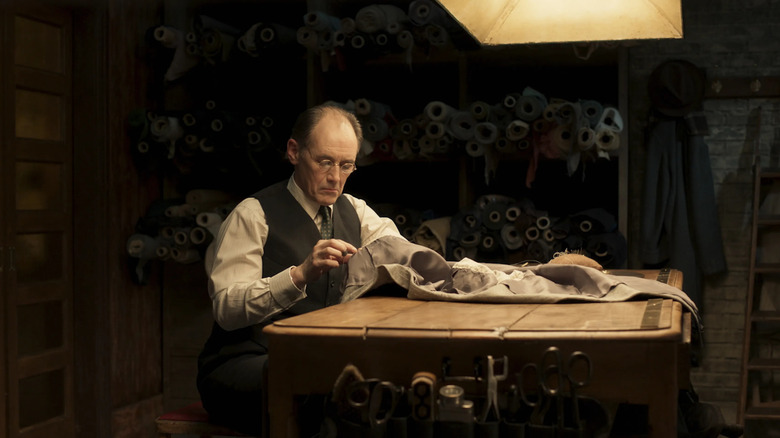 Focus Features
How lucky we are to have Mark Rylance, movie star? The Oscar winner has long been a respected mainstay of the stage and the arthouse circuit, but the one-two Spielberg punch of "Bridge of Spies" and "The BFG" launched him to a new stratosphere, which brings us to where we are now: with Rylance leading the tightly wound but somewhat airless mobster movie "The Outfit."
Full of twisty turns and clockwork plotting, "The Outfit" calls to mind better suspense films before it — the one-room tension of Alfred Hitchcock's "Rope," the shadowy subterfuge of the fellow Rylance starrer "Bridge of Spies" — though it doesn't quite meet their level. The one thing that elevates it above the forgettable masses, however, is Rylance. As a polite English tailor whose shop is used as a front for one of Chicago's reigning family of gangsters, Rylance plays against and with the type of wise gentleman roles he's known for lately, peeling back the layers to reveal a much more interesting and richly layered performance than you would expect in a quiet, chilly thriller such as this.
Set in 1956 in the dead of the Chicago winter, "The Outfit" follows Rylance's Leonard Burling, an English tailor who used to craft suits on London's prestigious Savile Row. But following a family tragedy, he packed up to Chicago, opening a shop that becomes frequented by the city's most vicious gangsters. Soon, his shop becomes a key part of gang boss Roy Boyle's (Simon Russell Beale) operation — the place where the gang members exchange communiques while Leonard ignores their dealings and focuses intently on his meticulous tailor-work, aided by his savvy assistant Mable (a sparkling Zoey Deutch).
The film unfolds as meticulously as Leonard's crafting work, director Graham Moore (Oscar-winning writer of "The Imitation Game" in his feature directorial debut) bringing a brisk, razor-sharp energy to the film, aided by Dick Pope's crisp cinematography. Accompanied by Rylance's dry narration — a detailed tutorial on the art of suit cutting which is threaded throughout the film — "The Outfit" feels like it's dancing on the shiniest point of the needle. But what happens when it tumbles off the edge?
Dressed to kill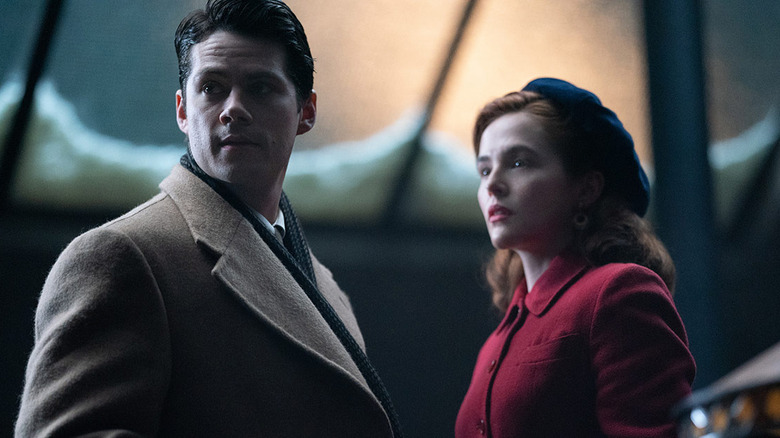 Focus Features
Leonard's precariously balanced life is sent into a tailspin when two of the Boyle gang members receive a message from "The Outfit," for Chicago's organized crime syndicate run by Al Capone. Spurred to action by the message, the hotheaded heir of the Boyle family, Richie (Dylan O'Brien, having a blast playing bad) and Roy Boyles' righthand man Francis (a mercurial Johnny Flynn), try to impress The Outfit by attacking a rival gang, only to find themselves outgunned and outmanned. They stumble, bleeding into Leonard's tailor shop after-hours, forcing Leonard at gunpoint to stitch the injured Richie back up and harbor them until things have quieted down. But things refuse to quiet down, the stakes and tensions escalating until the entire tailor shop — usually so neatly maintained and cleaned by Leonard during the day — becomes a blood-spattered powder keg waiting to explode.
One-location thrillers can be difficult to pull off, and even the best directors can end up falling victim to the inescapable staginess of the conceit. But "The Outfit" rarely stagnates, Moore managing to bring a dynamism to the character moments and tense dialogue exchanges by swinging the action from room to room, and engaging in some pretty impressive blocking. But in those brief moments when it does start to lull, it's through no fault of Rylance.
Rylance is both the protagonist and the greatest mystery of "The Outfit." At first presented as a timid and diligent gentleman, Leonard's secrets are steadily unraveled throughout the film in the most satisfying of ways. But Rylance, great performer that he is, doesn't let on that he's more than a doddering father figure to Deutch's Mable until well into the third act, letting some of Leonard's tightly held secrets slip through in the smallest of gestures or a crinkle of the eyes. It's a wonderfully layered turn and one that is lightyears ahead of the rather one-note — but still engaging — performances by the other supporting players. Deutch is always a peppy joy to watch, O'Brien clearly relishes getting to play the bully for once, and Beale has a small but impactful turn as the threatening mob boss. But it's Flynn who's closest to going toe-to-toe with Rylance, delivering an alternately charming and cruel performance as a righthand lackey with higher ambitions.
Despite its many twists, "The Outfit" is a fairly straightforward thriller, buoyed by its sharp narrative turns and a quietly subversive Rylance. However, the film manages to keep audiences on their toes even if we've seen most of it before. All the same, there is something satisfying about a particularly brisk, well-made thriller. Like a good suit, there's a timelessness to it.
/Film Rating: 7 out of 10