Starstruck Season 2 Trailer: The Beloved Rom-Com Returns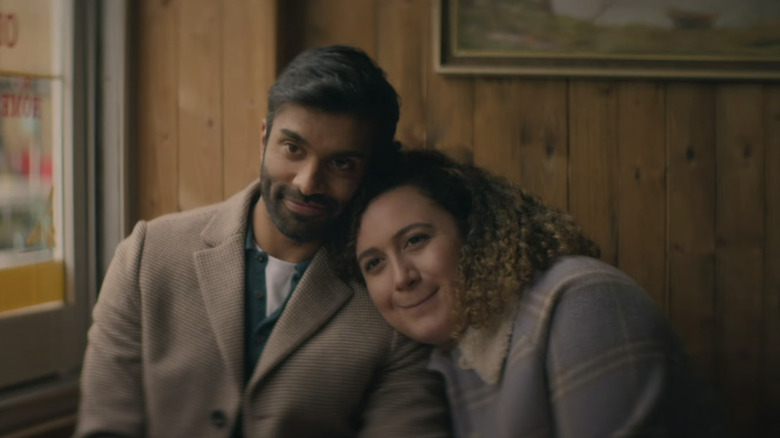 HBO Max
Have you ever fallen in love with a movie star? Sorry, let me rephrase that — have you ever met a movie star, spent a semi-awkward but mostly delightful night together, and then begun an on-again-off-again relationship in which failing to communicate your feelings had disastrous effects until you finally wised up and put some effort into maintaining the relationship? If the answer is yes, please share details immediately — but if not, then you'll certainly enjoy watching these chaotic events unfold over the course of two charming and very bingeable seasons of television. BBC's vastly underrated rom-com series "Starstruck" sees these events occur in the life of the otherwise-typical 20-something Jessie (Rose Matafeo), an unlucky-in-love millennial who's juggling two jobs she doesn't particularly like.
The series begins when she meets Nikesh Patel's Tom Kapoor, with whom she shares an awkward yet very endearing New Year's Eve one night stand. Afterward, she realizes that he's very famous — but that's just a minor part of their addictive relationship. His superstardom is incidental, and the real magic is found in the way these two just click: Their every interaction oozes chemistry and their witty banter is seemingly endless. Sure, their encounters are always soaked in awkwardness, but that's part of their charm! Especially as the drunken meet-cute slowly evolves into a potentially successful romance. After months of audiences wondering where their messy tale goes from the ending of season 1, HBO Max is finally delivering on the goods. Now that the series has fully aired abroad, it's crossing the ocean and coming to the streamer later this month. To celebrate, HBO Max has delivered a new trailer for the upcoming season.
Starstruck season 2 trailer
At the end of the first season, Jessie made the life-changing decision to do nothing at all! More specifically, she made a classic rom-com grand gesture and stayed on a bus with Tom, instead of getting off to catch her flight home to New Zealand. The way series creator Rose Matafeo put it (via EW), "We ended it on the classic rom-com high." But since this isn't a movie where the credits roll and we can safely assume a happily ever after, her split-second decision (while very swoon-worthy) is destined to have lasting consequences. Jessie and Tom spent the last year as two ships passing in the night, coming in and out of each other's lives. But since they're finally giving their relationship a shot, those separate parts must now integrate. The problem? He's an actor struggling with the realities of fame and she's a wandering temp still unsure of her future. In the same chat, Matafeo told EW: 
"In the same way that series 1 was them coming in and out of each other's lives, this is them mashed together and exploring all those really minor — but huge when you're in it — miscommunications and insecurities."
I'm sure there's no romantic situation where abandoning a major life decision for the sake of a budding relationship wouldn't be the source of some strife, but in the case of Tom and Jessie, go ahead and ramp the conflict up to 1000. These two are terrible at communicating. They managed to stretch their will-they-won't-they drama into an entire season of TV, so whatever minor problems arise, they'll find a way to blow them out of proportion ... and we'll be thrilled to watch it unfold.
For season 2, Matafeo and Patel will reprise their roles, along with Minnie Driver as Tom's agent, Cath. The returning stars will be joined by Russell Tovey ("Being Human") in an undisclosed role. Season 2 of "Starstruck" arrives on HBO Max on March 24, 2022. Here's the official synopsis:
After her grand gesture at the end of season 1, in season 2, Jessie must deal with the real-world consequences of deciding to stay and pursue a relationship with Tom, rather than sticking to her original plan of returning home to New Zealand.