One Of Robin Williams' Funniest Moments In The Birdcage Was Unintentional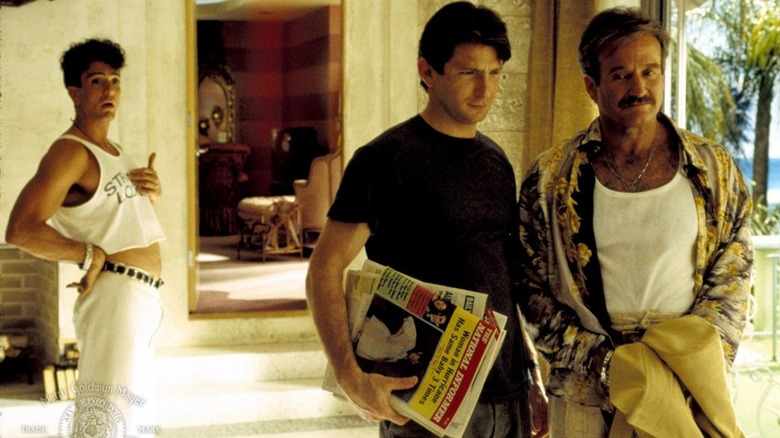 Metro-Goldwyn-Mayer
Although "The Birdcage" was released 26 years ago, the film has aged interestingly. A lot of progress has been made for gay rights in the years since, but the film is still relevant. Directed by Mike Nichols, the 1996 movie is a remake of the 1978 French film "La Cage aux Folles" (based on Jean Poiret's 1973 French play). 
Nichols' film shifts the action from France to Florida and tells the story of Armand (Robin Williams) and Albert (Nathan Lane), an openly gay couple and the proud owners of a Miami drag nightclub. While Armand is in charge of managing the place, Albert is the club's drag queen star. All is well in the family until Armand's son Val (Dan Futterman) declares he has fallen in love with the daughter of a conservative senator, which leads the couple to scramble to impress her family. Believing they can only impress their overly traditional future in-laws by pretending to be a conventional, socially accepted household, Albert and Armand pose as a straight couple, with Albert dressing up in drag to pass as Val's mother. What is meant to be a meal with the parents soon transforms into an ill-fated dinner party, an evening teeming with irony and innuendo, with Robin Williams and his impeccable hilarity taking the centerstage.
"The Birdcage" was one of my first exposures to queer movies. It broke boundaries and to this day prevails as a pillar in the landscape of LGBTQ cinema. The laughter inspired by the characters remains a force of relief for many viewers even today. Robin Williams and Nathan Lane's comedic genius echoes in every scene, especially in their improvised sequences. One of the funniest scenes in "The Birdcage" transpires when Williams' character accidentally slips and falls in the couple's kitchen — which "The Simpsons" star Hank Azaria (who plays their housekeeper Agador) revealed was unintentional in an interview with The A.V. Club.
'F*** the shrimp!'
One of the more hilarious sequences in "The Birdcage" is during the dinner party, when Armand and Agador are getting frantic in the kitchen. They've forgotten to prepare an entrée (they only have soup to serve their guests), and they vaguely discuss the addition of shrimp in their meal. Armand hands Val a note for Katherine, Val's birth mother, instructing her not to come upstairs since Albert is dressed in drag, disguised as Val's mother.
While discussing "the shrimps," Armand suddenly slips and falls to the floor only to jump back up, scream at Agador and run out. Williams didn't intend to fall on purpose — it was an accident that happened while filming the scene. But thanks to the actor's perfect delivery, the scene was kept as it was filmed. As Azaria explained:
"That was absolutely not intentional. And if you watch that little piece of film again, you'll see me laughing and Robin laughing. It's one of those things that happens that you never really think they're going to use, but I was so emotionally upset in the scene—I was supposed to be crying—that I just pretended that he was making me cry even more. But I was actually laughing."
Robin Williams and Nathan Lane loved to improvise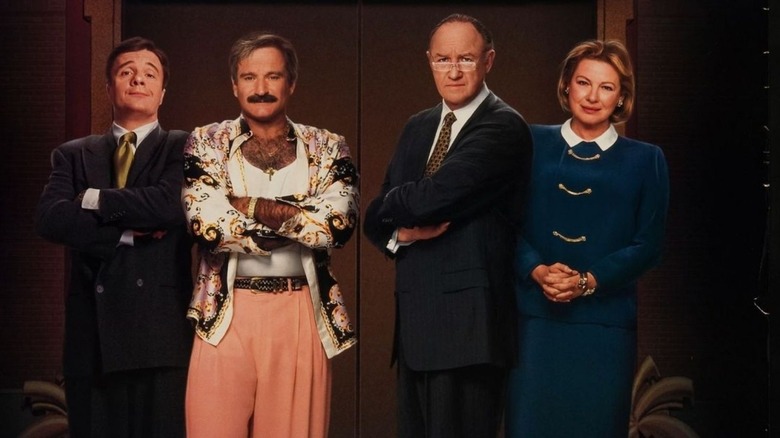 Metro-Goldwyn-Mayer
Azaria also discussed Williams and Lane's notorious ad-libbing habits — they always "wanted to go to town" while improvising on the film. But the director, Mike Nichols, wanted to film the movie as if it were a play — with as few cuts as possible. The cast rehearsed the film heavily for two weeks before filming, where Williams and Lane could improvise and contribute to the script. Nichols encouraged the cast members to pitch their ideas during this stage so that filming could continue smoothly. But Williams still attempted a "wild take" now and then:
"We sort of got all the improvising out of our systems the first two weeks, and then we shot basically what we all agreed on. And it was very tough for Robin, who really wanted to still go bananas. [Laughs.] And he still would once in a while, when Mike was amenable. When the shot allowed, he would do what we'd call the "wild takes," just for Robin to go crazy. And much of that did make it into the movie. But I pretty much stuck to what I had worked out in rehearsal."
"The Birdcage" was tremendously progressive for its time — not only was gay marriage illegal twenty-five years ago but it was also banned in most states. The film allowed viewers, but especially members of the LGBTQ community, to see an earnest, heart-warming movie that offered a glimpse into the happy, loving life of a queer family. "The Birdcage" might employ a few stereotypical gay references — drag queens, the idea that gay people love china patterns and speedos. Still, many would agree that the positives outweigh the negatives. This film allowed its fully-realized, openly gay characters to be the heroes in their story and write their own happy ending too! Over two decades later, "The Birdcage" still isn't just a comedy — its underlying message that calls for equality is a message that hasn't ceased to resonate, considering the discrimination LGBTQ people in the world are subjected to even today.