Our Great National Parks Trailer: Obama Befriends A 'Sleepy Sloth' As The Host Of A Netflix Docuseries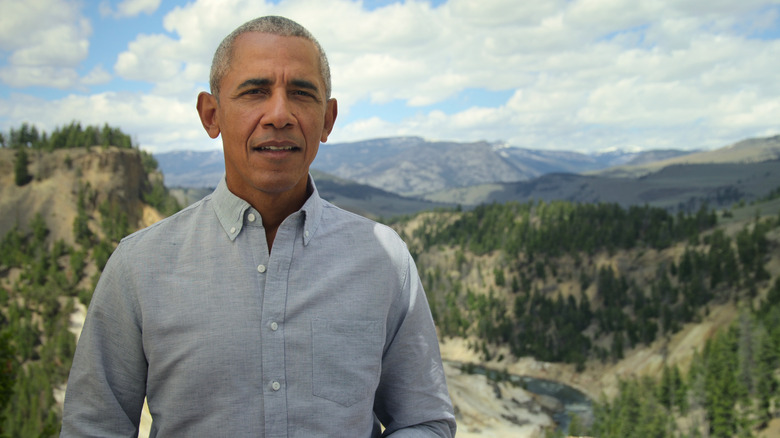 Netflix
You've seen him lead a country, write books, try his hand at comedy, produce movies, and even become a very successful meme — but now prepare yourself for the latest chapter of former President Barack Obama's career: nature documentary narrator! The former commander-in-chief is heading up "Our Great National Parks," a new Netflix docuseries celebrating the power of our planet's greatest national parks and wild space. The series spans five continents in its five episodes, traveling from Monterey Bay, California, to Kenya's Tsavo National Park and Indonesia's Gunung Leuser National Park, to name a few of its many stops.
When the docuseries was first announced last year, as part of Barack Obama and Michelle Obama's extensive Higher Ground production slate, the former president was expected to executive produce the series and nothing more. At some point along the lines, it seems he snuck his way into the recording booth and put his many years of giving speeches to good use. Obviously, he's not the first (or last) POTUS to host a TV series — and with a famous name and recognizable voice like his, this was kinda inevitable. But the obvious questions remain: did someone sit outside a recording booth, critiquing Obama on his narration style? Has said person since been disappeared by the secret service? I suppose we'll never know — but one thing you can learn a whole lot about is the state of our great national parks, their significance in our future, and what's being done to protect them.
Watch the Our Great National Parks trailer
While your best guess for late-career Obama probably didn't include him saying the words "sleepy sloth" aloud, this isn't too shocking a project for the former president. Higher Ground was always described as focusing on "stories that embody the values the Obamas have championed throughout their lives. The projects selected are a reflection of these values and a commitment to quality storytelling." The series heralds our planet's national parks and wilderness, which the Obama's remain a huge proponent of protecting.
As the former president says in the trailer, these sites are "a haven for endangered species and a hotbed for scientific research." Their significance is undeniable and yet they are under constant threat by manmade disasters and impulses, made all the worse by how human action has quickened global climate crisis. "Our Great National Parks" is an examination of what could be lost in the long-run and in that way also serves bas a call to action: it forces viewers to take a long hard look at what's being destroyed and really consider those actions. Most importantly, it would be awfully hard to maintain indifference whilst being amazed by walking fish and surfing hippos. Better yet, this docuseries promises to emotionally compromise us all through baby sea turtles, the most irresistible cuteness of them all!
"Our Great National Parks" arrives to Netflix on April 13, 2022. You can check out the official synopsis below.
From the executive producer of Blue Planet II comes OUR GREAT NATIONAL PARKS, a breathtaking five-part series executive produced and narrated by President Barack Obama – who ​​protected more public lands and waters than any other U.S. President in history – that invites viewers to experience nature in the world's most iconic national parks. Spanning five continents, the series brims with wonder, humor, and optimism as each episode tells the story of a national park through the lives of its wildest residents — both big and exceptionally small — and explores our changing relationship with wilderness. Traveling from the waters of Monterey Bay, California, to the bright red soil of Kenya's Tsavo National Park, the lush rainforests of Indonesia's Gunung Leuser National Park, the majestic terrain of Chilean Patagonia, and more, OUR GREAT NATIONAL PARKS beckons us to get out and explore, create new ways for these wild places to thrive, and vigorously preserve them for future generations to come. This series is a Wild Space production in association with Higher Ground Productions and Freeborne Media.