Hellbender Filmmaking Team On Making Movies Outside The Hollywood Bubble [Interview]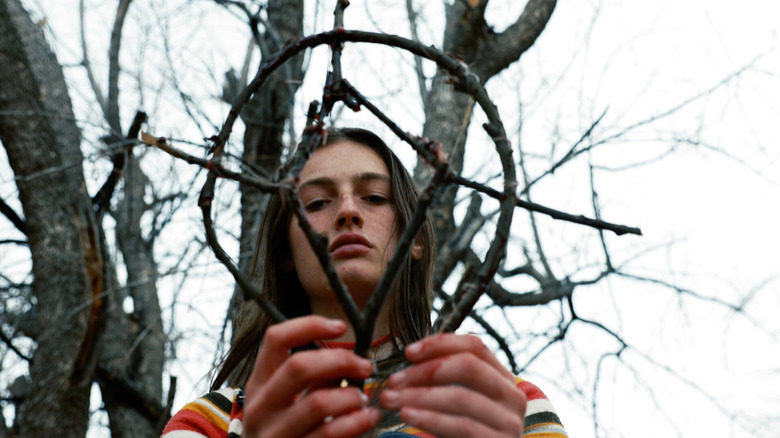 Shudder
John Adams, Zelda Adams, and Toby Poser are three of the four members of the Adams Family. Over ten years ago, the team behind Wonder Wheel Productions made their debut with "Rumblestrips." A decade later, the Adams Family has found a fanbase in the horror community, thanks to movies such as "The Deeper You Dig" and their latest, "Hellbender." Shot in Upstate New York, the trio all do their part in acting, writing, directing, editing, and composing the coming-of-age surrealist witch film.
"Hellbender" is a spare but daring slice of indie horror, and the Adams Family credit the genre and its fans for helping them grow as storytellers. "We learn so much from the horror community," John Adams said. "That's the other thing is, we feel like within this community, we're growing so much as filmmakers because we're learning so much from the audience and the reviewers, and it's just a great place to do art. It is really a wonderful crowd." The filmmaking family recently told us about magical mistakes, the intimacy of their process, and more. 
'Our rule is to not follow rules'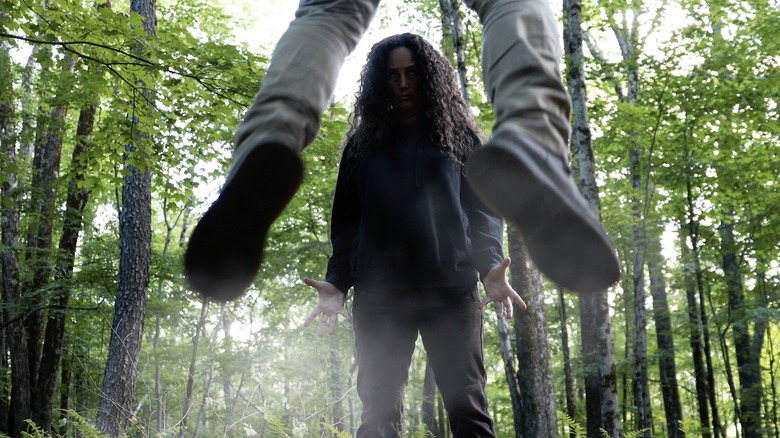 Shudder
As you three have said before, you "don't follow rules" in the conventional sense. Do you have your own set of rules, though? 
Zelda Adams: I think one of our most important visual rules is shooting in flat light. It's the easiest to work with and easiest to edit with. You can turn daytime into nighttime and it just looks the best. Whenever we shoot in sunlight, we go home and start editing, and we're like, "Why did we do that?" So flat light, natural light.
Poser: I want to say our rule is to not follow rules, to go with what you were saying. You know, I think we'd like to be inspired by things. It's important to take that inspiration and then only let a little bit of it stick within my brain and try to discard the rest, because there are so many people out there who have done so many wonderful things. So for me, it's important that we try to deliver something that hasn't been done. There was a rule in "Hellbender" that I wanted to not say the word "witch," and we only said it once.
John Adams: I think another rule that we have is — and it's a very hard rule to keep, but I think it's important to all of us whether it's genuine. Whenever we shoot, we go home and we look at it and we ask whether our deliveries or the deliveries of somebody that is an actor in our movie, "Is it honest? Or does it look like they're acting?" And that's so hard. But it's important to us, and we'll go shoot stuff again and again to try to be as genuine as we can in what we're portraying.
Zelda Adams: I think actually one of the foundational rules we had before we started shooting "Hellbender," though, was we wanted something exhilarating or important to happen every seven to 10 minutes, so that the crowd stays involved and entertained.
What were some new techniques you tried with "Hellbender?" 
Zelda Adams: This one was exciting because we started involving movement into the visuals of the film. I've always loved movement in cinematography. In our past films, we had only a camera and a tripod. You could only really pan or do static shots. For "Hellbender," we invested in a drone and a Steadicam. It opened up an entire new world and much more movement was included. I am so happy with it.
How was it working with the drone for the first time?
Zelda Adams: I crashed it the first time, and it was terrifying. I thought we had blown away a lot of money the first time using it, but once I got the hang of it, it was fun. 
Your community is very supportive of your work, but are there ever days when you're shooting where someone asks, "Do you have a permit for that?" 
John Adams: Yes.
Poser: When it has, we were prepared, because when we shot our third film, the shoot in the desert, in Joshua Tree, I was like, "Man, we better have a permit for that." Thank God we did because a ranger rolled up, and he was like, "You got a permit?" "Yes, I do."
John Adams: We do live in the middle of nowhere and there are not many people, so we shoot wherever we want. We have lots of people rolling up while we're filming, they'll be like, "Hey, what are you guys doing? What are you shooting?" You're kind of like, "We'll talk to you just in a second, we're just trying to just finish this one thing." It's kind of endearing and it shows where we're from isn't that cynical yet. It hasn't been jaded by the film business. It's still enjoying us nutcases around making films. 
Zelda Adams: It's a good social experiment, because you'll be shooting a pretty messed up scene, like hanging or a bloody massacre, and people just come by and take a picture and then drive off. And you're like, "Wait, what?"
John Adams: We did have the fire department come once because we had Toby in blood in the snow. The fire department came running out and we were like, "No. Please don't trample the snow. No, she's not dead. Toby, show them that you're not dead."
Poser: "I'm not dead yet."
Do you ever think to go, "This is good stuff, keep going!"
Poser: Yeah, "We could use this."
John Adams: But we were smart. We would've changed the story, and then the fire department came.
Poser: Actually, one time in the movie when my character releases the sigil into the air, we were on the state land. The sun was setting. We're like, "Man, we don't want to come back here." We climb down these cliffs, I'm going to get this shot. And this ranger from his car is on his megaphone, "Remove yourself from the premises." I acted right through it. You know, you can hear our outtakes of him, "Remove yourself." 
John Adams: When we climbed up out of the cliff, he was waiting for us and he was like, "You need to learn to take direction." I was like, "She was taking direction great, actually."
'We came across this beautifully picked deer carcass'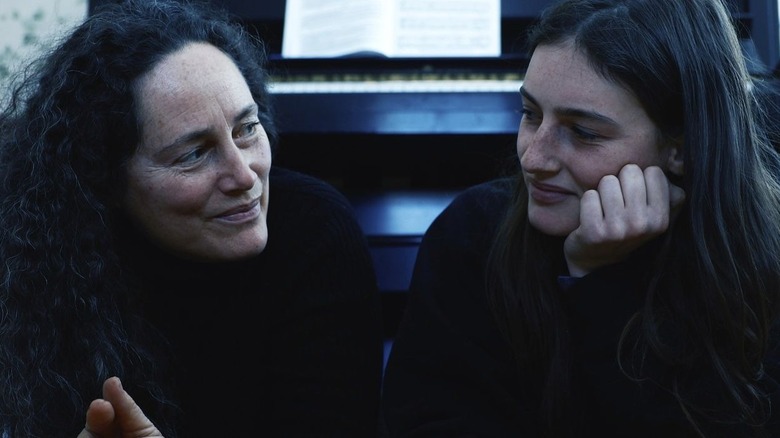 Shudder
Filmmakers always say weather is a challenge, waiting for the right time and sun, but you embrace what you get, right?
John Adams: If we ever wrote a book about what we're doing, it would be called "Waiting On A Cloud," because we wait for so many clouds, but we don't have to wait at all because what Mother Nature is bringing is usually spectacular.
What else is nice about making these movies in your own little world far outside of Hollywood? 
Poser: I think it's very lucky that we do live in a pretty far out place, but also, it's lucky that we work very simply with one camera and tiny little mics that are easy to take with us. For instance, the scene in the film where we come across the deer, we were scouting another scene and we came across this beautifully picked deer carcass and it was very easy for us to just run to the car, run home and get the camera come back. The next thing you know, we're shooting.
You really embrace that Do-It-Yourself spirit, which as simple as it sounds, I think still intimidates some aspiring filmmakers. What advice would you give them to make it sound more achievable and practical?
Zelda Adams: Today, I think there' is more accessibility to technology that's not too expensive. You can make movies with your iPhone now, and I think that's becoming a really cool new trend. Honestly, it just is about getting out there and doing it. That's what we did with our new film. We used the money we had to buy a Canon 5D and small little mics. We had no idea what we were doing, but I think that was a gift in disguise because it turned out really well. Here we are now. It wouldn't have happened if we didn't just go out there and do it because it seemed fun.
John Adams: I was talking about our first movie, "Rumblestrips," and it's true, because I think all artists should just go out and create because you're bound to make a bunch of errors, but those are going to catapult you forward. You just keep chasing knowledge as you make mistakes. You learn from your mistakes and then you just keep chasing getting better. Even if you make a lot of mistakes, that's the great thing, it's a beautiful thing.
Poser: And it's important to remove yourself from expectation, because you can really be hindered by the fear. Comparison is just a minefield. When you're hiding under the shadow of fear, then you're not free to create. I think in terms of our first film, we were so naive in a way that was a beautiful gift because we weren't questioning ourselves. We were just in that moment of creativity and enjoying it and honoring the story, and that's a beautiful thing.
Sometimes what people love most in our films were the happy accidents. You know, the things that nature just threw in our way and because we travel lightly, we were able to capture those happy accidents often. We were just ready to be on our toes. 
Any happy accidents when you got to the editing room on this one?
John Adams: All the dream sequences and trippy psychedelic feel to all those sequences were an accident. For people out there that edit on Premiere Pro, I was messing around with compositing and opacity and something went crazy and it looked so spectacular. It looked psychedelic and wonderful. It's what we use for all the dream sequences, because we wanted those visions to look super real.
You've made dramas, but how did the decision come about to fully immerse yourselves in the horror genre?
Poser: The very first film we shot, "Rumblestrips," started out as a genre film. A Western ghost story. In the end, we just weren't ready to tackle it, but you know, it took us a few years and a few productions to get there. But originally, we wanted to make a ghost story for our first film.
Zelda Adams: We made four dramas first and we were having a really great time with it and went to a lot of festivals. But after a while, it was hard for them to get traction. If you didn't have a huge star in it, that was kind of tough. We just wanted to explore. I was like, "Hey, why don't we make a movie where I just, like, kill a bunch of men?" Toby was like, "Hell yeah." We created this wonderful timepiece and made our first little horror movie and it got into some horror festivals and was welcomed really nicely. Then we made "The Deeper You Dig," where Toby was included in the process. So that was our first horror movie together as a family. It was really, really fun and we just love the genre and want to stay here.
'We were thinking of including a lot of more bloody massacres'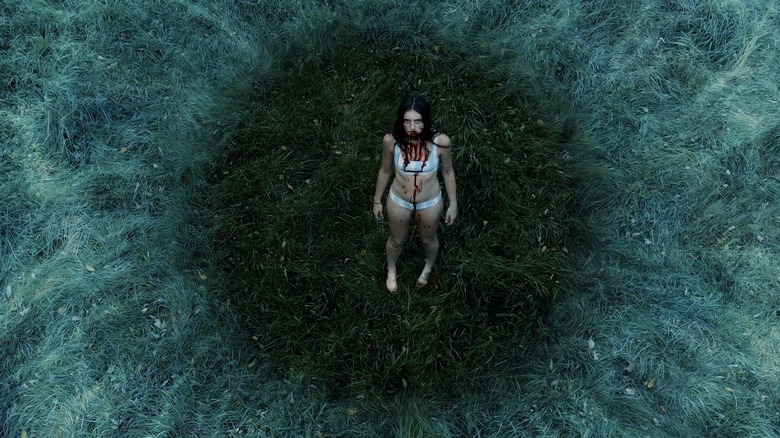 Shudder
Your movies have an air of mystery about them, so how do you give enough information without dispelling the mystery?
Poser: That was important to us, back to the rule thing. We really did set out trying to limit calling this a witch movie as much as possible because we knew people were going to look at it as a witch movie, but we thought, "Well, let's leave a lot up to their imagination. Let's give them little clues. Let's not try to bang them over the head and explain things. Let's just show these Hellbenders in the process of building a spell." We really did not want to feed the audience too much.
Zelda Adams: We did have a lot of conversations about, did we want to show every step of Izzy's adventure into becoming a Hellbender, or do we just want to hint towards it? And that's what we ended up doing. We wanted to hint towards it to see if the audience would latch onto how Izzy was developing.
We were thinking of including a lot of more bloody massacres. We had a scene where I was going to kill a man on the streets, but what we ended up doing instead was showing me on the lamppost looking above that older woman and more of a hint, but it wasn't like a bloody massacre.
The way you make films is very intimate, but if given the opportunity, would you want to make a major studio film?
John Adams: I think there are three answers here. My answer is, if it's fun and we get to retain the tone of whatever film we're working on, that sounds like a great opportunity. But if it's a job that doesn't sound like a good opportunity....
Zelda Adams: I agree. I think I would definitely take those resources if they had offered, but try to work on the same level, but just use that money for things that we don't normally have with our budget. Access to more cameras, for example. 
Poser: I love working the way we work. I really do. When I think about working with other people, it's more just, "Well, it'd be nice to have a grip now and then, to carry this stuff when you're in your costume and slip on ice." I think there are people out there with whom we could work. Again, as you guys said, share a very kind of raw vision. I like the privacy of filmmaking. I really do.
As a creative family, it's beautiful that you get to work together. Personally and professionally, what do these experiences mean for you?
Zelda Adams: I think simply put, I get to look back at our first film and see how we've grown as filmmakers, but also how we've grown as friends and family members too, because I feel like over the 12 years of making movies together, I've just gotten to know John, Toby, and Lulu so much better at filmmakers and as just humans, which has been really fun.
John Adams: I'm with Z. I love looking at Toby and I love looking at Zelda and I love looking at Lulu and we're all like, they're just my friends and we love something together and it's just this great way to be around each other.
Poser: I also think it's cool when you succeed. I don't really like the word fail, but it's cool when you succeed on equal levels. When we started making films, our girls were six and 11, but they were learning from scratch, just like we were at whatever age we were and our early 40s. It's cool when you feel very protected and held well when you can learn next to each other.
"Hellbender" is now streaming on Shudder.