The Official Cast Recording For The Back To The Future Musical Is Now Available For Pre-Order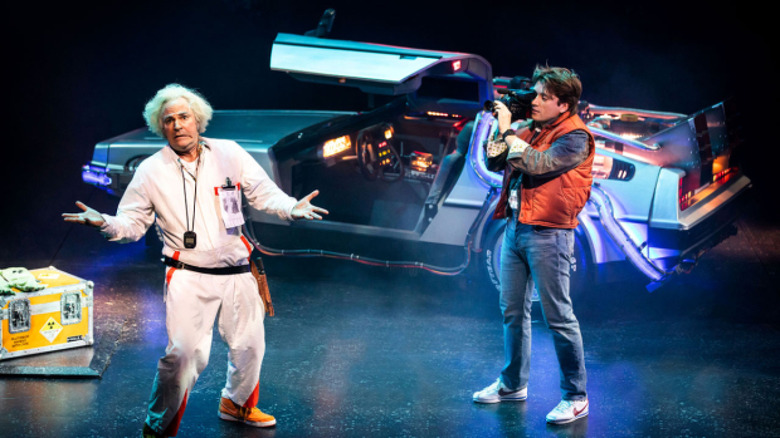 Universal
Have you ever seen a movie, thought it was excellent, but also thought to yourself, "That needs to be a musical"? No? Well, someone did, because there is a stage version of "Back to the Future" that is also a musical — and it rules. 
"Back to the Future: The Musical" has been in the works for a few years, and answers the question, "How do you make more 'Back to the Future' when Bob Gale and Robert Zemeckis refuse to let Universal do a reboot?" Sadly, just like Doc turning a DeLorean into a time machine, it's been a bumpy road to the stage. Though it was originally slated to premiere in the West End in 2015, the musical got delayed a few times, with the original director leaving due to creative differences with Robert Zemeckis, and also a global pandemic derailing production.
As of now, the musical is only playing in London on the West End, but fans around the world can soon listen to the catchy tunes of this bizarre but surprisingly great show.
Back in time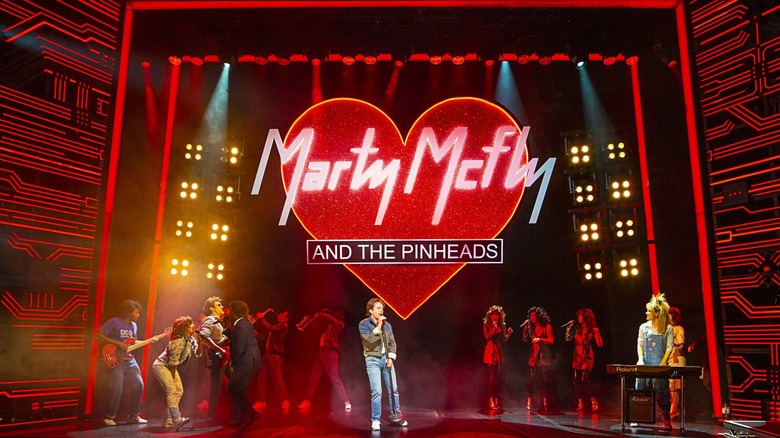 Universal
Picture this: Marty McFly is getting ready to meet Doc at the Twin Pines Mall at midnight to catch a glimpse of his latest discovery, but before he does that, he breaks into song. If you think that sounds weird, you're right. It is a strange combination, but it somehow works. I got to see "Back to the Future: The Musical" last year and ended up loving it. Sure, not every song works, but Tony award-winning director John Rando delivers a thrilling, funny adaptation of the classic sci-fi adventure film.
The musical even improves on the film in a couple of ways, mostly by giving George McFly an even bigger role than he has in the film. Similarly, future mayor Goldie Wilson gets an extended role and even a couple of songs. Most impressively, the show features stunning special effects by Paul Kieve that will make you believe a DeLorean can fly.
This is what Bob Gale had to say about the show:
"Bob Zemeckis and I have been trying to get this project off the ground for years, but good things take time and finally, the time is right," said Gale. "Our cast is outstanding, the songs are fantastic, and director John Rando is doing an amazing job ensuring the show truly captures the magic of the movie. We're thrilled that we can retell our story on stage in a brand-new way, and we're certain that Back to the Future fans all over the world will share our enthusiasm. In the words of Marty McFly, 'your kids are gonna love it'—and so will you and your parents."
Now, fans can pre-order the original cast recording of "Back to the Future: The Musical," and get ready for the power of love when it gets released on April 15, 2022.