Linoleum Review: Jim Gaffigan Shines In A Perplexing But Beautiful Tapestry Of Life And Love [SXSW]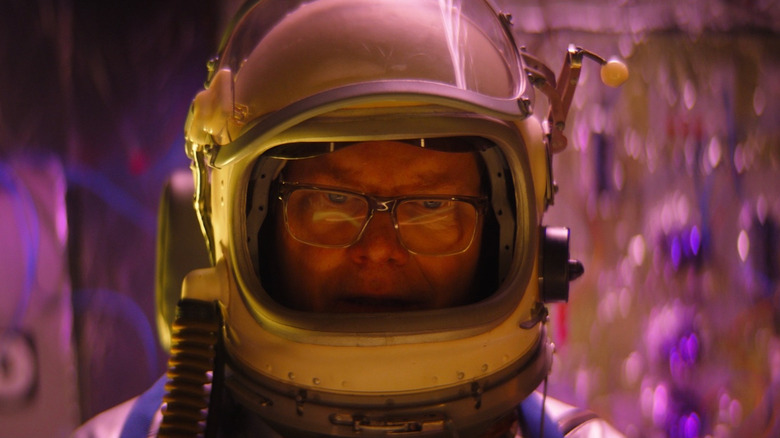 SXSW
Attend enough film festivals, and you'll notice that many movies allow a variety of stand-up comics to stretch their acting muscles. While it's typically offbeat comedy that takes advantage of their humor skills, it's not uncommon to find comics showing their versatility on screen. In recent years, Jim Gaffigan has become one such comedian, stretching his acting chops in various low-key thrillers and dramas such as "Light from Light," "Above the Shadows," and "Tesla," just to name a few. But Jim Gaffigan has never been better than he is in writer/director Colin West's quirky, perplexing, and ultimately beautiful dramedy "Linoleum," premiering this weekend at the South by Southwest film festival.
"Linoleum" follows Gaffigan as Cameron, an astronomer who once dreamed of being an astronaut but settled for creating and hosting "Above and Beyond," a Bill Nye-esque educational program that airs in the not-so-primetime-slot at midnight, despite being geared towards kids. Cameron still looks to the stars in the hopes of one day swimming among them, but unfortunately, he's about to drown in a midlife crisis. His wife Erin (Rhea Seehorn of "Better Call Saul") wants a divorce, his father's dementia is getting worse, the network producing his show is sending it to PBS, which might sound great, but he's being replaced as the host by Kent Armstrong, a real astronaut who looks like a younger, mustachioed, more handsome version of Cameron (because he's also played by Gaffigan). Oh, and a satellite has just crash-landed in his backyard, forcing him to relocate to his sister-in-law's beach decor-drenched home with Erin, their confident, outcast daughter Nora (Katelyn Nacon of "The Walking Dead"), and their quiet son Sam. 
But Cameron isn't letting this get him down. Instead of crumbling under all this pressure (one of the many scientific subjects explored in clips from "Above and Beyond" that are perfectly juxtaposed with the film's story), Cameron opts to use his knowledge of astronomy and the chunks of satellite in his backyard to build a rocket ship that will finally allow him to prove his worth to himself and his whole family. That certainly sounds like the makings of an idiosyncratic indie comedy with the lost father of a dysfunctional family finding his footing and getting his loved ones back on the right track. But there's something peculiar lying under the film's surface as Cameron's story unfolds. At first, it seems like a detriment to the film, veering into confusing territory with threads that don't seem to have any significant bearing, but there is a method to its madness.
Above and beyond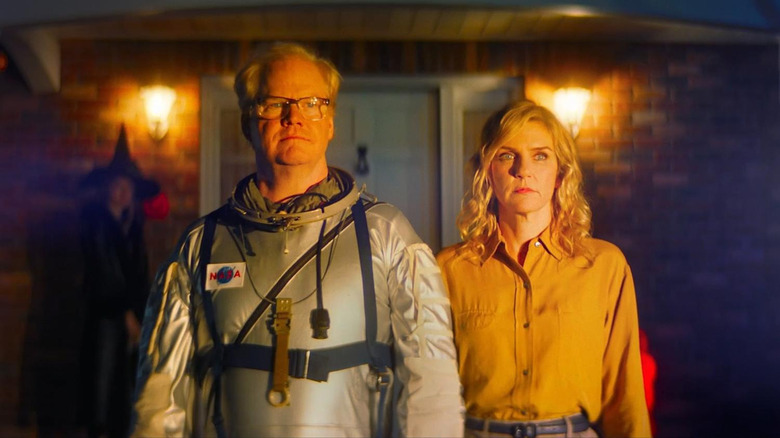 SXSW
Alongside Cameron's story, we also spend a significant amount of time with Nora, who has coincidentally struck up a friendship with Marc (Gabriel Rush of "Scary Stories to Tell in the Dark"), the new kid in town who just so happens to be the son of astronaut Kent Armstrong. And wouldn't you know it, they've just moved in across the street from Cameron's taped-off house. Nora and Marc don't have a budding romance, but it's not because they don't have chemistry. They're becoming fast friends, but Nora is bisexual, and he's just not her type. Even so, the two have a delightful friendship, but it feels detached and almost extraneous, seemingly without much of a real impact on the rest of the story. This is just one of the several puzzling threads throughout "Linoleum" that initially make the film feels like it's lacking focus. But that's exactly the point.
"Linoleum" is one of those films where the ending is pivotal in piecing together what seems like baffling missteps in the film's story. There's something deeper going on here, and the result is a stunning and moving ending that paints everything you've seen in the preceding hour and a half in an entirely new light. It's almost like M. Night Shyamalan took a break from dreary, titillating thrillers to craft a quirky indie dramedy with a heart-wrenching twist. Those paying close attention in the first few minutes of the movie might find a hint of what's to come, but even having an inkling at the film's climax won't make it any less affecting. 
Jim Gaffigan has easily delivered a career-best performance in "Linoleum." His messy hair and large-lensed glasses give him a charming mad scientist vibe, which makes his portrayal of the stiff Kent Armstrong feel that much stranger. Gaffigan isn't quite so convincing as Armstrong, but his performance in the role serves a larger purpose beyond a convincing character. Meanwhile, Katelyn Nacon has quite a spark in a breakthrough performance that feels like it's just the beginning of a fruitful career. 
The biggest breakthrough, however, comes from writer/director Colin West, who shows great promise as a filmmaker, bringing a fresh new perspective to seemingly familiar indie territory. At times, the film calls to mind the mesmerizing, oddball nature of Paul Thomas Anderson, such as when a classic red Corvette suddenly comes smashing down in the middle of a quiet, sun-drenched suburb as Cameron sends off an application to NASA. There's also a touch of "Eternal Sunshine of the Spotless Mind" director Michel Gondry, both in the makeshift creation of Cameron's "Above and Beyond" TV show and in the film's dreamy conclusion. All of this is enhanced by a synth-infused, cosmic score by Mark Hadley, giving the story a surreal-like quality. 
But where West truly succeeds is in crafting a story that frames the familiar dysfunction of a small-town Ohio family in a new light. "Linoleum" is much more than meets the eye, and as the film wades into its final 15 minutes or so, you'll find yourself overwhelmed by an emotional revelation that not only clears up any lingering fog from the story's puzzling evolution but really pulls at the heartstrings with a wonderfully woven tapestry of life and love. 
/Film Rating: 8 out of 10