The Morning Watch: Pulling Off Batmobile Stunts, Building The TRON Lightcycle Ride & More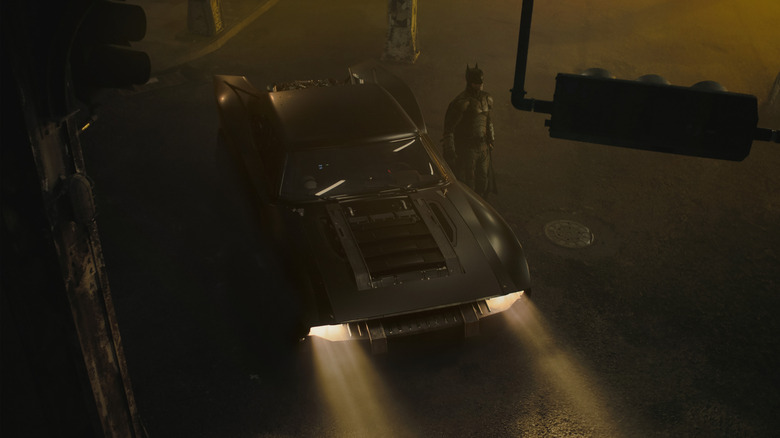 Warner Bros
(The Morning Watch is a recurring feature that highlights a handful of noteworthy videos from around the web. They could be video essays, fan-made productions, featurettes, short films, hilarious sketches, or just anything that has to do with our favorite movies and TV shows.)
In this edition, the hype for "The Batman" continues as we look behind the scenes of six epic Batmobile stunts from the movies. Plus, Disney's Imagineering team offers an update on TRON Lightcycle Run and teases the next stage of construction. And finally, Seth Rogen and Nick Offerman are combining crafts and comedy to test out some fascinating new gadgets.
How Bat-tech and practical effects make movie magic
First up, the Batmobile featured in "The Batman," henceforth known as the Pattmobile, is all kinds of badass. It only actually makes two appearances in the three-hour film, but Matt Reeves made incredible use of practical effects to rip-roaring success. Guns blazing and fires raging on are no match for the Pattmobile in one show-stopping sequence, because Batman is always prepared for a death-defying villain chase. So how do the Batmobiles of film's past matchup? Instead of digging through that folder of Batmobile screenshots that we all keep on file for reasons, check out a deep-dive from Insider, which looks back on six of the Dark Knight's most memorable stunts featuring his many signature rides. The range includes everything from the Tumbler in "Batman Begins" to the flying Batwing in "The Dark Knight Rises." The video even digs into the creative practical methods used to pull off these impressive stunts.
The TRON Lightcyle Run enters its next phase
Next, the TRON Lightcycle Run is finally coming together at Disney World. Originally scheduled to open in time for the Disney's 50th anniversary, the ride was delayed per the pandemic, but with construction back on, progress is chugging forward.The coaster-style attraction is currently under construction at the Magic Kingdom and the Imagineering squad is back with good news: they're moving onto the next stage of ride testing. Disney Park-lovers will appreciate this behind-the-scenes look while "TRON" fans will be thrilled by this closer glimpse at the lightcycles. The ride still has ways to go, but once it's ready to begin testing with weighted dummies, park visitors will be able to see the ride in action.
Get crafty with Seth Rogen and Nick Offerman
Finally, you've seen Seth Rogen and Nick Offerman act, but now prepare for the next phase of their career as YouTubers! Ever the comedic duo, these two could actually start a pretty entertaining video series, just showing off their random skills via crafting gadgetry. In case you didn't know, Offerman is actually a known craftsman and accomplished woodworker, who knows a thing of two about helpful gadgets. And Rogen has next-level pottery skills, which he very casually shows off in this very video. WIRED brings the two together, ostensibly to promote their new Hulu series "Pam & Tommy," but really, this is all about seeing their mad skills in action. Tune in to see them at work testing wood moisture, crafting vases, and scooting around on knee pads with wheels.