How Nathan Lane And Ernie Sabella's Audition Changed The Lion King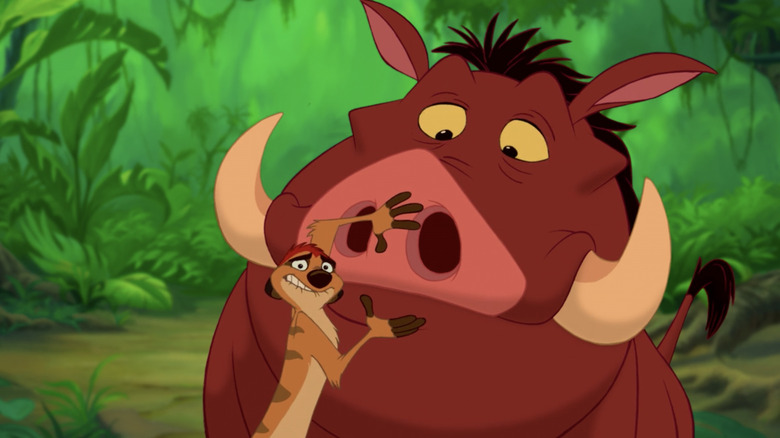 Disney
The production trajectory for a Broadway musical is a unique beast. Shows are built with constant rewriting and retooling based on the people who come in and out of the production. After an endless collaborative parade of trials and errors lead to a finish product, you can put in front of an audience knowing everyone working on the project is on the same page and working towards the same goal. A lot of the time, people are cast as characters without material being written for them so the authors can write specifically to their strengths. In the audio commentary for the original Broadway stage recording of "Sunday in the Park with George," Stephen Sondheim jokingly says, "I don't want to write a note until the show's cast." Working in specificity is a tremendous help in creating a character. Generalities and vagueness are killers of empathy.
The same is true for casting crafting a Disney animated film. Because you are working with pencil and paper rather than actors, lights, a camera, and everything else that goes into making a live-action film, you have the ability to try as many things as you are able to draw. The story you set out to tell when production begins will rarely be the exact same story in the finished film. Casting is a key element for that evolution. A voice actor you like might not match the visual model you had already created, sending you back to the drawing board to find one that does fit. Sometimes, you just end up creating whole new characters because of the people who come in. That was the case when Nathan Lane and Ernie Sabella entered a recording booth for what would become "The Lion King."
The most rewarding lunch break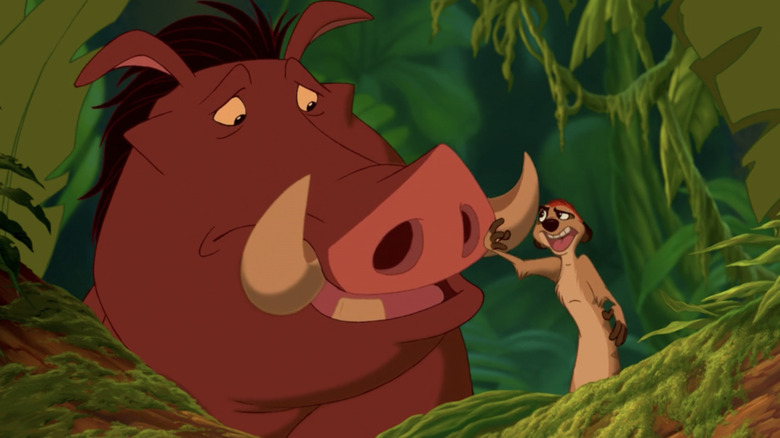 Disney
In early 1992, Nathan Lane and Ernie Sabella were in rehearsals for a Broadway revival of the classic Frank Loesser musical comedy "Guys & Dolls." Lane was starring as Nathan Detroit (a character which he named himself after), the proprietor of a floating crap game, and Sabella as the delightfully named Harry the Horse (a role that I immortalized in a community theater production a decade ago), one of his gamblers in tow. At a lunch break during rehearsals one day, Lane was called in for an audition to play a hyena in a new Disney film called "King of the Jungle." Speaking with the Huffington Post, Sabella recalls:
"Figuring that nothing would ever actually come out of this audition, Nathan asked me to come along with him so that – as soon as he was done – he and I could then go get something to eat together."
Once at the audition, Lane suggested that Sabella come into the booth with him. That way he could have someone to play off of in the dialogue scene rather than just a reader or, at worst, nobody. As the two are funny guys, they started going off script in their audition and goofing around. Roger Allers, one of the film's directors, was not really laughing though and was more in shock. Sabella continues:
"That was the moment when I figured that we had really screwed up this audition. So I said a quick, Thank you,' into the mic. And then Nathan and I got out of that recording booth as quickly as we could. And as we raced for the elevator, so that we could then finally go get something to eat, I turned to Nathan and said 'Well, at least we still have our night-time jobs."
Of course, the reason Allers was in shock was not because he was horrified at what these guys were doing but because of how great their seamless chemistry was. Disney had always had a fear that "The Lion King" was going to be a little too dark, and to combat that darkness, they started developing the lovable scamps of Timon and Pumbaa. These characters were written specifically for Nathan Lane and Ernie Sabella, as their two-man game was on a level all its own. Who knows if they would have worked as part of a trio with the hyenas? But developing a rapid fire repartee between these two old school character actors was exactly what "The Lion King" needed, and the filmmakers kept giving these characters more to do as production went along because of how great these actors were together.
It takes incredibly smart creatives to not only identify unique talent but know exactly how to maximize their strengths within any given project. Directors Roger Allers and Rob Minkoff, as well as every other person helping to create "The Lion King," did exactly that with Nathan Lane and Ernie Sabella. Timon and Pumbaa obviously became fan favorites. "Hakuna Matata" got real radio play time, even peaking as high as 26 on the Billboard Adult Contemporary Chart. They also got their own spinoff cartoon show and a movie in "The Lion King 1 1/2." While Nathan Lane eventually got too big and busy to keep playing Timon, being replaced by Kevin Schon, Ernie Sabella has played Pumbaa in media up through 2019, reprising the role in "The Lion Guard." Not only did these characters change "The Lion King" for the better, it changed their lives as well. Amazing what one lunch break can do.