Disney Launching 'The Lion King' Sequel TV Series 'The Lion Guard'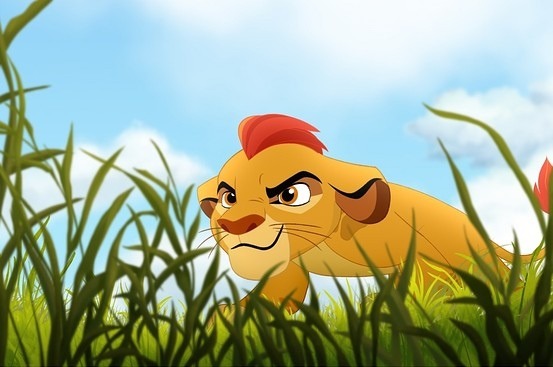 The Lion King is giving birth to a new small-screen franchise, two decades after the original film hit theaters. Disney Junior announced today that it is planning an animated series titled The Lion Guard, which will first launch as a made-for-TV movie.
At the center of the story will be a young cub named Kion, son of Simba and Nala. As you can see in the photo above, he's basically Simba plus a red mohawk and a pawprint tattoo. Kids these days. Hit the jump for more info, including another new photo and details on which familiar faces might drop by.
The title refers to a team led by Kion, who is charged with preserving the Pride Lands. To help him on that mission, he recruits an eclectic group of animals. As Disney Junior general manager Nancy Kanter puts it, it's "The Lion King meets The Avengers."
That crew includes "a fearless honey badger, a confident cheetah, a happy-go-lucky hippo and an intellectual egret." Other characters expected to appear include Kion's older sister Kiara, the future Queen of the Pride Lands, as well as the original Lion King's Timon, Pumbaa, Rafiki, Zazu, and Mufasa.
In addition to the usual kid-friendly themes like family, community, and diversity, The Lion Guard will also emphasize the importance of natural conservation. To that end, they're getting some help from the wildlife experts at Disney's Animal Kingdom theme park.
The Lion Guard isn't Disney's first attempt at a Lion King spinoff. Timon and Simba had their own animated series from 1995-1999, and Disney has released two direct-to-DVD sequels, released in 1998 and 2004. The film has also spawned several video games and a hit Broadway show.