Why Some Like It Hot Was Shot In Black And White
United Artists
There are some films so classic that it almost feels wrong to imagine them any other way. One of such caliber, without a doubt, is "Some Like It Hot." The film may end with the infamous line, "Nobody's perfect," but Billy Wilder's 1959 film gets awfully close to the ideal. The story follows two musicians (Tony Curtis and Jack Lemmon) who, after witnessing a gangland murder in Prohibition-era Chicago, don drag and join an all-girl band to evade the mobsters hunting them. Soon after, they meet the group's ukulele singer, Sugar Kane (Marilyn Monroe) — and the hijinks only ramp up from there.
The film is known as one of Marilyn Monroe's most memorable performances, and though the actress was a notorious scene-stealer, she had fierce competition in co-stars Curtis and Lemmon. Their talents combined made "Some Like It Hot" a comedy ahead of its time — but ironically, the film was shot in black and white, and not for the reason most might think.
Some like Ii monochrome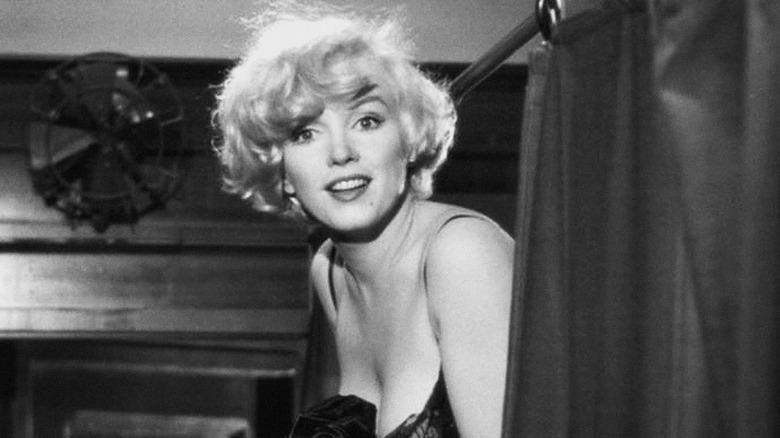 United Artists
The late 1950s saw the rise of Technicolor in a big way. Some of Monroe's most popular pictures of the decade, like "Gentlemen Prefer Blondes," were shot in gorgeous color — and that's just the way she liked it. According to Michelle Vogel's "Marilyn Monroe: Her Films, Her Life" (via CheatSheet) the actress felt she looked better in color than black and white, and even tailored her contract with 20th Century Fox to ensure she was always shot in color.
However, "Some Like It Hot" was a different beast entirely. The film had no ties to Fox, and it was an independent project that United Artists would later distribute. More than that, Curtis and Lemmon's drag makeup photographed horribly in color, taking on a "sickly green tint" that couldn't be fixed. Wilder apparently was no fan of color anyway, so he had the task of convincing Monroe to compromise. "Wilder showed Monroe the color test shots to prove it," Vogel wrote. Fortunately, albeit reluctantly, the actress agreed.
Despite Monroe's reservations, neither her performance or her appearance suffered with the switch from color to black and white. In fact, "Some Like It Hot" was a career best for the actress. It earned her a Golden Globe win for Best Actress in a Motion Picture — Comedy or Musical. The film also took home awards for Best Motion Picture and Best Actor (for Jack Lemmon), and it racked up six nominations at the Academy Awards. The success of the film, which still dazzles over 60 years later, feels almost synonymous with its final message: production wasn't perfect, but the end result more than made up for any behind the scenes strife.