'Some Like It Hot' Tops BBC's List Of The 100 Greatest Comedies Of All Time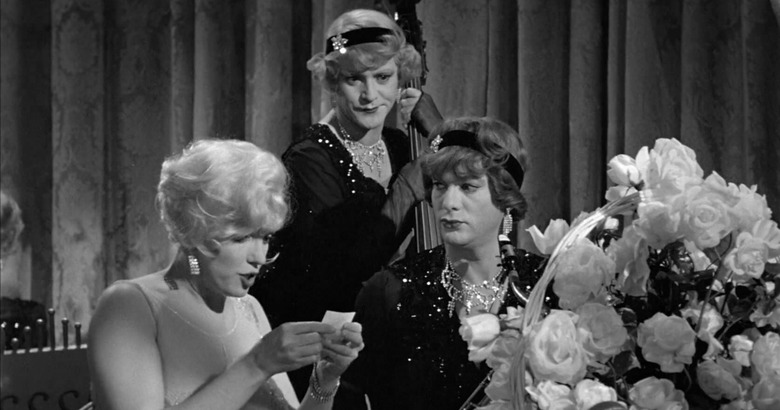 Last year, the BBC polled nearly 200 critics in an attempt to determine the 100 Greatest Films of the 21st Century. This year, they've assembled another cinema poll, one that is bound to spark just as many debates, as they tried to pin down the 100 Greatest Comedies of All Time.
Billy Wilder's classic Some Like It Hot topped the list with the perfect satire Dr. Strangelove or: How I Learned to Stop Worrying and Love the Bomb coming in at second place, followed by Woody Allen's meta romantic comedy Annie Hall, Harold Ramis' delightfully repetitive Groundhog Day and Leo McCarey's revered Duck Soup rounding out the top five. The full list contains an interesting mix of classics and modern favorites, but there are some glaring omissions to be sure.
See more of the BBC 100 Greatest Comedies of All Time list below.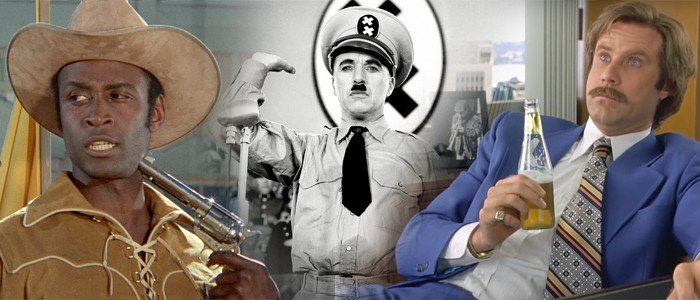 The Greatest Comedies of All Time
We've posted the Top 25 from BBC's 100 Greatest Comedies of All Time below. Technically, the entire list (which you can check out right here) has 101 films since there was a tie for the 100th spot. Funnily enough, that tie was between The Ladies Man starring the late Jerry Lewis and Martin Scorsese's The King of Comedy, which featured a comeback role for Jerry Lewis after he stepped away from the limelight for awhile.
Anyway, without further adieu, here's the Top 25 Greatest Comedies of All Time (according to their list):
25. The Gold Rush (Charlie Chaplin, 1925)
24. Withnail and I (Bruce Robinson, 1987)
23. The Party (Blake Edwards, 1968)
22. Young Frankenstein (Mel Brooks, 1974)
21. City Lights (Charlie Chaplin, 1931)
20. Blazing Saddles (Mel Brooks, 1974)
19. The Lady Eve (Preston Sturges, 1941)
18. Sherlock Jr (Buster Keaton, 1924)
17. Bringing Up Baby (Howard Hawks, 1938)
16. The Great Dictator (Charlie Chaplin, 1940)
15. Monty Python and the Holy Grail (Terry Gilliam and Terry Jones, 1975)
14. His Girl Friday (Howard Hawks, 1940)
13. To Be or Not To Be (Ernst Lubitsch, 1942)
12. Modern Times (Charlie Chaplin, 1936)
11. The Big Lebowski (Joel and Ethan Coen, 1998)
10. The General (Clyde Bruckman and Buster Keaton, 1926)
9. This Is Spinal Tap (Rob Reiner, 1984)
8. Playtime (Jacques Tati, 1967)
7. Airplane! (Jim Abrahams, David Zucker and Jerry Zucker, 1980)
6. Life of Brian (Terry Jones, 1979)
5. Duck Soup (Leo McCarey, 1933)
4. Groundhog Day (Harold Ramis, 1993)
3. Annie Hall (Woody Allen, 1977)
2. Dr Strangelove or: How I Learned to Stop Worrying and Love the Bomb (Stanley Kubrick, 1964)
1. Some Like It Hot (Billy Wilder, 1959)
First of all, I'm glad that this list was put together, if only because comedies were given the shaft when it came to The BBC's list of the Greatest Films of the 21st Century last year. It's annoying that comedy doesn't get as much respect as drama when it requires just as much skill (if not more) to make someone laugh as it does to make them cry.
Honestly, the list is a solid collection of comedy. It pays plenty of respect to comedies from decades passed, including four of Charlie Chaplin's films (Modern Times, The Great Dictator, City Lights and The Gold Rush), as well as modern staples like Shaun of the Dead, Anchorman: The Legend of Ron Burgundy, Cultural Learnings of America for Make Benefit Glorious Nation of Kazakhstan and Office Space. But that doesn't mean there aren't some questionable inclusions or omissions.
First of all, I don't think There's Something About Mary deserves to be on this list. It hasn't aged well and doesn't measure up to the comedy that comes from the rest of the entries on this list. If there's a Farrelly Bros. movie that should be on here, it's Dumb & Dumber. Plus, I have a big problem with the fact that Galaxy Quest, Wayne's World, National Lampoon's Vacation and Ferris Bueller's Day Off aren't on this list, all of which are all time greats. Plus, how does Judd Apatow not end up on here with either The 40-Year Old Virgin or Knocked Up?
More positively, it's great to see Mean Girls, Step Brothers and Team America: World Police get recognition among so many great comedies. All are so different from each other, representing different kinds of comedy in such a short period of time in contemporary movie culture, but all are among the best comedies in recent years for sure.
Finally, I find the inclusion of a movie like Pulp Fiction, no matter how great it is, extremely questionable among a list of comedies. Sure, Pulp Fiction has some funny moments, but it's far from a laugh riot. Yes, comedy is one of the most subjective ar forms out there, but that's not a movie that feels like it even registers as a dark comedy to me at all. It's a drama with some comedic moments to be sure, but calling it a comedy feels misguided to me.
So how did BBC determine their comedy list? This time they polled 253 total critics, with 135 of them being male and 118 being female, all spread across 52 countries on every continent (except Antarctica). Each critic submitted 10 films in their own list for a total of 692 films. The list was then determined by how frequent each movie appeared on all 253 lists. If you'd like to see the entire list of critics, along with their own 10 films submitted, you can head over here.
For the full list of all 100 Greatest Comedies of All Time, head over to the BBC's feature right here.